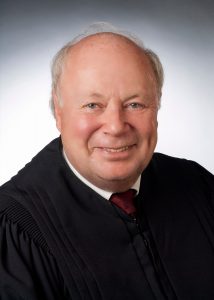 The Indiana Judicial Nominating Commission interviewed 11 applicants Thursday for an upcoming vacancy on the Indiana Court of Appeals, kicking off two days of interviews with candidates to succeed Judge James Kirsch.
The seven-member JNC asked applicants questions ranging from judicial philosophy to conflict resolution to their favorite teachers and beyond. A total of 23 applicants will be interviewed to succeed Kirsch, who is retiring in September.
Interviews resumed Friday on the following schedule:
9:30-9:50 a.m.: Stephen R. Creason
9:50-10:10: Patrick W. Price
10:10-10:30: Derek R. Molter
10:45-11:05: Brad A. Catlin
11:05-11:25: Marion Superior Judge Gary L. Miller
11:25-11:45: Marion Superior Judge Patricia C. McMath
1-1:20 p.m.: Madison Circuit Judge Mark K. Dudley
1:20-1:40: Marion Superior Judge James A. Joven
1:40-2: Paul C. Sweeney
2:15-2:35: Tippecanoe Superior Judge Faith A. Graham
2:35-2:55: Hamilton Superior Judge Jonathan M. Brown
The JNC will then go into executive session before holding a public vote on semi-finalists, who will sit for a second round of interviews at a later date. The commission will ultimately narrow the pool of applicants to three finalists. Gov. Eric Holcomb will then make the final selection.
Below is a summary of Thursday's interviews.
Judge Lisa Swaim, Cass Superior Court
Even before she took the bench, Lisa Swaim was a proponent of pretrial reform. As Cass County prosecutor, Swaim said she would identify low-risk cases and work to resolve those quickly. And now as a judge, Swaim said her pretrial coordinator prepares a list of eligible defendants each morning, enabling Swaim to make decisions on pretrial release more efficiently.
"Pretrial release is one of the biggest changes in the law in the last 50 years, maybe more," Swaim told the JNC.
When asked about social issues facing the judiciary, Swaim returned to the idea of pretrial release. Low-risk defendants should be able to continue with their lives, with supervision, while their cases are pending, the judge said. She gave the example of driving without a license: A defendant on that charge shouldn't have to stay in jail only because they don't have money for bail.
Patricia McCrory, Harrison & Moberly
If she is not selected to succeed Kirsch on the Court of Appeals, Patricia McCrory has a plan. The founder of Mediation Roundtable LLC, McCrory is active with the IndyBar's ADR Section and has adapted during the pandemic to doing mediations over Zoom.
Asked if mediation should be expanded into the appellate courts, McCrory said yes without hesitation. The process would ease the burden on appellate courts while also being more cost effective for appellate litigants, who she said have a "deep pocket" payment for taking their case on appeal.
McCrory has not yet done an appellate mediation, and she noted in her interview that mediation might not yield a resolution. If that were the case, she said, then the proceedings would go back to briefing.
Judge Timothy Oakes, Marion Superior Court
A longtime judge himself, Tim Oakes of the Marion Superior Court thinks his judicial experience would serve him well on the Court of Appeals bench. Not only is Oakes now a judge, but he was also a judicial law clerk for former Court of Appeals Judge Linda Chezem. That experience, Oakes said, taught him how to read a transcript in a different way – not like a law journal, but from the perspective of the judge who was presiding.
In his own court, Oakes said litigants should expect integrity, professionalism and a listening ear. More often than not, he said, people appearing in court just want to be heard, and it's his job as a judge to give them that courtesy. The same is true of pro se litigants, Oakes added. In those cases, listening becomes even more important, as a judge must try to discern the arguments being made and encourage the litigant to further develop those arguments.
Cynthia Lasher, Norris Choplin Schroeder
Without hesitation, Cynthia Lasher knows what she's most proud of in her career: founding the Pro Bono Mediation Project in Marion Superior Courts. Designed to help expedite civil cases in the state's largest court system, the project now boasts about 100 volunteers who so far have resolved 16 cases, all of which have at least one pro se party.
"It's pairing up registered mediators to help people who are adrift in a complicated system they don't understand," Lasher said.
Though she is not yet a judge, Lasher knows what her judicial philosophy would be. Her "guidepost," she said, would be the rule of law above all. That concept, she said, is a "basic building block of our democracy." From there, the goal would be to do justice, she said – a concept that usually, though admittedly not always, naturally follows the rule of law.
Zachary Stock, Indiana State Senate
As deputy majority attorney for the Indiana State Senate, Zachary Stock knows firsthand that discerning "legislative intent" is a difficult task, even within the Legislature. Transferring that experience to the bench, Stock said his perspective would be valuable to the process of statutory interpretation. Having been part of the "sausage-making process," Stock said it's difficult for him to think a court could truly discern the Legislature's intent behind a challenged statute.
"So then we're left with the text," he said.
A unique role of Indiana's appellate judiciary is the ability to revise sentences via Rule 7(B). Though that tool is available, Stock said it's one that should be used sparingly and not lightly.
"I'd hope to use it to leaven the outliers," he said.
Judge Brant Parry, Howard Superior Court
Now a judge himself, Brant Parry grew up as the judge's son. He recalled his father's court reporter picking him up from the dentist then bringing him back to the courthouse, where Parry spent time with his dad and court personnel. Now that he runs his own courtroom, Parry said he strives to emulate his father's example: respect, collegiality and a chance to be heard.
"I want to let people know the justice system cares about their case and cares about them," Parry said.
Although he has judicial experience, Barry acknowledged that being an appellate judge would be different than being a trial court judge, particularly when it comes to the pace of hearing cases. It's not unusual for 80 to 100 criminal cases to cross Parry's docket in a five-hour period, requiring him to quickly absorb the facts and make a decision. At the appellate level, however, Parry would have more time to spend with each individual case – a change in pace he said he would welcome.
Heather Welch, Marion Superior Court
If Marion Superior Judge Heather Welch is appointed to the Court of Appeals, she knows exactly what message her appointment would send: that the appellate court would have an expert on commercial law on the bench. Welch was one of Indiana's initial trial court judges who launched a commercial court, and she called herself a "pioneer" in the commercial court arena. Her work with Indiana's commercial courts included helping to write the handbook for all commercial court practitioners and judges statewide.
Welch also said she knows what the job description of an appellate judge requires. When asked to describe the position, she spoke of someone who is a good listener, open-minded, an excellent writer, respectful and collaborative. Equally important, she added, is a judge's involvement in the community and their willingness to serve on committees designed to improve the Hoosier legal system.
Stephanie Bibbs, Marion County Prosecutor's Officer
As chief of the Criminal Charging Division in the Marion County Prosecutor's Office, Stephanie Bibbs has experience deciding which cases have enough probable cause to hand down charges. As a former public defender, she also has experience trying to poke holes in a prosecutor's case. Having been on both sides of the bar, Bibbs said she would bring to the Court of Appeals the ability to consider cases from opposing perspectives.
"I would have an objective view of the cases," Bibbs said. "I'm not jaded from having done one thing for a long time."
Bibbs also knows justices for one person might not look the same as justice for another. She recalled representing a juvenile in a murder case that had been waived into adult court – the juvenile ultimately agreed to cooperate with the state and help bring his co-defendants to justice. Bibbs' client had to overcome the hurdle of being viewed as a snitch to embrace an important lesson, she said: if he continued spending time with the same people, he was on a path that would land him in jail for the rest of his life.
Judge Paul Felix, Hamilton Circuit Court
Looking back, Judge Paul Felix knows that he was an "at-risk" child. That's why he's now so passionate about the Juvenile Detention Alternatives Initiative, a program designed to help low-risk youth offenders get on the path to rehabilitation without incarceration. The law has been a positive force in Felix's life, he said, and he views his support of JDAI as a way of giving back what has been given to him.
Still, Felix said, sometimes it's hard for him as a judge to know if he's made the right decision. When he was a prosecutor, he often felt confident that he had all the facts and was doing the right thing. But now as a judge, he sometimes wonders if he's being told the full story. That's the hardest part of being a judge, Felix admitted – making decisions when you wonder if you really know the full story.
Judge Kurt Eisgruber, Marion Superior Court
Asked when he's made a difference in his career, Judge Kurt Eisgruber talked about a man named John. A criminal defendant with mental health issues, Eisgruber knew John could become violent when he didn't take his medications. So, Eisgruber kept John on a "short leash," regularly bringing him into court just to check in. Over time, the two developed a relationship. When John found work as a garbage truck driver, Eisgruber recalled his pride as he told the judge of his success.
"I feel like I really got through to him," Eisgruber said.
Other parts of being a judge are more technical. For example, when asked what he would do if he had to tackle a legal issue that wasn't completely clear, Eisgruber said, the first step is to look to precedent. If that's not clear, it's his role as a judge to issue a ruling that is narrow and limited in scope to the instant case as much as possible.
Elizabeth Green, Indiana Department of Workforce Development
Moving from private practice to public service, Elizabeth Green has new insight into agency law. The same issues she litigated in private practice she now approaches from a broader agency perspective not represented on COA. She pointed to her career trajectory as an example of her diversity of experience, particularly in civil law, which she said would be a beneficial perspective on the COA.
Regardless of what she's doing professionally, Green said one thing about her is constant: she's willing to "get in the mess." If there's a job to be done, Green said she works hard until it's completed. Her work at the Department of Workforce Development, in particular, has given her more opportunities to work collaboratively with her colleagues to tackle the "mess."
"I get my hands dirty," she said.
Please enable JavaScript to view this content.