Veteran Indiana Court of Appeals Judge James Kirsch announced Thursday he will retire this fall, capping a quarter-century on the state's appellate court bench. Kirsch said in a statement he will continue to serve as a senior judge.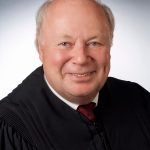 The announcement marks the second departure of a long-serving appellate jurist in less than a year, following the retirement last summer of Judge John Baker.
Before his appointment to the Court of Appeals by Gov. Evan Bayh in 1994, Kirsch served as a judge on the Marion Superior bench for six years. Prior to that, he practiced commercial and business law at Kroger Gardis & Regas in Indianapolis, where he also served as managing partner.
Kirsch served as chief judge of the Court of Appeals from March 2004 through February 2007.
"I will retire from the court in September — three months before I hit the mandatory retirement age" of 75, Kirsch said in an email to IL. "I hope to stay with the court thereafter as a senior judge."
According to his COA biography, Kirsch has been the visiting professor of law and management at the Krannert Graduate School of Management at Purdue University since 1990. The Indianapolis native graduated from Butler University in 1968 and Indiana University School of Law in Indianapolis in 1974.
Kirsch is a past president of the Indianapolis Bar Association and the Indianapolis Bar Foundation and is a former member of the board of visitors of the Indiana University Robert H. McKinney School of Law. He also has taught law in 30 countries on five continents and holds concurrent faculty appointments at the University of Tilburg in the Netherlands and Central European University in Budapest, Hungary.
Kirsch and his wife, Jan, have two children, Adam and Alexandra.
Please enable JavaScript to view this content.