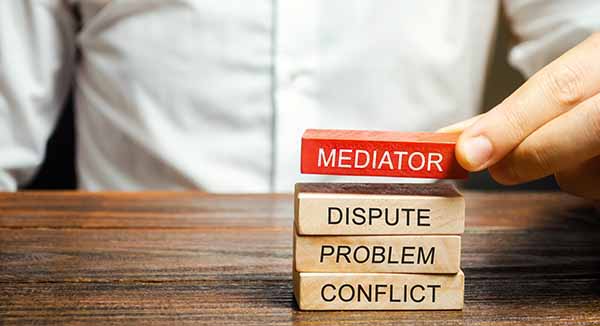 As with most things in 2020, the pandemic threw a wrench in the plan.
In this case, the plan was for a new pro bono mediation project in the Marion County courts. Indianapolis lawyers David Honig and Cindy Lasher began discussing the idea in early 2020, just before the March shutdown.
But with the move to virtual mediations, the pandemic didn't spell the end for their mediation concept. Instead, the lawyers pushed forward, launching a program that so far has garnered roughly 100 volunteers and has already helped resolve some 20 cases.
"The question was no longer, 'Can we do this?'" said Honig, of Hall Render Killian Heath & Lyman. "It was, 'How can we do this?' and, 'Who will do this?' And we got the biggest surprise."
From idea to implementation
Honig and Lasher, a partner at Norris Choplin Schroeder, met a few years ago at a registered mediation course. They kept in touch, and one day Honig approached Lasher with an idea.
"The idea was blue jeans mediation," Honig recalled. "We could offer it on weekends or evenings when more people are available."
Their conversation turned specifically to pro bono mediation, particularly in family law cases. And when it became clear that virtual mediation could keep the concept alive, the duo decided to move forward.
"As courts started getting more used to doing hearings by Zoom or Webex or by phone, David and I reconnected and said, 'Why not talk to the courts about doing mediations this way?'" Lasher said.
Eventually, the lawyers connected with now-Senior Judge David Dreyer, who has become their judicial point person in the Indianapolis courts. Dreyer said he was the right man for the job because he's been working on the creation of a help center at the new Marion County Community Justice Center designed to assist pro se litigants.
"In divorces you might have one party who is pro se and one represented, but often it's just two people who don't know how to finish this process that they started," Honig said, explaining the project's focus on serving unrepresented litigants.
Instant interest
The idea was simple, the lawyers said: A judge would identify cases where at least one party was proceeding pro se and enter an order for mediation. The parties would then be referred to Honig and Lasher, who would connect the litigants with a mediator.
To find a group of volunteers, Lasher went to the online registry of Indiana mediators and sent a mass email. Her callout was sent to about 100 mediators, and she hoped to receive responses from maybe a dozen.
"I thought we would be able to do a few (mediations) now and then," Lasher said. "But I literally couldn't keep up. People were responding back right away. I spent an entire day responding to emails and thanking them and putting together a list of volunteers."
Since that callout in late 2020, Lasher and Honig have secured a volunteer base of about 100 mediators willing to do pro bono work as cases arise.
"It's mind-blowing," Lasher said. "I did not ever expect that many people to step up."
Putting it in practice
One of those volunteers is Matthew Dinn of Popcheff & Dinn in Speedway. Dinn is a family law practitioner and a registered domestic relations mediator.
It was around the start of the new year when Dinn received his first referral for the Pro Bono Mediation Project — a divorce case. He was given the litigants' contact information and some mediation forms to assist with the process if he had any questions, though as an experienced mediator he said he knew what to expect.
From there, Dinn said the process was as straightforward as Honig and Lasher intended: He contacted the litigants, set a date and sent a Zoom invitation. He set aside the whole day for the mediation, but as it turned out, he only needed the morning.
"They were a couple of folks whose divorce had been pending for a while," Dinn explained. "There really weren't overly complicated issues. They were just having a hard time navigating the system and filing the paperwork."
Dinn helped the parties sign their agreement and file it with the court, which approved it. After about two years waiting in court, the divorce was finalized in about three hours.
"To me it was a perfect case for this program," he said. "… Once they got together, they knew what they wanted. They wanted the same thing, but it was a matter of, 'How do we put this in writing and make this official?'"
Widespread impact
To Dreyer, the program is universally beneficial. The litigants get the benefit of a faster and, hopefully, cheaper resolution of their case, judges get the benefit of resolving a pending case, and the court system as a whole gets the benefit of clearing cases, which increases efficiency.
"It's a win-win-win-win-win," he said.
Dreyer's role in the process is to "market" the program to other judges and encourage them to review their dockets for possible referrals. So far, he said, the Indianapolis bench has been receptive to the idea.
Lawyers also benefit from the program, Dinn added. It can be difficult to establish yourself as a mediator, he explained, so participating in the program gives him the opportunity to practice his mediation skills and put his name in front of more judges, lawyers and potential clients.
But more than that, Dinn said he tries to make pro bono work a regular part of his career. He's been a volunteer on the Indianapolis Bar Association's Pro Bono Standing Committee for several years, but as his practice has gotten busier, pro bono work has been harder to schedule.
The new Pro Bono Mediation Project, however, expands his options. Especially with the pandemic-induced rise of virtual mediations, the project allows Dinn to set aside a few days a year for pro bono cases.
Some pro bono cases can unexpectedly go on for multiple years, he said. But with mediations, it's easier to predict the time commitment.
That was the goal for Honig and Lasher: to create a program that would not require litigants to take significant time off work to resolve their legal issues.
When litigants have to miss work for a court proceeding, there's a potential loss of income, the lawyers said. But with remote mediations, there are now options that are less time-consuming.
"Remote mediations are here to stay," Lasher said. "You might have somebody who can't take a day off of work, but they can pop into Zoom when they're needed."
While the project is primarily focused on family law cases, Lasher and Honig plan to expand more broadly into civil mediations. Not all mediators are lawyers, Lasher noted, but that just broadens the pool of potential volunteers.
"There are people of all sorts of career paths who have become registered mediators and want to help, which I find even more amazing in the difficult times that we are currently living in," she said. "Everyone wants to be part of something bigger than being stuck in the house."•
Please enable JavaScript to view this content.