The clock is now ticking for Indiana Gov. Eric Holcomb to select the next Court of Appeals of Indiana judge to replace retiring Judge Edward Najam Jr.
Holcomb has until Sept. 16 to decide who will fill the upcoming vacancy left by Najam, who is set to retire this summer when he statutorily ages out of his position. The 60-day window for Holcomb's selection opened after three finalists were submitted to him by the Judicial Nominating Commission on Monday.
On July 11, the seven-member JNC selected Morgan Superior Judge Peter R. Foley, Owen Circuit Judge Kelsey B. Hanlon and criminal defense attorney Stacy R. Uliana from a batch of nine candidates vying to succeed Najam.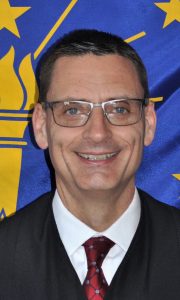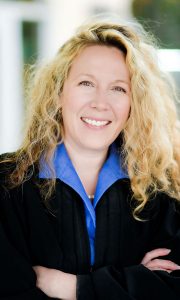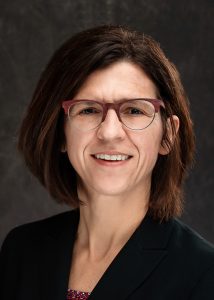 Indiana Supreme Court Chief Justice Loretta Rush, who heads the nominating commission, formally submitted the JNC's statutorily required letter detailing the three finalists to Holcomb.
Two of the candidates, Foley and Hanlon, have each served as judges in their respective courts since 2015. Uliana is a solo practitioner and serves as an adjunct professor at Indiana University and Indiana University Robert H. McKinney School of Law.
Foley and Uliana both received their law degrees from IU McKinney, while Hanlon received her J.D. from Indiana University Maurer School of Law.
At the start of his legal career, Foley joined the family firm of Foley, Foley & Peden in Martinsville, founded by his grandfather in 1930. He dove into a variety of practices, including probate, estate planning and trusts, real estate, family law, municipal law and general litigation. Foley also served as a part-time public defender, jumped into private practice and served as the attorney for Morgan County.
According to the JNC's nomination letter, Foley currently operates the Morgan Superior Court's Mental Health Diversion Program, focusing on misdemeanor or low-level felony offenders who suffer from mental health conditions and are likely to respond to treatment. He is also a member of the Morgan County Community Corrections Advisory Council and helped establish a 90-day intensive residential drug-treatment program within the county jail.
Additionally, Foley obtained funding for Morgan County's Mediation Project to provide mediation services for low-income parties and has participated in IU Maurer's Rural Justice Initiative Summer Extern Program.
For her part, Hanlon began her legal career at the Monroe County Prosecutor's Office as a deputy prosecutor. She returned to Owen County in 2013 to serve as the Small Claims Referee and the Title IV-D Child Support Commissioner. She has also presided over Owen County's Drug Court.
As judge of Owen Circuit Court 2, Hanlon handles a variety of cases, including child in need of services cases and termination of parental rights, among other civil and criminal matters. The nominating commission in its recommendation took notice that in 2021 Hanlon's median time for permanency through adoption in TPR cases was 324 days lower than the statewide median. She also oversees the court-run CASA Program and the Alternative Dispute Resolution Program.
Hanlon is a member of the Owen County Justice Reinvestment Advisory Council and the Owen County Community Corrections Board and has waded deep into juvenile justice reform in the state, serving on the Board of Directors of the Indiana Council of Juvenile & Family Court Judges, among others.
The Owen County judge has also worked with Indiana legislators on measures regarding juvenile arrestee placements and has created a judicial bench card concerning judicial engagement with older youth and is drafting a new civil jury instruction concerning a tort claim for the public disclosure of private facts.
Unlike the other two finalists Uliana has not served as a judicial officer, but has accumulated significant time advocating for criminal defendants before the bench. Her legal practice ranges from misdemeanors to life-without-parole cases to representing parents in contested child welfare proceedings, where she has briefed more than 150 appeals and presented 30 oral arguments before the Court of Appeals of Indiana, the Indiana Supreme Court and the Seventh Circuit Court of Appeals.
Uliana initially joined the Indiana Public Defender Council before moving in 2001 to Liell & McNeil in Bloomington where she practiced criminal defense and patent law. Uliana has served as an IPDC training director, designing and presenting trainings for criminal defense attorneys. In 2017, Uliana turned solely to private practice representing criminal defendants at both state and federal levels in trial, appellate, and post-conviction cases. She also often offers pro bono services and reduced rates to indigent clients.
Uliana is a member of the Indiana Supreme Court's Committee on Rules of Practice and Procedure and is currently working on a revised proposal to update the Indiana Rules of Criminal Procedure, as well as a proposed revision to Indiana Administrative Rule 14. She also participated in the Indiana Public Defender Workload Study and has made related legislative contributions in Indiana.
"I would be pleased to discuss any of these candidates with you in greater detail. And I am confident that you will similarly conclude that all three nominees are of a high caliber and any of them would be a lasting credit to the Court of Appeals of Indiana," Rush said in closing the eight-page nomination letter.
Please enable JavaScript to view this content.