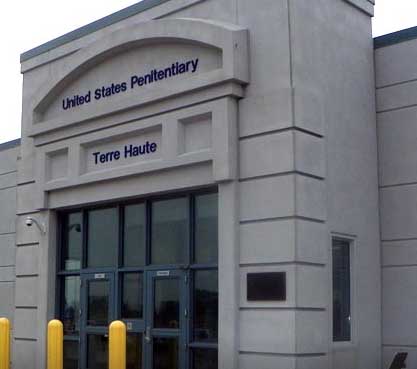 Three upcoming federal executions cannot proceed unless the Federal Correctional Complex in Terre Haute takes additional measures to mitigate the risk of COVID-19 spread, a federal judge has ruled.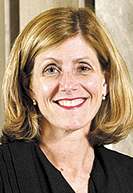 Chief Judge Jane Magnus-Stinson of the U.S. District Court for the Southern District of Indiana entered a preliminary injunction Thursday in Patrick R. Smith, et al. v. William P. Barr, et al., 2:20-cv-630. Under the terms of the injunction, the executions set for Tuesday, Thursday and Friday of next week cannot continue unless four steps are taken:
Enforcing mask requirements for all FCC Terre Haute staffers participating in the executions.
Maintaining contact logs for all FCC Terre Haute staffers involved in an execution who have close contact with another person while preparing for an execution, during an execution or during the post-execution process. "Close contact" is defined as being within 6 feet of another person for a total of 15 minutes over 24 hours.
Requiring negative COVID-19 tests from staffers each day for 14 days following "close contact" before resuming ordinary duties with FCC inmates.
Conducting thorough contact tracing for any staffer who tests positive during the 14-day period.
"The plaintiffs here — two inmates at FCI Terre Haute — have made a strong showing that they face an unconstitutional health risk if the defendants carry out scheduled executions without significant modifications to their COVID-19 prevention measures," Magnus-Stinson wrote in her Thursday order.
Those inmates are Patrick Smith and Brandon Holm, both of whom are housed in the medium-security Federal Correctional Institution at the Terre Haute complex. Neither inmate is on death row, which is located at the U.S. Penitentiary in Terre Haute. The execution facility is also located at the Terre Haute complex.
Smith and Holm initially moved for an injunction to stop upcoming executions in November, but Magnus-Stinson denied their motion in early December,  finding a lack of "compelling scientific or statistical evidence" that carrying out the death row executions would affect the plaintiffs in the FCI. That ruling allow the federal government to carry out the executions of Brandon Bernard and Alfred Bourgeois in mid-December.
The plaintiffs renewed their request for a preliminary injunction late last month, providing a declaration from infectious disease researcher Nina Fefferman, who has been studying COVID-19 since February. According to Fefferman, proceeding with executions in January, under the conditions of the executions carried out in 2020, would create a substantial risk of COVID-19 spread to FCC inmates, including Smith and Holm.
"The defendants maintain that none of the new evidence proffered by the plaintiffs casts doubt on the Court's prior conclusion," Magnus-Stinson wrote Thursday. "The Court disagrees. Dr. Fefferman provides compelling evidence that the manner in which the defendants have conducted the last ten executions has created a substantial risk that the plaintiffs will contract COVID-19 and suffer serious health consequences."
The order entering the injunction made three factual findings, the first being that Fefferman was credible, and the second that the defendants deliberately chose not to implement guidance from the Centers for Disease Control and Prevention regarding contact tracing and testing.
Contact tracing was conducted for one staffer who tested positive shortly before executions in July, according to a declaration from Terre Haute warden T.J. Watson. His declaration asserted that the Bureau of Prisons would continue to conduct contact tracing for additional positive tests.
"This declaration has proven to be wholly false," Magnus-Stinson wrote.
"The most recent execution for which the defendants have provided testing data was November 19," she wrote. "Within a week of that execution, six members of the execution team tested positive for COVID-19. The BOP conduct contact tracing for, at most, one of them.
"Now the defendants, without acknowledging their prior misrepresentation, assert that contract tracing 'is not always possible for members of the execution team, given the paramount need for their confidentiality due to the sensitive of their occupation and their unique mission,'" the chief judge continued. "The Court emphatically rejects this assertion. Nothing prevents execution team members from logging their close contacts during their time at FCC Terre Haute and reporting them to proper personnel if they later test positive for COVID-19."
If contact tracing is truly not feasible, the order continues, the alternative would be broad-based testing. However, testing is voluntary for members of the execution team, which includes roughly 40 BOP employees from out-of-state facilities.
Among team members who participated in the December executions, three opted for testing, and all were negative.
Third, Magnus-Stinson found, continuing with the January executions as planned without additional precautions would put FCC Terre Haute inmates at "substantially increased risk of contracting COVID-19 … ." Though COVID cases at the facility have spiked only after some, but not every execution, Fefferman's research attributed that inconsistency to the nature of the spread of the virus.
"Dr. Fefferman could not quantify the increased risk, no doubt in part due to the defendants' failure to implement widespread testing or contact tracing for execution team members," Magnus-Stinson wrote. "… But the Court credits her conclusion, based upon the available scientific evidence, the data from FCC Terre Haute, and the lack of precautions taken during and following executions, that carrying out further executions without additional safeguards will 'substantially increase[]' the plaintiffs' risk."
Finding that the plaintiffs had standing to bring their Eighth Amendment claim, Magnus-Stinson added that the failure to take adequate precautions related to an execution — particularly the failure to conduct adequate contact tracing — was "not by accident but by design."
"The defendants have a substantial legal interest in timely enforcement of criminal defendants' sentences," the chief judge concluded. "… But the plaintiffs do not seek relief that would necessarily prevent the government from timely carrying out executions.
"Indeed," she wrote, "by taking additional precautions … the defendants may carry out the executions in January as scheduled without violating the plaintiffs' Eighth Amendment rights."
Indiana Lawyer reached out to the BOP for comment on whether it can accommodate the requirements of the injunction to proceed with next week's executions as scheduled. "We do not comment on pending litigation or matters subject to legal proceedings," a spokesman said in an email.
Federal executions resumed last July after a 17-year moratorium, but President-elect Joe Biden has said he will work to end them again. Since President Donald Trump ordered the resumption of the federal death penalty six months ago, 10 executions have been carried out by lethal injection.
Lisa Montgomery is scheduled to die by lethal injection on Tuesday, followed by Cory Johnson on Thursday and Dustin Higgs on Friday. Johnson and Higgs have tested positive for coronavirus, according to court records, as have other death row inmates.
Please enable JavaScript to view this content.