Colleagues, family and members of the legal community gathered around Indiana Supreme Court Justice Steven David on Wednesday evening as he reminisced and offered observations about appellate practice before he steps down from the bench.
David reflected on his years at the high court during an Indianapolis Bar Association CLE on April 6 titled "Parting words from Justice Steven David: Footnotes You Might Actually Want to Read."
David, who is currently the longest-serving justice on the state's highest court, is set to retire this fall. His successor will be Indiana Gov. Eric Holcomb's second selection for the high court, following Justice Christopher Goff in 2017.
On April 5, the Indiana Judicial Nominating Commission selected three finalists – Grant Superior Court Judge Dana J. Kenworthy, Court of Appeals of Indiana Judge Derek R. Molter and Justin P. Forkner, chief administrative officer of the Indiana Office of Judicial Administration – to be sent to Holcomb, who will select David's replacement within the next 60 days.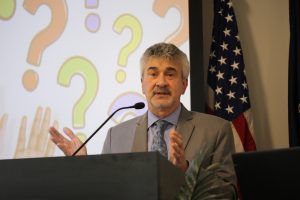 As scores of the Indiana legal community filed into the large IndyBarHQ room at 140 N. Illinois St. on Wednesday, familiar faces greeted David with encouragement and admiration.
"We're going to be in the front row cheering you on, kiddo," said Court of Appeals of Indiana Judge Nancy Vaidik as she hugged David.
Fellow Justices Mark Massa, Geoffrey Slaughter and Chief Justice Loretta Rush were in attendance and joked back and forth with David as he began his spiel.  David warmly referred to the large crowd as his "friends" and thanked them for listening to his stories on his time in the Indiana legal community.
"I'm astonished at the faces in this room," David said with gratitude.
David began the evening by answering pre-submitted questions from attendees about his career and thoughts on a variety of topics, beginning with what he considered to be the most significant change to the Indiana judiciary during his tenure.
"Technology," he said quickly. "Sometimes it's a pesky thing, but it's a good thing."
David recalled a time not long ago when the Supreme Court was full of paper, and it wasn't uncommon to wheel carts in with briefs between chambers.
"Playing tug of war with your colleagues, all of that has changed," he said, noting that technology poses challenges but opportunities for increased collaboration.
David also praised the initiatives, reforms and partnerships among Indiana's bar associations, court systems and judicial officers that have taken shape over the years.
"The accessibility, the listening, the trusting, the relationship building, I think, has been nothing short of phenomenal," he said.
David was elected to the Boone Circuit Court in 1994, presiding over civil, criminal, family and juvenile matters until his appointment to the Supreme Court by then-Gov. Mitch Daniels in 2010.
When he first took the bench in Boone County at age 37, David said he remembered that most Indiana trial judges – in his opinion– were older white, cranky men. Since then, he's seen a dramatic change for the better.
"What I've seen most importantly, is that time and time again, our profession in the state of Indiana, our trial judges, our appellate courts, the legal profession working together has distanced itself from most every other state in this nation," David said. "I think you should be proud, as I am, to have been a small part in that process and progress."
David emphatically answered "yes" when asked if he had any idea how to fix the lack of representation on the Indiana Supreme Court and in the legal community.
"It is not where it should be or could be, in my humble opinion, but so much is being done," he said, citing the high court's efforts to expand ICLEO, local mock trials events and the Committee on Equity and Access' working group focused on increasing the legal pipeline. "I think you will see dramatic changes."
David said that the one thing he'll miss the most about his time on the bench are the irreplaceable relationships he's formed with his fellow justices.
One piece of advice David said he'd give to anyone who wants to apply for a future opening on the appellate court is to "get involved, be involved and stay involved."
"Everything you are doing every day, you are always interviewing for your next job. Be the best you that you can be every day," he said. "Be genuine. You never know what opportunities may lie before you."
David offered some "dos and don'ts" for attorneys appearing before the Supreme Court. When writing briefs, longer is not necessarily better, David said.
Petitions to transfer should be sure to tell the high court why the matter is unique and oral arguments are not the place for informalities and distractions, he added.
"(It's) Justice David, not 'judge,' not, 'you guys,'" he said. "You want to eliminate those distractions. You're not before the jury, but the court. It distracts from what could be a good oral argument."
Appellate lawyers presenting at oral arguments should also have command of the facts and be more fluid when dividing time with co-counsel, David added. Don't read too much into questions and try not to inadvertently patronize the high court, he said.
"Don't talk down to us – talk to us. We do not come in there with an agenda to hurt anybody," David said.
When asked what he hopes for the future of the Indiana Supreme Court and the state's judiciary, David said he hopes to see it continue moving in an upward trend.
"It's gonna get better and better," he said. "I hope the Supreme Court will move on and listen and not be afraid to lead."
Looking towards retirement, David said he's already submitted his application to become a senior judge, has signed up for a mediation course and plans to spend more time in Virginia to be near his wife, Catheryne Pully, who is stationed on active duty.
"If you go to Walmart and see me there, just say 'Steve.' Don't cause me any problem by saying, 'Hey you used to be Justice David.' I want to be low key in Walmart because I'm really an introvert," David joked.
Please enable JavaScript to view this content.