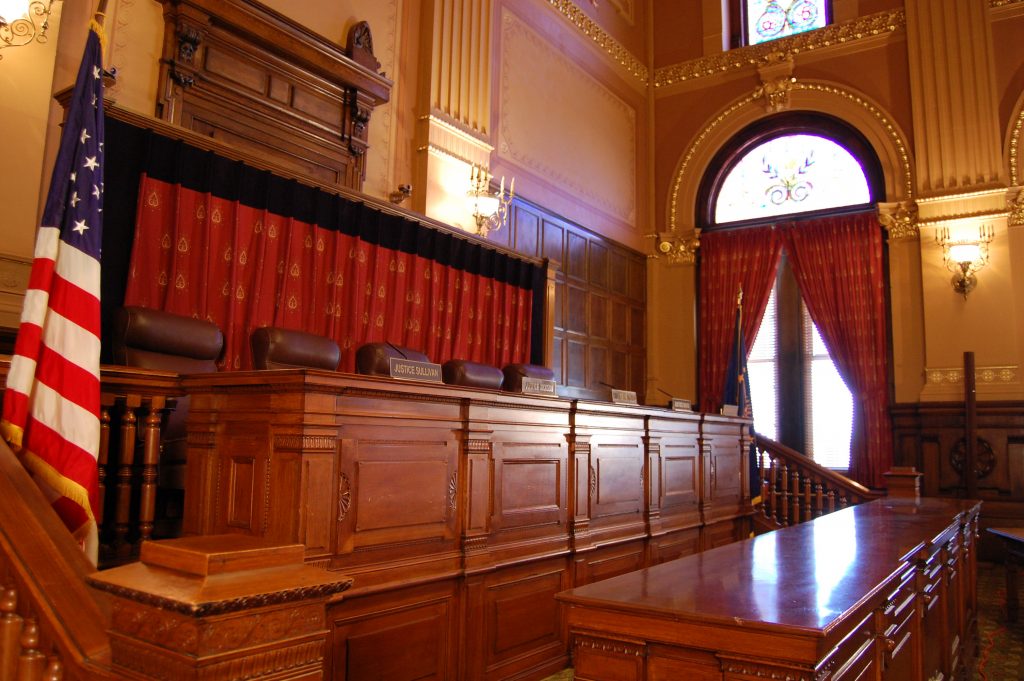 Indiana Supreme Court justices have agreed to consider a case involving a student who filed a class action lawsuit against Ball State University for COVID-related closures.
The dispute in Keller J. Mellowitz, on behalf of himself and all others similarly situated v. Ball State University and Board of Trustees of Ball State University and State of Indiana, 23S-PL-60, is one of three the justices granted transfer to for the week ending March 3.
The others are Performance Services, Inc. v. Randolph Eastern School Corporation, 23S-CP-59, and Charlie D. Leshore, Jr. v. State of Indiana, 23S-CR-51.
In Keller, college student Keller Mellowitz filed a putative class action complaint in 2021 against Ball State University and its board of trustees in response to closures and remote instruction prompted by the COVID-19 pandemic. Specifically, Mellowitz asserted claims for breach of contract and unjust enrichment based on Ball State's retention of tuition and fees after it canceled in-person classes and closed campus facilities.
After the complaint was filed, however, the Indiana General Assembly enacted Public Law 166-2021, part of which was later codified as Indiana Code Chapter 34-12-5. Among the changes was Indiana Code § 34-12-5-7, known as Section 7, which bars class actions against postsecondary educational institutions for claims of breach of contract and unjust enrichment arising from COVID-19.
When Ball State filed a motion for relief based on Section 7, the Marion Superior Court ordered Mellowitz to file an amended complaint eliminating his class allegations.
Mellowitz appealed, arguing that Section 7 is a procedural statute that impermissibly conflicts with Indiana Trial Rule 23, which governs class-action procedures. As such, he argued that Section 7 is a nullity.
The Court of Appeals of Indiana agreed, reversing the trial court's decision.
In Performance Services, a construction company sued Randolph Eastern School Corporation after it failed to pay $1.5 million in damages for its access to a wind turbine.
In 2009, the Randolph Eastern School Corporation entered into a contract with Performance Services Inc. for the construction and operation of a wind turbine in Union City. Under the parties' contract, the school corporation was given physical access to the wind turbine.
In exchange for access to the turbine, the school corporation agreed to pay $154,000 per year to Performance. However, they didn't pay, so Performance sued in 2021, seeking $1.5 million in damages on the unpaid fees.
The school corporation responded with a lawsuit, filing for declaratory judgment and seeking to have the contract declared void.
The Randolph Circuit Court ultimately entered summary judgment for the school corporation, concluding that the contract reflected an illegal investment by a political subdivision under state law.
But in a split reversal, an appellate majority concluded the parties' contract did not reflect an investment by the school corporation. Rather, it found the school corporation agreed to make semiannual payments to Performance of $77,000 each in exchange for certain access to the wind turbine and its data, but simply never paid or sought to exercise its purchasing options.
Finally, in LeShore, justices handed down an opinion last week that granted transfer and reversed the trial court.
Charlie Leshore had pleaded guilty to burglary, a Class B felony; two counts of robbery as Class B felonies; rape, a Class A felony; and two counts of criminal confinement as Class B felonies.
The trial court accepted Leshore's guilty plea and sentenced him to 70 years in the Indiana Department of Correction. Neither the trial court nor his public defender advised him that he could appeal his sentence.
In 2001, Leshore petitioned for post-conviction relief under Rule 1, arguing his sentence was inappropriate due to the nature of the offense and the character of the offender.
The Public Defender's Office reviewed Leshore's petition and concluded the trial court advised Leshore of all necessary rights. In light of those findings, the office withdrew its representation, and Leshore abandoned his efforts in 2005.
In a divided memorandum decision, the Court of Appeals affirmed. The Supreme Court, however, reversed the trial court.
Justice Christopher Goff dissented with a separate opinion, which Justice Geoffrey Slaughter joined.
In the separate opinion, Goff wrote Leshore "has not demonstrated diligence in pursuing an appeal."
The justices denied transfer to 19 other cases last week.
They concurred on all denials except for Indiana Department of Natural Resources v. Marvin Houin, et al., 21A-CC-1178. Justice Slaughter and Justice Derek Molter voted to grant transfer.
In that case, a family of farmers in Marshall County who claimed their fields flooded because of the Indiana Department of Natural Resources' negligent operation of a nearby dam had their trial court victory reversed when the Court of Appeals ruled that a state statute grants the agency immunity from negligence claims.
Please enable JavaScript to view this content.