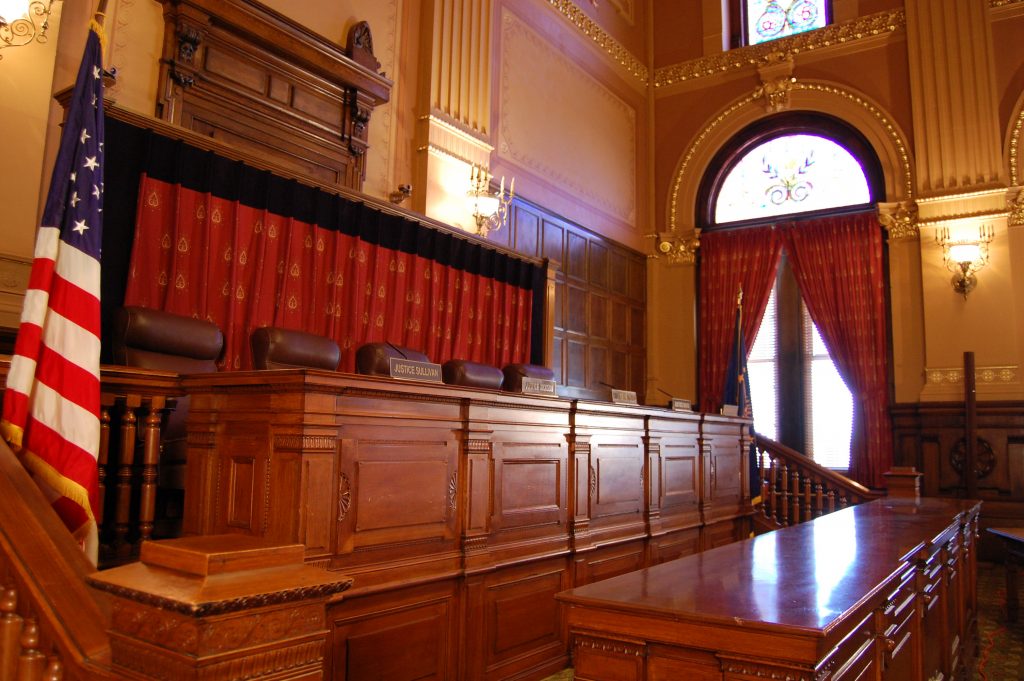 The Indiana Supreme Court will hear two oral arguments this month, including a case involving a drainage dispute between government agencies and a local couple, and a case in which a mental health patient killed his grandfather after he was released from a hospital.
First, at 9 a.m. Thursday, justices will hear arguments in Town Of Linden, Indiana, et al. v. Darrell Birge, 22S-PL-352.
In that case, Darrell and Sandra Birge sued the town of Linden and the Montgomery County commissioners, drainage board and surveyor in 2014 after improvements were completed to an existing regulated drain to alleviate flooding issues in Linden and the surrounding areas.
After the drain was improved in 2012, the couple alleged water ponded on the lower-lying areas of their property after any significant rainfall. The flooding made it hard to farm those parts of their property, so the Birges refused to pay the $7,679.23 assessment levied against them by the drainage board.
After the town won the dismissal of the Birges' action for inverse condemnation, the Court of Appeals of Indiana reversed in July 2016.
On remand, the trial court issued a judgment and order finding the improvements to the drain had caused repeated flooding on the Birges' property.
However, in April, the Court of Appeals reversed again, finding the evidence did not indicate that there had been a permanent physical invasion.
After a petition for rehearing was denied, a petition to transfer to the Supreme Court was filed in July and ultimately accepted.
Also this month, at 9 a.m. Dec. 15, justices will hear oral arguments in Zachary Miller v. Laxeshkumar Patel, M.D., et al., 22S-CT-371.
In that case, a grandson killed his grandfather after being released from a local hospital, where he had sought mental health treatment.
On several occasions between December 2016 and early January 2017, Zachary Miller went to Community Howard Regional Health's emergency room and requested admission for his mental illness and dangerous propensities. He was treated and discharged each time.
After one treatment, on Jan. 9, 2017, Miller killed his grandfather, John. Miller then pleaded guilty but mentally ill to voluntary manslaughter and was sentenced in 20 years in prison with 12 years executed.
A medical review panel found that the providers failed to comply with the appropriate standard of care and that the failure was ultimately a factor in the resulting alleged damages. Miller then filed a complaint for damages against the providers in the Howard Superior Court, but the trial court granted summary judgment for the defendants.
The Court of Appeals reversed that decision in May, concluding Miller's case presented the same problem found in Rimert v. Mortell, 680 N.E.2d 867 (Ind. Ct. App. 1997), trans. denied — a lack of clarity as to whether Miller was legally responsible for his criminal act of murder.
The judges concluded that public policy should not preclude Miller from attempting to rebut the facts as established by his criminal conviction and prove that he was criminally insane at the time of the killing and, thus, not responsible for the act.
Further, looking at collateral estoppel, judges opined that Miller did not have a full and fair opportunity to litigate the issue of his criminal responsibility in the criminal case.
The arguments will be held in the Indiana Supreme Court courtroom on the third floor of the Indiana Statehouse in downtown Indianapolis. They will also be livestreamed.
Please enable JavaScript to view this content.