Richard Blaiklock has never been one to shy away from hard work.
During the summer of his junior year at Hanover College, Blaiklock worked at a coal mine in Harlan County, Kentucky. His father was a coal mining engineer, and during the drive to the site on Blaiklock's first day, his dad informed him he was going to be working in a supply shed.
Blaiklock recalled how his father told him that while he had more education than most people at the mine, he wasn't any better than them because of it.
"That has stuck with me," Blaiklock said. "You try to keep that frame of mind. Just because I've had opportunities for education and other things that other people haven't, it doesn't make me any better than anybody. I try to take that with me everywhere I go."
The longtime business litigator will now take that attitude and work ethic into his new, three-year term as managing partner of Lewis Wagner LLP. Lewis Wagner, founded in 1955, has 39 attorneys practicing in the areas of business services, litigation and real estate along with alternative dispute resolution and personal services.
Blaiklock, 52, succeeds Jason Lee, who recently completed his term as managing partner.
Despite being new to the position, Blaiklock has served on the executive committee "on and off" for the "last seven or eight years." He now leads that committee in his new role new, guiding the firm's strategic initiatives.
New spaces
Blaiklock takes over as managing partner during a unique time, as law firms nationwide continue to adapt to the changes brought on by the COVID-19 pandemic.
While he's worked for the firm since 2001, Blaiklock's office space looks much different these days.
On June 1, Lewis Wagner moved from its office of 30 years on the downtown Indianapolis canal to the former Box Factory on the North Mass Ave. corridor, located at 1411 Roosevelt Ave. Lewis Wagner has spaces on the first and fourth floors of the 1920s-era refurbished mixed-use building.
Prior to the move, in March 2021, the firm put a six-month pilot program in place during which legal staff worked in the office three days a week and at home two — a policy that Blaiklock said he foresees indefinitely staying in place.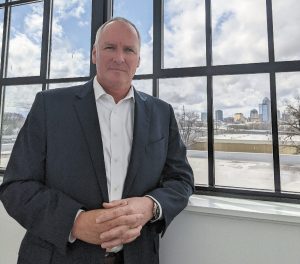 However, while there are no formal policies in place for attorneys, Blaiklock said lawyers are now mostly expected to come into the office.
"One thing that I think is missing from working at home, especially for young lawyers, is just interfacing with more senior lawyers. That's a lot of the way that you learn as a young lawyer," he said. "And so we're just contemplating how to both recognize the new normal, which is people want to be able to work at home, but at the same time recognizing, especially with younger lawyers, they need to be interfacing with their partners and the more senior lawyers in the office so that they can learn. So that's something we're evaluating."
One of the advantages to moving to the new space during the pandemic, Blaiklock said, has been the new technology installed in the offices. He also hinted that Lewis Wagner is in the process of creating a "more formal" mediation center, and to expect more news on that in the coming months.
Blaiklock said the current billable hours at Lewis Wagner are about the same as pre-COVID, but there was a slight dip right at the pandemic's onset before it bounced back.
Looking ahead
At this time, Blaiklock said there are no plans to expand Lewis Wagner's physical space. Nor are there any active plans to open satellite offices.
While many midsize and smaller firms are looking at potential mergers, Lewis Wagner feels it's well-positioned, Blaiklock said.
"The answer is no, not affirmatively," Blaiklock said when asked if Lewis Wagner is in the market for a merger. "We feel like there's probably, at least in Central Indiana here, there's two to four other firms similarly positioned to us, and we like where we are positioned."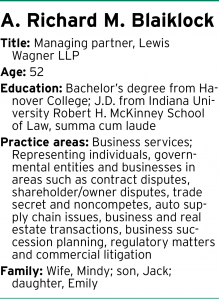 When it comes to attracting new business and retaining clients, Blaiklock said Lewis Wagner will continue to hang its hat on providing "excellent legal work and being responsive."
"Those are the two key components to not only retaining clients but also getting new clients," the new managing partner said. "We have a good track record from predecessors beyond myself that hopefully our firm reputation and our reputation for doing excellent legal work — doing it the right way — and being responsive with clients and other lawyers and courts will continue to allow us to retain business and get new business."
Blaiklock said his practice primarily has an emphasis on supply chain disputes, shareholder disputes and just any contract-type dispute. He has argued multiple times before the Court of Appeals of Indiana, the Indiana Supreme Court and the 7th Circuit Court of Appeals. He was admitted to the U.S. Supreme Court in 2019.
The new managing partner said some of those that have mentored him at Lewis Wagner include John Trimble, Tom Hays, Jerry Hammond, Robert Wagner, Dina Cox and Lee.
Trimble, a fellow Hanover College grad, has known Blaiklock since the latter was a 2L at Indiana University Robert H. McKinney School of Law.
Blaiklock spent a short time as a law clerk with Lewis Wagner before taking another job upon graduating law school in 1997. He would later return to the firm in 2001.
During part of his time as managing partner from about 2007 to 2015, Trimble said Blaiklock was deputy managing partner. However, at the time, Trimble said Blaiklock's "practice was really taking off," so when his tenure ended, Blaiklock didn't succeed him.
Trimble had high praise for the new managing partner, saying he is among the best lawyers he knows and is strategic and thoughtful in his work.
"He's extremely good at studying how the firm is operating," Trimble said. "… I think that probably the No. 1 leadership trait that he has shown is he understands how important the culture of a firm is to maintain the existence of the firm and to growing a firm and to having a profitable firm. … He has really paid attention to what's been important about our law firm historically and knows how to build upon that."
Blaiklock commended Lee, whom he has worked with in the business services group since 2008, for his leadership over the past three years during COVD.
Likewise, "Rich is one of the hardest working and thoughtful attorneys I've seen," Lee said. "… He has very high standards for himself, and I think he leads by example."
Outside his practice, Blaiklock has been actively involved with the Leukemia & Lymphoma Society for years. He was named the society's Indianapolis Man of the Year in 2017 for raising $266,775 in 10 weeks.
Additionally, Blaiklock and his recreational men's ice hockey team have raised more than $1.6 million over nine years.
Lewis Wagner is the sixth law firm in the Indianapolis market to recently announce new leadership. The other firms are Ice Miller, Barnes & Thornburg, Plews Shadley Racher & Braun, Hall Render Killian Heath & Lyman, and Church Church Hittle & Antrim.•
Please enable JavaScript to view this content.