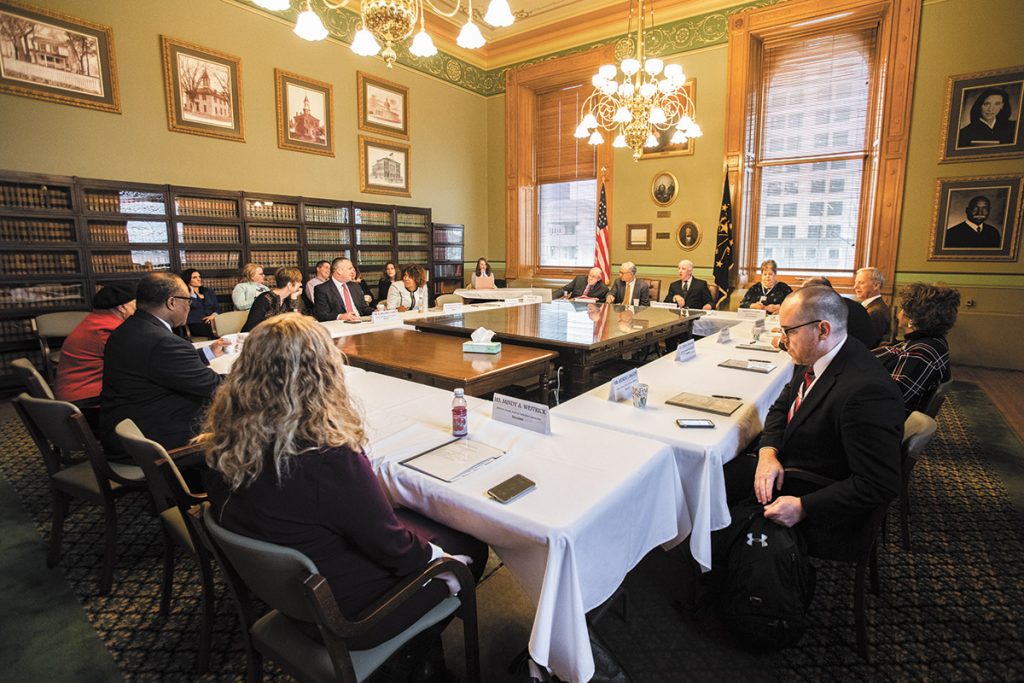 The 13 Indianapolis judges seeking retention this year are proceeding to the November ballot with a stamp of approval from the Marion County Judicial Selection Committee.
The 14-member committee — led by Indiana Supreme Court Justice Mark Massa and Indiana Court of Appeals Chief Judge Cale Bradford — conducted 20-minute interviews March 9 with the Marion Superior Court judges sitting for retention in 2020. Those judges are:
• Cynthia J. Ayers, Civil Division 4
• David J. Certo, Criminal Division 12
• Elizabeth Ann Christ, Criminal Division 24
• Angela Davis, Criminal Division 16
• Patrick J. Dietrick, Civil Division 12
• Kurt M. Eisgruber, Civil Division 6
• Shatrese M. Flowers, Criminal Division 2
• Christina Klineman, Criminal Division 17
• Gary L. Miller, Civil Division 3
• Timothy W. Oakes, Civil Division 2
• James B. Osborn, Civil Division 14
• Marcel A. Pratt, Traffic Division
• Marc T. Rothenberg, Civil Division 7
Three judges — Barbara Crawford of Criminal Division 1, David Dreyer of Civil Division 10 and Marilyn Moores of the Juvenile Division — have opted to step down from the bench rather than seek retention. Their successors will be chosen through a merit-based selection process beginning in May.
The Indianapolis judges who were recommended for retention were asked to opine on a variety of judicial issues, from civility to diversity to the new Marion County Community Justice Center and more. Here's a look at some of the most frequent topics of conversation.
Community Justice Center
A pressing issue facing the Marion Superior Courts is the planned move to the Marion County Community Justice Center in Indianapolis' Twin Aire neighborhood. The center is still under construction — with an official open date in 2022 — but the Marion Superior Court Executive Committee has already been planning for several years for the transition.
One of the biggest touted benefits of the center is its technological opportunities. Judge James Osborn has been overseeing the information technology initiative, which he said will feature screens designed to help litigants navigate the new courthouse, apps to send case updates and hearing reminders, and in-court tools to make sharing and reviewing digital exhibits easier.
"The basic idea with information technology is this: We want to be able to have a court system that delivers information in the best way possible to people who make decisions, whether that's a judge, a magistrate, a juror," Osborn said.
Outside of the technological benefits, Judge Marc Rothenberg sees the opportunity for judges to diversify their experience once they move to the Community Justice Center.
Rothenberg previously served as a criminal court judge and now presides over a civil docket. With the justice center designed to increase the courts' flexibility, he raised the possibility of judges rotating dockets to get exposure to various case types.
Diversified diversity
Diversity was a key issue for members of the committee, and consideration for creating a diverse bench will be a critical part of the May interviews of candidates to fill the court's three vacancies.
Judge Shatrice Flowers said, unfortunately, many defendants in the criminal justice system are people of color. As a black woman, Flowers said she has an opportunity to show young people of color that they can be the ones on the bench.
Out in traffic court, Judge Marcel Pratt says he has an open-door policy that encourages young lawyers to come to him for advice on judicial issues, including ascending to the bench as a person of color. As an African American, Pratt can share insights from his journey to the bench.
But his advice is always the same, regardless of race or age.
"I just tell them, 'You have to be prepared in every way.' Preparation is the key to success," he said.
Diversity can come in other forms, the judges said.
Judge Tim Oakes discussed diversity of experience, having worked in some capacity with all three branches of government. For example, he worked with the Legislature to give Marion County commissioners the same pay as magistrate judges, then to convert the commissioners to magistrates, saving money.
Diversity of thought is also important, Judge Christina Klineman said.
She and many of her colleagues on the bench are white women, but she would never say they all have the same ideas. Instead, Klineman said, people of the same race, age or gender bring their unique backgrounds to their work as jurists.
Staying civil
Civility is certainly a buzzword in the legal community right now. Even so, Judge Elizabeth Ann Christ says she thinks a "lid has been removed" in that people will say things in open court today that five years ago would not have been acceptable.
For Christ, the answer is to teach those in the gallery about the role of the judiciary in our society.
"I think it's my job to educate the public about, 'This is why we do what we do,'" Christ told committee members. "… 'It's not me you're supposed to be respectful of. It's the law. It's the robe.'"
Judge Patrick Dietrick thinks experience could play a role in civility, as he's observed that newer lawyers can be more emotional about cases. And for Judge Gary Miller, maintaining order in his court starts at the top. He's a jokester by nature, but not when he's on the bench.
The human element
Judge David Certo describes his job in simple terms: he listens.
Especially when he's presiding over his veterans court docket, Certo said his role is to engage with participants, find out what their problems are and work with them to put them on the path to recovery.
He also takes that mindset to his Center Township community, where he has opportunities to engage with his neighbors and hear directly from them about their concerns.
"If I see you in the grocery, then it becomes pretty urgent whether to return phone calls or rule in a timely fashion," he said.
Judge Angela Davis works with a particularly sensitive group of cases — domestic violence and protective orders.
When she's presiding over a particularly difficult case, she tries to hark back to her years as a public defender. That helps her develop renewed patience and understanding for the defendants in front of her.
Bar involvement
It's often said that lawyers become more isolated once they take the bench, but the Marion County judges say they still have opportunities to engage with the bar. Naturally, the Indianapolis jurists are heavily involved with the Indianapolis Bar Association.
Judge Cynthia Ayers was once the IndyBar president, becoming the first black person to lead the organization. She views bar involvement as a way to stay engaged with practicing lawyers and to collaborate across the city to improve the legal profession.
Judge Kurt Eisgruber was actively seeking ways to bolster his connection with the legal community, and he settled on the IndyBar's Bar Leader Series.
Not only does the program allow him to engage with younger lawyers, but it also allows him to live up to what he sees as his duty as a jurist.
"I just think a judge should have responsibilities out in the community, beyond the bench," he said.•
Please enable JavaScript to view this content.