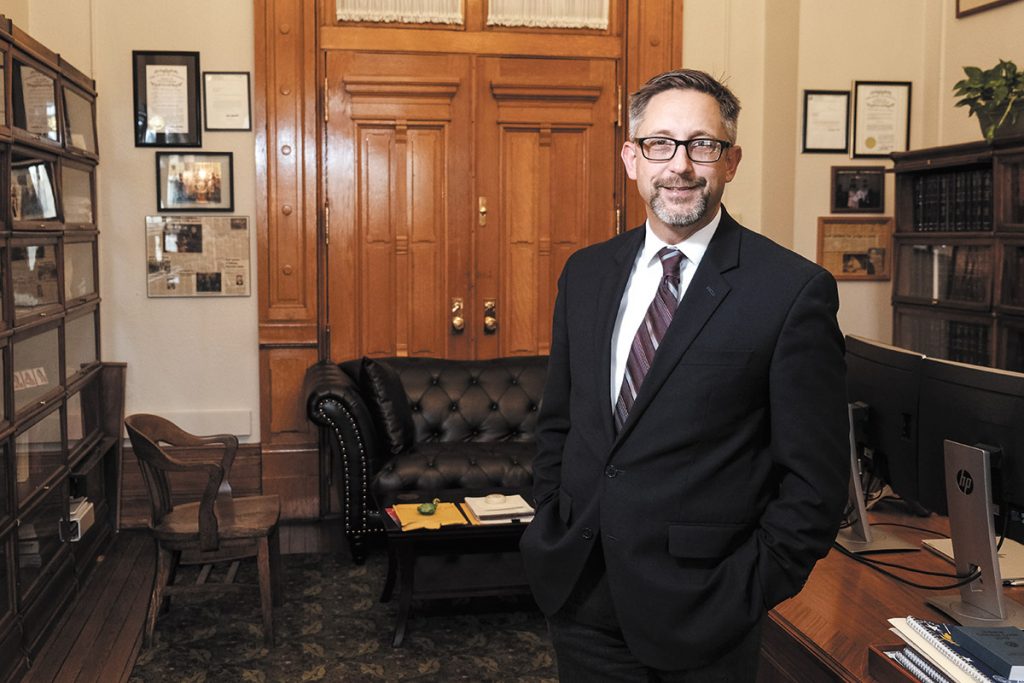 He describes himself as "a kid from a cornfield." And for Justice Christopher Goff, ties to his cornfield community run deep.
Raised in rural Huntington County, Goff became a judge in 2005 in neighboring Wabash County, where he used the bench to address local problems. He assembled a local team that would create one of Indiana's first rural drug courts, and he continues to champion the role of community-based treatment in combatting the drug crisis.
It was this belief in problem-solving courts that led Goff to apply for the appellate bench, first, unsuccessfully, in 2015, when a vacancy came open on the Indiana Court of Appeals.
"I applied for that primarily because the way we were doing this in Wabash County was really a good story, and a story that could probably be replicated," Goff recalled.
Even so, when a seat on the Indiana Supreme Court opened up in 2017, Goff's commitment to his local stakeholders almost convinced him not to apply. Once he did apply, the justice surmised that it was his community, not his skills, that landed him the job.
"I think that partnership that we were able to foster in our community was something, more than any of my qualities, that ultimately led me to this position," he said.
Goff finally joined the high court in the summer of 2017, though he delayed his eventual move to Indianapolis to allow his middle daughter to finish high school. He recently sat down with Indiana Lawyer to discuss his two years as a justice.
What's it like being the newest justice on the bench?
It's humbling, because you do realize that, in terms of conference discussions, you're really framing the issue. … Looking at a case from – hopefully, if your preparation has gone right – every angle, and really discussing those things that you think need to be addressed by the court, those things that you think might bring some clarity to the law and ultimately make things better for the people that we serve, is just quite a responsibility.
Did you have a justice mentor?
They were all great, but formally, Justice (Steven) David was my mentor. He is a lot of fun. I got a call about the appointment on a Saturday, and … on Sunday, I was in the car, and Justice David called, and the first thing he said was, "Hey, partner." … I just could not have asked for a more welcoming, down-to-earth, level-headed, wise person to see me through that transition.
What was it like transitioning from the trial to appellate bench?
Justice David always told me, "Chris, you're going to be 20% of the man that you were before." It's complicated, because on the one hand, I was deciding between 4,000 and 8,000 cases a year by myself … The thing that has been different about this is – and I really am thankful for the opportunity I had to work in problem-solving courts – that process of arriving at consensus on an issue, but having to talk through that and come at it in different ways through five different lenses, that has been challenging. But at the same time, it's pretty rewarding at the end of the day when you're able to do that, because you feel at least somewhat satisfied that you've been able to do justice and give an issue the attention that it deserves. …
What's the dynamic like among the five justices?
One of the things I like to tell people about Justice (Geoffrey) Slaughter is, he … was up there talking to my wife and kids out in the hallway (after Goff was announced as a justice) for probably half an hour, 45 minutes, just letting them know, "Hey, we're really glad to have you," and being very welcoming. … Justice (Mark) Massa is just so genuinely funny and warm. … And all I can really say about the chief and Justice David is that when you become a part of our judicial family, the institution, as a trial court judge, when Steve David and Loretta Rush went through the process, they were genuinely my heroes. … It's just a joy and honor to serve with all my colleagues.
What are you looking for when you're considering a transfer petition?
What I'm looking for on the micro level is an opportunity to do justice. But what I'm looking on a macro level is – and this is important that people don't always understand about the Supreme Court as opposed to the Court of Appeals – we don't serve the function of error correction; we have this broader function of clarifying the law. So when you have the opportunity to pick a case that does both, the chief sometimes says, "If there's a case that really sings to you, then that's one that you look for."
What's been your administrative role as a justice?
The one that I suppose I've been most heavily involved in so far has been our efforts to increase the number of family recovery courts in Indiana. … Generally, when you establish a problem-solving court – a drug court, for example – almost everything you need to do that is available in any county courthouse, because you can rely on a probation officer to be the administrator of the program. But certain types of problem-solving courts, like family recovery courts, really involve close collaboration with an executive agency, with DCS, and it's really an effort to get everybody on the same page. We've been able to do that – we went from approximately seven certified family recovery courts in January 2018 to we've got, I believe, more than 20 now in the pipeline, once they go through full certification. …
I serve as the court's liaison to the problem-solving courts committee. The chief has just tasked me with looking at improving court and community response to persons suffering with mental illness. I serve as the chair of the St. Joseph County Judicial Nominating Commission. They keep us pretty busy with those initiatives, but I always like to be able to multitask. That dynamic – using courts as conveners to bring together stakeholders – is, not to beat a dead horse, but I really believe to be the key to leveraging judicial power. …
What was it like being a trial judge during the drug crisis?
It makes an impact to have somebody in front of you to really turn the corner in terms of their recovery. … It's depressing when you think about, "How am I going to change this big global issue?" But when you start thinking about, "What can we do to make this person have the best chance to get things turned around?" – it really infuses hope, and it's pretty neat to see when it happens. I remember one graduation … there was just a string of little kids (supporting a graduate) that came into my chambers, and they all sat in the judge's chair. They looked at the court system – they looked at law enforcement, they looked at child welfare and all the public safety officials, attorneys – differently because of that experience. … I want that opportunity available throughout the state, and that's why I'm passionate about the problem-solving court initiative.
What's been the biggest challenge?
Building the infrastructure to respond appropriately to the opioid crisis. … Maybe in 2008, 2009, then-Chief Justice (Randall) Shepard was talking about going through the economic downturn, and he described the courts as bent, not broken. I think that public health, public safety crisis really put everybody nationwide in that same boat. …
The other thing is, these are big jobs, and it's just part of it, but having effective communication. …
And the biggest success?
I'd flip that around and I'd say about the same thing, because at the end of the day, we had these statewide summits, and we were able to go out and include multidisciplinary teams from all 92 counties to get on the same page about the opioid epidemic, about pretrial reform. That is absolutely a success story. … By making that model available, that opportunity to come together as multidisciplinary stakeholders in all our 92 counties, I think we're going to be much better prepared when the next crisis comes to put an action plan in place and get the resources where they need to be.
What are the best and hardest parts of your job?
My mother was 19 when she had me, and she always told, even if it wasn't true, "You're smart, you can do anything." And to see what somebody's able to get done coming from the circumstances I did, mostly because you have a positive voice speaking into you on a daily basis, gives me a lot of confidence that we're going to be able to continue to do some positive things in the future. I understate that – I am very optimistic that Indiana is well-positioned to ensure that every child has the opportunity to thrive and succeed, and to be able to be part of that and being an integral part of making that happen is just humbling.
The second thing, to be very real, is the life-changing aspect. We had in April our oral argument on the road in Wabash, and the chief was walking around, and she told me afterward, "I feel bad we asked you to leave this." … It's good in a lot of ways – (my wife and I) have four children – to see the difference in what their lives are because of the move. … All in all, it's been positive.
What do you think the future looks like for the court?
… That opportunity to put those tools into every community and to have that discussion that you really need to be calling in your community mental health provider, you really need to be working with your trial court schedules so that you can have counselors available and get people in treatment before or as soon as they leave the jail – these things are going to take time. … We've deployed Odyssey now in virtually every county, we've done all this wonderful training, held these statewide summits. … I think that the future is bright for the justice system, and more importantly for the people it serves.•
Please enable JavaScript to view this content.