Looking ahead to the 2022 session of the Indiana General Assembly, Jennifer Haan has hopes and expectations.
The Lafayette mother and volunteer leader with Moms Demand Action would like the Legislature to pass bills to regulate the safe storage of guns and to close some of the holes in the state's red flag law. However, she expects Indiana lawmakers will remove the requirements that Hoosiers obtain a permit to carry a concealed, loaded firearm, and she anticipates they will push back against executive orders President Joe Biden has issued in response to the gun violence this year.
Haan is also confident volunteers from Moms Demand Action will be at the Statehouse advocating for what she called "gun sense" laws.
"We're not going anywhere," Haan said. "We're stronger than ever. Any time there is a mass shooting that grabs the headlines, we get more volunteers because people are sick and tired, and they don't want them to happen anymore."
In spite of the public's fatigue, mass shootings keep occurring, and in the waning hours of April 15, Indianapolis again experienced that heartbreak. At the FedEx facility near the Indianapolis International Airport, eight employees were killed and five were injured by a 19-year-old using two legally purchased AR-15-style rifles.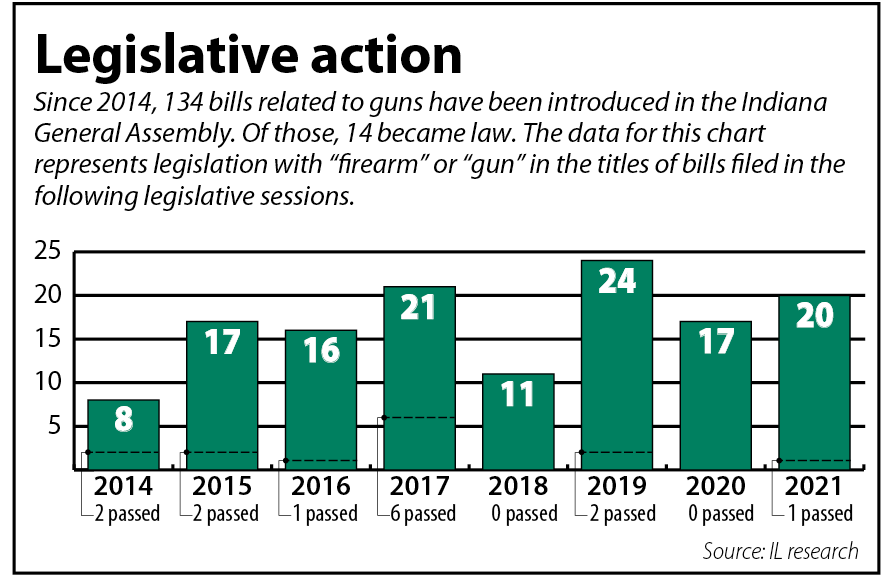 State officials began offering their prayers and condolences within hours of the tragedy.
Senate President Pro Tem Rodric Bray, R-Martinsville, and House Speaker Todd Huston, R-Fishers, called the shooting "senseless and completely shocking" and "something no family or community wants to ever experience." The Republican leaders also expressed deep sadness and offered their sympathies for the victims and the families.
Democratic leaders, likewise, condemned the "devastating act" and "senseless act of gun violence." But the minority went a step further and pushed for reform.
"What is certain is that our state must stop turning a blind eye to the amount of gun violence in Indiana," Sens. Greg Taylor, J.D. Ford, Jean Breaux and Fady Qaddour, all Democrats from Indianapolis, said in a joint statement. "It has long been time to act to reduce the prevalence of guns in our communities."
The differences in the statements reflect that division in the General Assembly whenever gun legislation is debated. Republicans, as a whole, argue against any infringement on Second Amendment rights while Democrats, in general, advocate for gun regulations.
With the Republicans having a supermajority, the Legislature has been consistent in passing bills that weaken restrictions on firearms. Legislation that Moms Demand Action and other organizations consider common sense, such as universal background checks and safe storage, face an uphill battle in the Indiana Statehouse.
Haan said in talking to the legislators individually, some Republicans will tell her they favor gun regulations while others are "extremists" who oppose any restriction. The Indiana chapter of Moms Demand Action watches the Legislature and has volunteers ready to testify even when bills are added to hearing agendas with little advance notice.
Supporters of gun rights will also show up at the Statehouse to testify at hearings and talk to lawmakers. The group Hoosier Gun Rights has several updates on its website on so-called constitutional carry laws that were introduced in the Legislature and urged members to continue advocating for passage.
"Gun owners won't sit idly by and tolerate representatives paying lip service to the Second Amendment who then turn around and support gun control," the association told its members at the start of the 2021 session.
Neither the association nor the Indiana State Rifle and Pistol Association responded to interview requests.
EXTRA
Click here
to learn more about the possible loop holes in Indiana's red flag law.
Lots of gun bills
A total of 134 bills with either "firearm" or "gun" in the title have been introduced into the General Assembly from the 2014 through the 2021 sessions, according to IL research. Of those, 14 have passed.
Bills have been filed that would have eliminated gun-free zones, prohibited lawsuits against gun manufacturers and created a firearms training program for teachers.
During the 2021 session, seven bills were introduced that would have repealed the law requiring Hoosiers to obtain a license to carry a handgun. House Bill 1369, authored Ben Smaltz, R-Auburn, cleared the lower chamber on a 65-31 vote before stalling in the Senate Judiciary Committee.
Smaltz described the bill as removing the hurdles that criminals routinely ignore but law-abiding gun owners have to jump over to be able to carry their firearms. A fiscal analysis of the bill estimated the state would lose $5.3 million in licensing revenue that Smaltz said law enforcement uses to buy equipment. He indicated HB 1369 would bring some fairness by requiring the entire state to bear the costs of that equipment rather than just gun owners shouldering the entire expense.
The hearing on HB 1369 in the House Public Policy Committee lasted three hours, with supporters and opponents each testifying. Lawmakers asked questions but the event was respectful.
That was not the case when Shannon Watts, founder of Moms Demand Action, testified at the Statehouse in 2014. The Zionsville mother was opposed to a bill that would have allowed guns to be stored in locked cars in school parking lots. According to news reports, when she began making her remarks and offering statistics to back up her points, Republican lawmakers got combative, with one accusing her of manipulating the data.
In the wake of the FedEx shooting, Indiana Republicans resisted examining the state's gun laws, saying it was too close to the end of the session to undertake such a task. Even pleas to take a look at the state's red flag law, which allows firearms to be taken from individuals deemed at risk of harming themselves or others, were ignored.
Indiana enacted its red flag law in 2005, which served as a model because few states at that time had similar statutes. The law has been tweaked but is now seen as having so many holes that some critics have dubbed it the "Swiss cheese law."
Rep. Ed DeLaney, D-Indianapolis, and Sen. Eddie Melton, D-Gary, tried to push their Statehouse colleagues to consider gun reform in the closing days of the 2021 session. They tried to insert language into Senate Bill 413 that would have mandated universal background checks and banned the sale of assault weapons.
However, the amendment was rejected by the bill's author, who said it was not germane to the legislation.
The Democrats countered by calling attention to the Republican Senate supermajority recently passing Senate Resolution 39. This resolution stated that Republicans' policy is to oppose any restrictions on the type of guns sold in Indiana and to refuse compliance with any federal gun control legislation.
Melton asserted Indiana and the state are being rocked by a "mass shooting epidemic" and the work to end the cycle of violence starts in the General Assembly.
The Democratic caucus will continue to fight "to see common-sense gun legislation approved into Indiana law," Melton said. "Our residents don't deserve to live in fear of the next mass shooting."•
Please enable JavaScript to view this content.