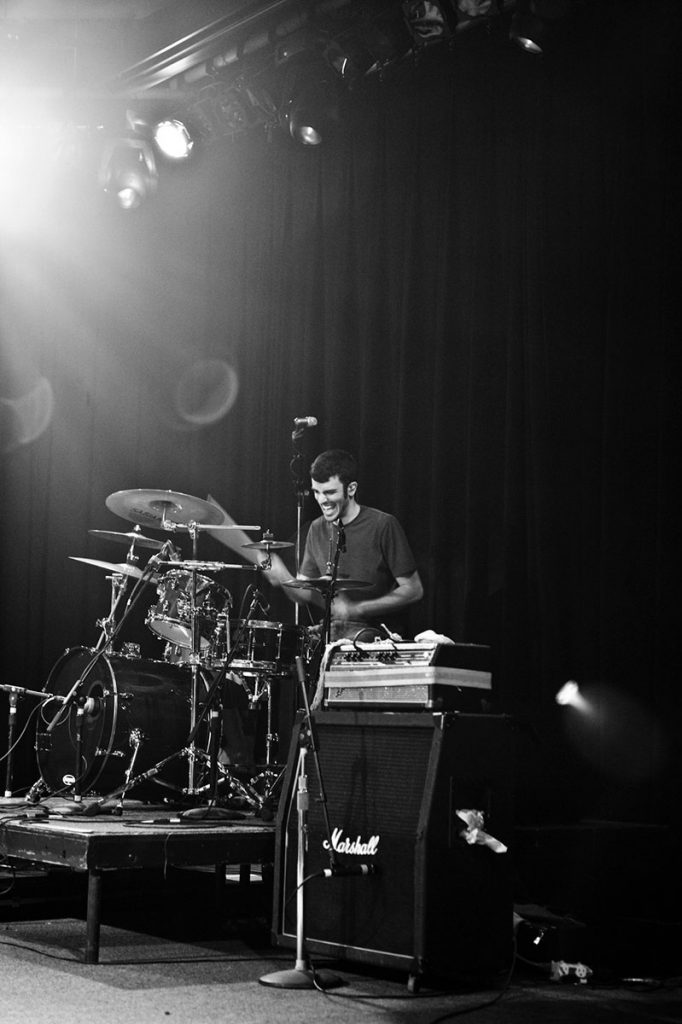 As Faegre Drinker Biddle & Reath attorney Julian Harrell aims to complete his first hip hop album, his friend and fellow Faegre Drinker associate Abe Jentry Shanehsaz reflects on his past experience as a drummer in a touring band.
After meeting in the legal profession, the two Indianapolis associates bonded over a shared passion for music, which has played an instrumental role in both of their lives in various ways.
While one man continues to create and push his musical boundaries, the other is enjoying stepping back to root for his friend and fellow creative while representing musical clients on the job.
Peeling back the curtains
Harrell has been writing hip hop music for nearly 20 years, an effort he said has taken many different shapes.
WATCH: See Harrell and Shanehsaz perform a piece they wrote together for United Way.
He's been involved in the Indy music and arts scene, performing with the organizations like the Harrison Center for the Arts' PreEnact Indy, the Indianapolis Mobile Theatre and serving as a member of the Indiana Repertory Theatre's Diversity, Equity, and Inclusion Committee.
He also enjoys networking with local artists to find new sounds, ideas and ways to represent his music and art. Harrell is no stranger to performing spoken word at open mic nights at local spots in the city or rapping at private events.
But at home, Harrell has devoted the past few years to crafting a project he hopes will educate and inspire.
"That is what I ultimately aim to do," he said. "It's one of the most honest forms of communication that I have found. It requires this high level of vulnerability and transparency."
The theme of his album is "ambiguous loss," which Harrell describes as a universal theme. The project explores themes of losing the nature of a relationship with a loved one who suffers from Alzheimer's, struggling with the closure of whether prisoners of war are still alive and the difficulties that come from experiences like divorce and substance abuse.
Although it's a vulnerable expression, Harrell said it's cathartic.
"It's good because I enjoy making the art. My goal beyond that is for folks who have experienced something very similar," he said. "You are not in this alone, there are ways to forge ahead."
Musical threads run deep
At 12 years old — when he begged his parents to let him buy a drum set — Shanehsaz had no inkling he was starting a musical journey that would later be woven into the fabric of his legal career.
The trademark and copyright attorney got hooked on playing percussion after he started a garage band with friends in middle school, staying consistently in a band from that point until he graduated law school.
His college band, called The Postscript, sounded like a blend of John Mayer and the Dave Matthews Band, Shanehsaz said. They toured on beaches across Alabama and Louisiana, taking a monthlong stint to promote the band's full album.
"We had a blast with it. It was something that at the time I think all of us thought we could do forever, but it didn't work out," he said. "But we had the time of our lives for sure."
While he doesn't work on music with nearly the same intensity as he once did, Shanehsaz said he certainly stills attempts to work out those muscles.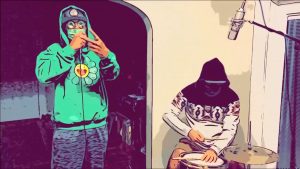 "Every opportunity I get, I make sure to keep those creative juices flowing," he said, citing his most recent collaboration with Harrell for a United Way fundraising campaign. The two hunkered down to write, record and film a short song in just two hours for the cause.
"It's so easy to do that kind of stuff with Julian because he is such a potent lyricist," he said. "It was a lot of fun."
For Shanehsaz, music has always been a vivid way of remembering. He remembers law school in the concept of his songs, with music serving as a playlist for the memorable periods of his life.
"Some of my deepest friendships were forged around music, and my most meaningful relationships have stemmed from that," he recalled. "It ended up directing my career, even though I didn't make a career in playing music."
On the second day of law school, Shanehsaz attended the Intellectual Property Association callout meeting at Indiana University Maurer School of Law. It was on that day that he confirmed copyright law was for him — the body of law he described as giving value to protect musical endeavors.
Today, Shanehsaz advises clients on all aspects of U.S. and international trademark, copyright, social media, internet and technology and e-commerce matters, advising companies ranging from startups to large multinationals regarding strategic intellectual property protections.
As part of his practice, he occasionally works with new music artists on sample clearances or clearing copyrights for featured artists. That's always a fun experience, Shanehsaz said, because he gets to see videos and hear rough cuts of songs before they are released.
He recalled recently helping with an artist's first record deal and working to advocate on their behalf.
"You get to talk with the artist when they are super excited and not thinking about any of the legal terms to make sure they are going into it with eyes wide open," he said.
Woven together
Reflecting on his musical experience and friendship with Shanehsaz, Harrell said he enjoys having a colleague that shares his passion for music.
"I think it creates an extra sense of community and sticking power at the firm to have that community and shared passion," Harrell said. "I think it's those types of things that make places great to work to at."
Shanehsaz agreed, noting Harrell has influenced his own legal practice by introducing Shanehsaz to artists he's ended up working with.
Although he doesn't play music regularly like he used to, Shanehsaz said he now has the pleasure of being able to take the role of fan to the local music scene and represent clients he meets there.
"It's actually been a huge joy. I get to go watch Julian and anyone else perform and take it in," he said. "It has been really a breath of fresh air over the last 10 years to shift my focus on it and enjoy music in a whole new way, much more like I did when I first started out."•
Please enable JavaScript to view this content.