With Wooden McLaughlin's announcement that it was combining with a national law firm, 2021 began just as 2020 had, with the Indiana legal market at the center of merger activity and industry consultants expecting more deals in the months ahead.
The global pandemic halted the skyrocketing law firm mergers of recent years. However, as Wooden McLaughlin's decision to merge illustrates, the forces driving these combinations in the past have continued despite the coronavirus outbreak and will likely ignite more deals if vaccines quell the public health crisis and people are able to return to some sort of a pre-pandemic lifestyle.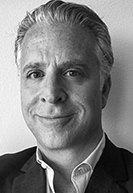 Avery Ellis, national executive managing director at Mestel & Co., said law firms across the country are emerging from the pandemic with strong balance sheets. The attorney placement company has found anecdotally that with flat to small gains in revenue, coupled with substantial reduction in expenses, firms are seeing profits up year over year, in some cases up as much as 20% in 2020. So to meet client demands and remain competitive, law firm leaders are looking to acquire lateral partners and other law firms.
The Midwest, including the Hoosier State, could be particularly attractive.
"Indiana is seen as a very stable business market," Ellis said. "You're seeing a bunch of large national (law) firms coming into Indiana, and that trend is going to continue."
Wooden McLaughlin, an exclusively Indiana firm with offices in Indianapolis, Evansville and Bloomington, brought Dinsmore & Shohl into the state through the merger announced Jan. 4. The combination gives Dinsmore, which has 700 lawyers in 29 cities across the United States, its first Hoosier footprint.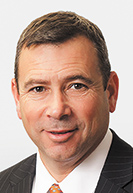 Misha Rabinowitch, the Wooden partner who is now leading Dinsmore's Indianapolis and Bloomington offices, sees the merger as a "tribute to all the positive economic development initiatives" that are happening in the state.
"Whether it's in health care, life sciences, logistics, information technology or any other business segment, they are thriving here to the point where a national law firm of the tradition, depth and sophistication of Dinsmore wants to be in Indiana," he said.
First step in a rebound
Last year started with Indiana law firms leading the merger activity.
Bingham Greenebaum Doll combined with Dentons to launch Project Golden Spike, an initiative to create a U.S. law firm to serve clients across the country in a seamless fashion. Also, Taft Stettinius & Hollister scooped up Briggs and Morgan, and Faegre Baker Daniels merged with Drinker Biddle & Reath.
Law firm combinations hit a record 115 in 2019, according to Altman Weil MergerLine, but any chance for the activity to continue in 2020 was derailed by the pandemic. Mergers fell to 65 last year, the lowest Altman Weil recorded since 60 were completed in 2012.
However, Wooden McLaughlin becoming Dinsmore & Shohl may be the first step in what consultants expect to be a rebound in law firm combinations.
Wooden McLaughlin opened its doors in 1970 and had grown to 47 attorneys. For the past 15 years the firm resisted merger offers, but the approach by Dinsmore in 2019 came as Wooden was looking to grow.
Rabinowitch explained the workload had been increasing to the point where his firm either needed to bring on additional lawyers or join another firm.
With Dinsmore, Wooden saw the opportunity to benefit from having a deeper bench and broader geographic reach, especially in the practice areas of litigation, real estate and commercial finance. In addition, Wooden could offer clients services in practice areas it did not cover such as bankruptcy, publicly traded securities and more substantial mergers and acquisitions work.
"I think because of the growth of our clients, it was incumbent upon us to grow the firm," Rabinowitch said. "… We did not set out to get bigger for the sake of getting bigger."
Wooden is also hoping the merger with Dinsmore will enable the Indiana offices to become more diverse. Rabinowitch said Dinsmore has a number of successful diversity initiatives that he would like to see incorporated into the Hoosier firm. The national presence alone that Dinsmore offers will provide experiences and opportunities that will attract more top candidates.
"With the larger footprint, I think we're better able to compete for diverse talent, whether it's from law schools here in Indiana or around the country," he said.
Clients and culture
Wooden McLaughlin's reasons for merger echo what Ellis has seen in the legal market. Unlike businesses in other sectors of the economy, law firms are not combining to strip out costs but rather to bolster skills so they can better compete for clients and top talent.
Despite the predictions of closures and layoffs at the start of the COVID-19 shutdown, law firms remained stable because revenue did not drop as first feared, Ellis said. Some practice areas such as labor and employment and data security saw more work, while others such as corporate real estate did not fall as much as expected.
"I think what we're seeing is law firms through the pandemic have performed much better than they anticipated," Ellis said. "They're coming through this in good shape and they're ready to invest in their businesses."
A merger between a small firm and solo practice in Elkhart indicates the pressure to grow is not limited to medium- and large-sized law offices.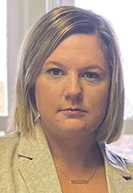 Eric Kinsman merged his practice into the two-attorney Wilson Law Office at the end of 2020. Attorney Kayla Christofeno said the combination made sense because the workload was increasing, particularly in her practice area of criminal law.
Talks between the firms began in the late summer of 2020 after Kinsman lost his bid to be an Elkhart Superior Court judge in June.
Beyond strengthening its position in the local market, Christofeno sees the potential for the new Wilson and Kinsman LLC to expand into different practice areas. Along with criminal law, the firm handles personal injury claims. However, it has had to direct clients who need help with wills and estates or family law matters to other attorneys.
Christofeno said the firm wants to be able to meet more clients' needs rather than having to refer business elsewhere.
The Wooden McLaughlin merger demonstrates combinations are a courtship and firms have to be compatible. Rabinowitch said joining with Dinsmore was attractive because the firms have similar cultures.
Wooden McLaughlin attorneys knew and were familiar with the work of Dinsmore lawyers. But most importantly, both firms valued collegiality and collaboration.
"We felt like we have over a long period of time developed a culture that we really appreciate and enjoy and want to maintain," Rabinowitch said. "… Our clients, and especially our lawyers and staff, folks who work here, have become accustomed to how we respond and the collegial way we work together with our clients. We are protective of that, and we felt like from what we observed that we could maintain that."•
Please enable JavaScript to view this content.