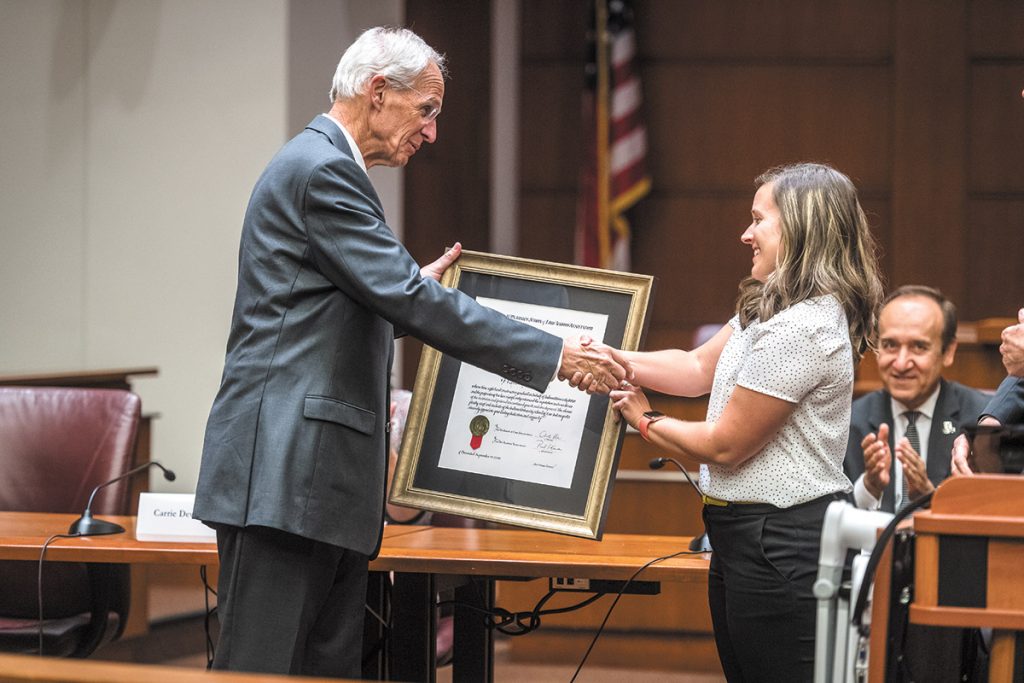 Richard Okello enrolled in law school to make sure opportunity is not limited to certain ZIP codes.
The Ohio native has seen the inequities that exist in the classroom from his time earning a graduate degree in higher education and working at universities. So with the belief that being a lawyer will best enable him to contribute to the solution, Okello ends his workday in alumni relations at Indiana University-Purdue University Indianapolis, then heads to the Indiana University Robert H. McKinney School of Law for evening classes.
"I believe that our policies and practices that are currently in place can be reformed in a way that allows everybody, regardless of where they live and their race and gender, to receive a quality education that then will give them multiple choices and opportunities in life to pursue their dreams," Okello, 34, said.
Idealism may be common among students at all law schools across the country, but the celebration of IU McKinney's 125th anniversary was an occasion to spotlight what many see as the sustained conviction of the graduates to make the world better.
IUPUI chancellor Nasser Paydar said the story of the law school is about people "who lift their voices against hatred and bigotry" in pursuit of justice and to help those around them. Paydar noted the graduates of the school include partners, judges, legal scholars, elected officials and vice presidents.
"The McKinney story includes alumni and friends who provide a strong statement about leadership and vision and the difference that McKinney makes," Paydar said.
At the quasquicentennial party Sept. 17, Okello was among the students, faculty, alumni and friends who commemorated the law school's history and impact. Retired Indiana Justice and IU McKinney professor Frank Sullivan started the evening celebration with a lecture on "Indiana's most famous (U.S.) Supreme Court case," Ex parte Milligan, 71 U.S. 2 (1866), which was then followed by remarks from Paydar and IU McKinney dean Andrew Klein.
The IU McKinney Alumni Association presented Sullivan with the 2019 Honorary Alumnus Award. Paul Kruse, a 1981 graduate and president of the association, told the gathering Sullivan's work has "significantly enhanced the reputation and excellence of the school and fostered its continued growth and development."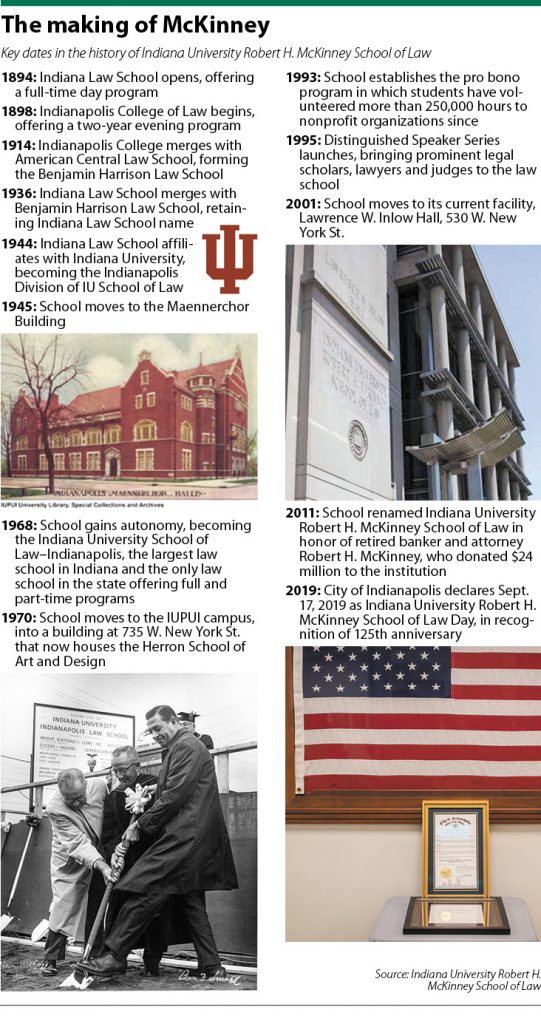 Klein attributed IU McKinney's longevity to people who create a positive culture and care deeply about the school's success. He also nodded to previous leaders in the law school, including Susanah Mead, the first woman dean, and Lawrence Jegen, who with 56 years was the longest serving faculty member in IU McKinney's history. "… We owe them and many others a debt of gratitude for the culture that they created here and to acknowledge the thousands and thousands of lives that they touched," Klein said.
Also recognized was Professor James White, whose contributions to the school and academia are honored by the annual event that carries his name, the James P. White Lecture on Legal Education.
Joining the IU McKinney faculty in 1966, White helped spread the law school's reputation around the world and demonstrated what lawyers can do. He served for 26 years as a consultant on legal education to the American Bar Association and was the director of the ABA's Central and Eastern European Law Initiative, which helped former Soviet block countries restructure their justice systems.
Closer to home when the late Richard Lugar was mayor of Indianapolis, White got "a little Ford Foundation money" and established an urban legal studies program. The city became a laboratory for the law students as officials came to teach about issues such as zoning and crime.
IU McKinney, which traces its founding to 1894 when the Indiana Law School opened in the Circle City, offers a curriculum that includes classroom learning as well as externships and clinics. Hands-on experiences such as helping former inmates successfully re-enter society capture the enthusiasm of the students.
Enthusiasm like Okello feels led Mary Beth Ramey to upend her career plans. In the late 1960s, she was teaching at Butler University and pursuing a Ph.D. at Indiana University when she decided she could have a more powerful voice if she had a law degree. Ramey would teach debate and public speaking students, then drive downtown to take classes at IU McKinney where, at that time, she was among a handful of women in a class of 150.
Ramey believes the law school fosters the spirit of idealism.
"I think some come here with the idealistic concepts to begin with," Ramey, chair of the IU McKinney Board of Visitors, said. "I think others, when they're here, they're surrounded with people and they are presented with new concepts, new ideas and new avenues in terms of career options and public service options, they become very excited about what they may be doing."
After the anniversary celebration's speeches and honors, the crowd flowed into the law school's atrium to enjoy food and conversation. Klein led a champagne toast and called attention to IU McKinney's impact on the city, the state and the nation, and looked forward to "another 125 years of excellence in legal education."•
Please enable JavaScript to view this content.