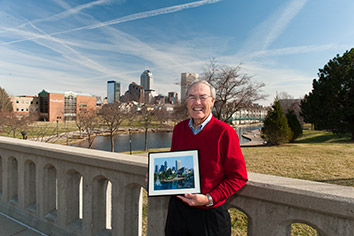 A lawyer and hobbyist photographer known for his litany of federal copyright lawsuits has lost an appeal for the reinstatement of a state-court action and has also been ordered to pay his opponent's appellate attorney fees.
Lawyer-photographer Richard Bell sued Vacuforce LLC for copyright infringement after he discovered that his photo of the Indianapolis skyline was being used on the Vacuforce website without a license. The federal case was eventually settled and dismissed with prejudice in 2016.
Also in 2016, defense lawyer Paul Overhauser moved for attorney fees. That motion, however, was deemed "frivolous and misleading," was denied and resulted in a $500 sanction against Overhauser.  The sanction was affirmed by the 7th Circuit Court of Appeals in November 2018.
Then in March 2019, Bell moved the matter to state court, arguing in Marion Superior Court that Vacuforce had breached the terms of the settlement agreement when it sought attorney fees in federal court. Vacuforce, still represented by Overhauser, responded with a motion to dismiss under Trial Rule 12(B)(6), which the trial court granted.
But Bell moved to set aside the dismissal with prejudice, arguing his attorney, Maura Kennedy, "did not have knowledge of [either the motion to dismiss or] the Court's order granting dismissal on July 25, 2019, because [Kennedy] did not receive electronic service of either of said documents." Vacuforce, however, pointed out that Kennedy had not updated her contact information with the Indiana Supreme Court Roll of Attorneys.
The trial court denied Bell's motion to set aside the dismissal and awarded attorney fees to Vacuforce. The Indiana Court of Appeals affirmed those rulings Tuesday in Richard N. Bell v. Vacuforce, LLC, 19A-PL-2008.
"Vacuforce asserts, and Bell does not dispute, that Bell's attorney had failed to update her contact information, including her email address, with the Roll of Attorneys at the time she filed her appearance in this matter," Judge Edward Najam wrote for the unanimous appellate panel. "Thus, Bell's attorney's failure to receive either Vacuforce's motion to dismiss or the court's order dismissing the complaint was not due to any clerical error but, rather, was due to her own mistake."
Additionally, Najam said Bell did not assert a meritorious claim in his motion to set aside, so any assertion that he has a meritorious claim is waived.
Similarly as to the issue of attorney fees, "Bell has not shown that a clerical error occurred," Najam wrote in the memorandum decision. "… And, in any event, Bell does not support his contention on this issue with a cogent argument, and it is waived."
On cross-appeal, Vacuforce argued it was also entitled to appellate attorney fees. Najam agreed, noting the underlying settlement agreement provides that "in any action seeking relief from an alleged breach of the agreement, 'the prevailing party shall recover all of such party's reasonable attorney's fees' incurred, including appellate attorney's fees."
The case was thus remanded for a calculation of the appropriate amount of attorney fees.
Bell has come to be known by some as a "copyright troll,"  and his federal cases have resulted in both wins and losses for his infringement claims.
One notable ruling came in September 2019, when a federal jury determined Bell does not have a valid copyright for the much-contested Indianapolis skyline photo.
Please enable JavaScript to view this content.