Keith Henderson, who served as Floyd County prosecuting attorney for nearly 20 years, died Aug. 1 at his home surrounded by his family following a battle with Lyme disease. He was 59.
"We have suffered an immeasurable loss with the passing of Keith Henderson," Floyd County chief deputy prosecutor Chris Lane said in a statement. "Keith was passionate about many things, namely God, his family, and serving the community."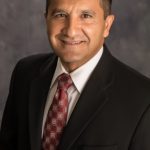 Henderson was first elected as Floyd County prosecutor in November 2002 and had won reelection ever since. He graduated from Valparaiso University with a bachelor's degree in criminal justice and served as an Indiana State Police Trooper before earning a J.D. degree at the Louis D. Brandeis School of Law at the University of Louisville.
Before leading the prosecutor's office in Floyd County, he was appointed as prosecutor of Crawford County in March 1998.
New Albany attorney Rick Fox described Henderson, who was his brother-in-law, as being loyal, strong in his Catholic faith and very family-oriented. Although Henderson was active in state and national prosecuting attorney organizations, Fox said he did not want to pursue higher office until his children were grown.
"He wasn't going to leave until (his youngest children) Alex and Andrew were out of the house," Fox said. "He wanted to be there to raise them all the way until they left. He put aside any other ambitions for his family."
Less than two years after becoming the Floyd County prosecutor, Henderson prosecuted the second high-profile murder case against David Camm, the former state trooper who had been convicted once of shooting his wife and two children in the garage of their home. The first conviction, won by former Floyd County Prosecutor Stan Faith, was overturned by the Indiana Court of Appeals.
Henderson won a conviction against Camm in the second trial, which had been moved to Warrick County. But the Indiana Supreme Court overturned the second conviction, and Henderson was moving forward with a third trial when Camm spotlighted an agreement between the prosecutor and a book publisher. Henderson was going to write a book about the Camm case and, according to court documents, when the second conviction was overturned, he told the publisher he had a "bigger story."
A special prosecutor was appointed for the third trial, at which Camm was acquitted. Henderson was subsequently given a public reprimand by the Indiana Supreme Court for violating three Rules of Professional Conduct.
The Indiana Prosecuting Attorneys Council said Henderson was a "vital resource" for the organization. He was a long-time member of IPAC's board of directors, serving as chairman from 2007 to 2008 and on the IPAC Executive and Ethics committees. Also, he was a past member of the Indiana Supreme Court Rules Committee.
In 2010, Henderson was selected by his peers to serve as the Indiana representative to the National District Attorneys Association. He served on the association's executive committee and testified before Congress about the concerns of law enforcement and prosecutors.
"We are deeply saddened over the loss of one of our own and our prayers are with Keith's family, his friends and his co-workers," IPAC executive director Chris Naylor said in a statement. "Keith was a lifelong servant dedicated to protecting our communities and he gave his all to help others in Floyd County and across the state of Indiana."
Fox said Henderson greatly enjoyed the administrative duties of being a prosecutor, but his first love was being in the courtroom. He was very methodical about preparing for trial, assembling a detailed trial book that listed all the facts of the case, the exhibits, the witnesses and the elements that needed to be met to prove the defendant was guilty as charged.
"He believed in accountability. People should be accountable for their conduct," Fox said of Henderson. "I think he was very fair in terms of how he handled all the cases."
Away from the law, Henderson enjoyed being physically active. He coached New Albany City Youth football teams and was an avid runner, competing in the Louisville Mini-Marathon for 34 consecutive years.
In January, Henderson announced he had been diagnosed with Lyme Disease. Fox, who said Henderson died of Lyme Disease, remembered watching the last trial his brother-in-law conducted and seeing how difficult it was for him to move around the courtroom. Henderson was still able to win a conviction.
"His mind was still there even though his body was not 100% there," Fox said.
Henderson is survived by his wife, Dr. Amy (Hallal) Henderson, children Anastasia (Chris) McCaffrey, Alexandria and Keith "Andrew" II, sisters Kathryn (Jerry) Jacobi, Carolyn (Rick) Fox, parents-in-law Dr. Eli and Susan Hallal and loving brothers- and sisters-in-law and nieces and nephews.
Visitation will be held from 1-8 p.m. Thursday at Kraft Funeral Service, 708 E. Spring St., New Albany. Funeral Mass of Christian Burial will be at 11:30 a.m. Friday at Holy Family Catholic Church, with burial to follow in Queen of Heaven Cemetery in Jeffersonville.
His obituary can be found here. 
Lane will now serve as interim Floyd County prosecutor until the local Republican Party holds a caucus to appoint Henderson's successor, according to the Louisville Courier-Journal.
Please enable JavaScript to view this content.