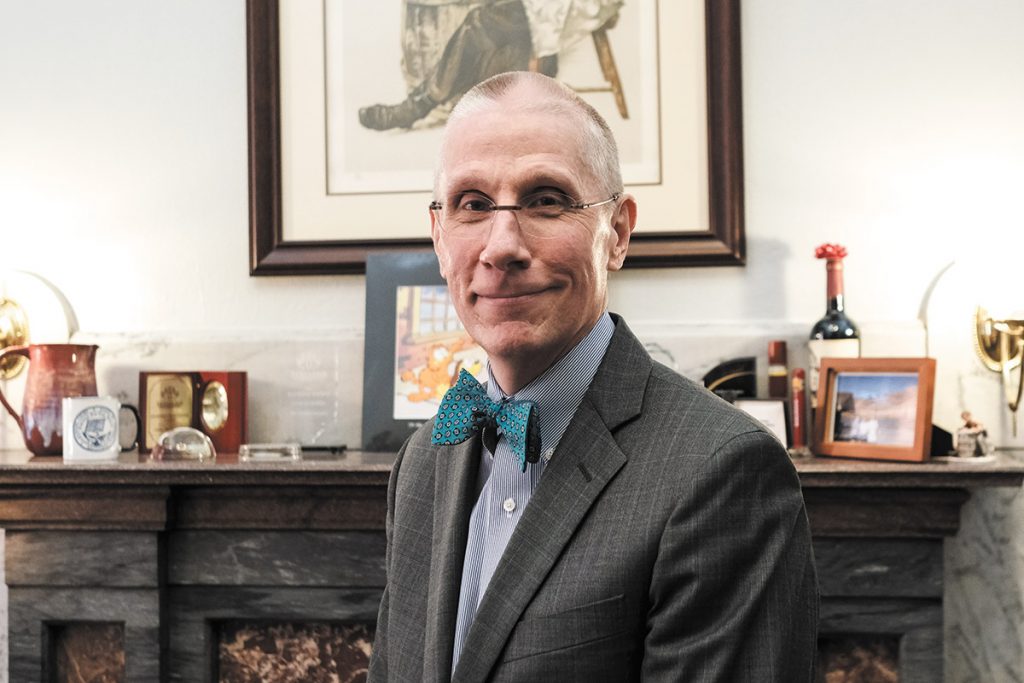 Justice Geoffrey Slaughter thought he'd be a transactional lawyer. But then he discovered litigation.
It was the summer after his second year of graduate school — a four-year program that earned him a J.D. and an MBA — and Slaughter was working at a Chicago firm, where he was first drawn to litigating.
"I gravitated to the law and, frankly, to the litigation/appellate-type practice because it allowed me to do what really has been my love, which is writing, the written word," Slaughter said. "Having the chance to craft, whether it's briefs trying to persuade a court, and now as a member of a court, opinions — one that sways my colleagues that they ought to join my view of things, and one that announces the results, that … helps persuade readers that whatever you may think of the result, at least you understand the rationale the court used in getting there."
The Lake County native moved to Indianapolis about 25 years ago and built a litigation practice, working for the Office of the Indiana Attorney General before taking a position at what was then Sommer Barnard. Slaughter would stay with the firm, which became Taft Stettinius & Hollister, until 2016, when, on his third try, he was selected to join the Indiana Supreme Court.
The justice recently sat down with Indiana Lawyer to discuss his time on the bench.
What was your transition to the court like?
I didn't think it would be that big of a transition — turned out I was dead wrong. … I may be wrong about this, but I'm not sure any of my current colleagues had actually argued a case in front of our court. I, on the other hand, had argued several cases in our court. … But there's a whole different aspect to what the court does, and that is the administrative responsibilities of the court. … And having been a practicing lawyer for 25-plus years, I was used to the advocate's role. The right answer in a case was whatever my client said the answer needed to be. …
Do you think the court is different now than when you started?
We're a younger court. The only difference since I joined the court and today's court is Justice Rucker retired in 2017 and was succeeded by Justice Goff. … Justice David has been on the court only nine years, Justice Goff has been onboard only two years. We're a very young, relatively speaking, a very new court. Depending on dynamics … we could be around for a while.
Are there areas of law you enjoying working in?
… A side area of mine that I find really interesting and really important is Article 3, Section 1 (of the Indiana Constitution). It's kind of a seldom invoked provision — it's the Separation of Powers Clause. … So the practical question that we face today is, "What does all that mean in an era in which you have agencies deciding important questions of law?" … For example, the medical licensing branch. If the medical licensing bureau decides that a particular doctor or nurse is no longer meeting his or her responsibilities under the articulated standards for practicing medicine or practicing nursing, they sit as an adjudicative body and decide whether that doctor or nurse ought to be defrocked from his or her license. And then there's an opportunity for judicial review to the courts after that decision has been made. Important questions arise as to who's exercising what kind of power under what circumstances. …
Is there a case you think is particularly important?
The most prominent decision, for good or ill, is the Timbs case that was before the Supreme Court of the United States earlier this year. … It's an interesting case that came to us on the underlying merits of whether Mr. Timbs, the forfeiture of his vehicle, represented a violation of the Excessive Fines Clause of the Eighth Amendment. … As I was undertaking to write and research the underlying merits question, it became clear to me that the more I was looking at these issues, the more it was obvious that the (US)Supreme Court had never decided, never held in 228 years, that that portion of the Bill of Rights, the Excessive Fines Clause, was enforceable against the states, as well. … Other courts had decided that question, but SCOTUS itself has not, so let's give them an opportunity to clarify the law once and for all. And sure enough, they did, and they told us that it does indeed apply. Fast forward …, and there's a case out of Louisiana. Louisiana … permits nonunanimous juries to decide a criminal case. … So the Supreme Court has now taken up the question of whether another provision of the Bill of Rights — that is, the Sixth Amendment right to trial by jury — will that be constitutionalized and enforceable against the states, as well? Stay tuned. But this remains an ongoing theme at the U.S. Supreme Court. …
Did you predict what SCOTUS would do in Timbs?
It would be foolhardy for anybody to predict what the Supreme Court is going to do with something. … Typically — not always, but typically — a court of last resort is not going to grant transfer, not going to grant certiorari, to affirm. … That said, rightly or wrongly, we viewed ourselves as an inferior court. … That, in many ways, presents a philosophical question: Should you as a lower court try to anticipate where the Supreme Court is going and try to get ahead of the curve, or are you better not looking into your crystal ball? …
As chair of the Lake County Judicial Nominating Commission, do you think merit-based judicial selection works?
I do. My philosophy when I've chaired that commission in Lake County is, even though I'm a native of Lake County … I never practiced law in Lake County, … I would break a tie, but I did not weigh in on who I thought were good candidates, or who I thought were weak candidates. I didn't vote in any of those processes. I viewed my role simply as a facilitator, to let the locals, the nonlawyers and the lawyers, decide among themselves who ought to be the three whose names were being presented to the governor.
What has been the court's biggest challenge during your time on the bench?
Certainly, the meth/opioid crisis — those two crises have caused profound ripple effects for the communities in which they are taking place, for the legal system there. As you might imagine, when you have a mother or a father or both who get hooked on drugs, are no longer is able to maintain a job, they lose the livelihood for that family, they often run into problems with the criminal law. … Perhaps before they're even prosecuted criminally, they may have child abuse, child neglect issues that implicate child services, DCS folks. … And multiply that one tragedy to one family by hundreds of families in some counties, thousands of families in other counties, and you have a crisis in the trial courts that are really under water in some cases trying to deal with this situation. …
And the biggest success?
What's happening with e-filing, the expansion of Odyssey. It's been a long time coming. The ability to have judges being able to do work remotely, for lawyers to be able to access cases electronically. … We're opening up the legal system in ways that really have never been possible before thanks to technology, and it has required a great investment of time and resources, but it's finally paying dividends. … Nobody pays anything to access the Odyssey system, and we hope we can continue to do that, because having access to the courts, making these things open to the public, is really, we think, an important part of what we do.
What's the hardest part of your job?
… For better or for worse, we're, for the most part, as a practical matter, the last stop that most litigants in Indiana have to have their cases decided. … Whether it's somebody who's been terribly injured in an accident and is seeking his or her day in court. Whether it's a criminal defendant who has been charged with the most heinous crime and is facing the ultimate punishment of life without parole or capital punishment. These things weigh heavily. …
And the best part?
… As a practicing lawyer, I used to relish having a chance to prepare for and deliver an oral argument. I loved that process, and I enjoy it on the other side of the bench, preparing for oral arguments. … The only difference between preparing as a lawyer and preparing as a judge is that I sleep a lot better the night before the argument. … I enjoy the conference afterward with my colleagues. There may be no better job than having a chance, after we've heard argument, to then retire to our conference room, and just the five of us around the table discussing the case. … And then, finally, because I love to write, the process — especially when a case is assigned to me for decision — of crafting an opinion that addresses the arguments by the parties and one that I hope not only is consistent with the law and facts, but one that will command the support of at least two other of my colleagues.
What do you see for your future and the court's?
I think the court is in good hands and in good shape. We're a different court today than we were five, 10 short years ago. But then again, we're a different society today. And as society changes, the court, its composition and its goals and responsibilities will no doubt change. … As for myself, I hope to be in good health. I just survived a retention vote last fall, so I have nine years to go. … The question is, do I decide to hang up the cleats then? Or do I decide to go for another 10-year term? …•
Please enable JavaScript to view this content.