Editor's note: This article has been updated
Magistrate Judge Doris Pryor of the U.S. District Court for the Southern District of Indiana has been nominated to the 7th Circuit Court of Appeals by the Biden administration.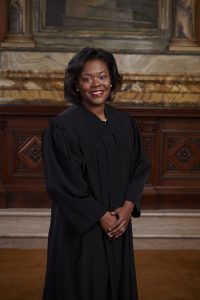 If confirmed, Pryor will be the first woman of color from Indiana to serve on the 7th Circuit. Pryor would fill the vacancy created by Judge David Hamilton, who will be taking senior status this year.
"We are definitely going to lose a very good member of our team, but we're just so proud and happy and thrilled that Judge Pryor will still be with us on the 7th Circuit," Southern Indiana District Court Chief Judge Tanya Walton Pratt said. "We look forward to her grading our papers."
A 2003 graduate of Indiana University Maurer School of Law, Pryor has served as a magistrate judge for the Southern Indiana District since 2018. She filled the seat previously held by the late Magistrate Judge Denise K. LaRue.
On the bench, Pryor has built a reputation of being very smart, able to handle very complex cases and having a "great personality" that connects with people who appear before her. Pratt explained that, in the Southern Indiana District, magistrate judges hold a settlement conference for every case on their dockets and Pryor has excelled at finding common ground.
Pryor's nomination was announced by the White House on Wednesday. She will have to sit for a hearing by the Senate Judiciary Committee and then be confirmed by the entire U.S. Senate in order to join the 7th Circuit.  
Indiana Sen. Todd Young announced he is supporting her nomination.
"Judge Pryor is a public servant of the highest caliber," Young said in a statement. "Her legal experience and expertise would make her an asset to the Seventh Circuit. I look forward to introducing Judge Pryor to my colleagues and supporting her nomination once it comes to the Senate floor."
Indiana Sen. Mike Braun did not respond to a request for comment by IL deadline.
Pryor began her legal career as a law clerk for Chief Judge Lavenski Smith of the 8th Circuit Court of Appeals and then for Judge J. Leon Holmes of the U.S. District Court for the Eastern District of Arkansas.
After her clerkships ended, she entered public service and gained extensive experience on both sides of the criminal justice system.
Pryor worked as a deputy public defender for the state of Arkansas Public Defender's Commission from 2005 to 2006. She then relocated to Indiana to serve as a U.S. attorney in the U.S. Attorney's Office for the Southern District of Indiana from 2006 to 2018.
Retired 7th Circuit Judge John Tinder remembered Pryor as an assistant U.S. attorney practicing before him. He described her as thoughtful and very bright, having an appreciation for the challenges the defendants and the victims have in criminal cases as well as understanding the work the prosecutors and defense counsel have to do to present their arguments.
"She has such a wide range of work and life experience that she will be a tremendous asset to the 7th Circuit," Tinder said.
Pryor's experience in the criminal justice system led to her founding of the REACH program in the Southern Indiana District Court. She was still in the U.S. Attorney's Office when she approached the late Judge Larry McKinney and helped create the re-entry program that guides and supports former offenders who are at greater risk of returning to prison.
Josh Minkler, former U.S. attorney for the Southern Indiana District, worked with Pryor as both a colleague and a boss. He said she did excellent work, especially when she joined the national security division after 2001 and was someone people relied upon and trusted.
"People in the office like one another," Minkler said of the U.S. Attorney's Office. "But they loved Doris."
Pryor not only contributed as an attorney, but also helped her colleagues get engaged outside of the office.
Minkler described her as the "genesis" of a project that brought together the U.S. Attorney's Office team with the Indianapolis Metropolitan Police Department to work with students at Daniel Webster Elementary School in Indianapolis. The program included all the participants drawing self-portraits which were then incorporated into a mural at the school.
"That was Magistrate Judge Pryor's idea to do that and she's the one that put it all together," Minkler said. "… What she really has is a heart for the community. Even as a magistrate judge and, hopefully she'll be confirmed as a 7th Circuit judge, she will not lose that heart for the community and being in touch with normal people."
Please enable JavaScript to view this content.