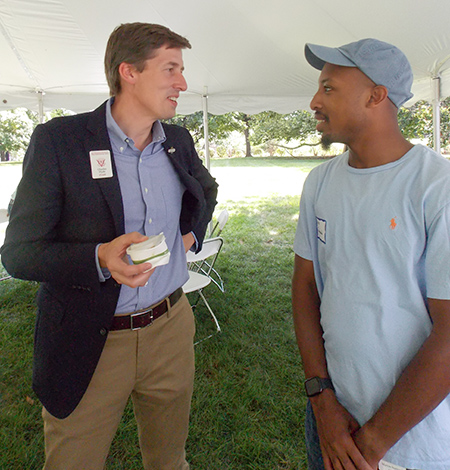 Jody Heeter joined a small crowd when she did not try to get out of jury duty.
She had an exhausting day, arriving at the Indianapolis City-County Building at 7 a.m., getting selected, and not finishing until after 9 p.m.
Still, she said she was so impacted by the whole experience that she would gladly serve again.
Sitting through the half-day trial, Heeter felt she and her co-jurors never forgot the defendant was innocent until proven guilty. In deliberations, all the jurors worked together to reach the verdict, she said. Everyone had an equal voice and all brought different perspectives as they decided guilty or not guilty.
"It was a great experience," Heeter said. "It was a true democratic process."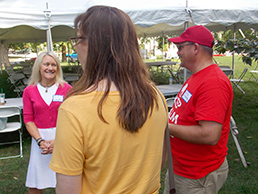 Recently, Heeter got another summons — this time an invitation to join judges, other jurors and their families in enjoying some ice cream. The Marion County Superior and Circuit Courts held its inaugural Juror Appreciation Day Aug. 24 at the Benjamin Harrison Presidential Site, just north of downtown Indianapolis.
About 2,100 Marion County residents who sat on a jury between June 2018 and the end of May 2019 were invited to spend part of their Saturday afternoon indulging in sweet treats, yard games, tours of the Harrison home and relaxed conversation. A big tent had been pitched on the side lawn, tables and chairs were scattered underneath, and a cooler filled with little tubs of strawberry, salted caramel, chocolate truffle and other flavors of ice cream was close by.
In addition to thanking jurors for their service, the courts wanted to raise awareness and change the public perception about all that is required to weigh evidence and render a verdict, said Marion Superior Judge Alicia Gooden.
People automatically assume they are going to get seated on a death penalty case that will take them away from their families and jobs for weeks. The reality, Gooden said, is far less dramatic. Most trials last one to three days and are not murder cases.
Marion County's juror response rate has dropped from 50% to 32%, according to Marion Superior Judge James Osborn. The court is instituting several changes to improve juror participation, including printing the summons on yellow card stock so it is easily visible when it drops into the mailbox, offering free parking and bus passes, and sending text message reminders.
Charles Hyde, president and chief executive officer of the Harrison historic site, observed that around the office watercoolers, people never boast about getting out of voting, but they will brag about skirting jury duty. Noting that responding to the call to sit on a jury is a civic obligation, he said he wants people to view a jury summons as an opportunity to serve.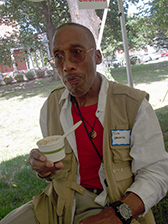 Consequently, the presidential site readily joined the Marion County courts to thank jurors. Harrison's home was a natural setting since the 23rd U.S. President and only Hoosier to serve as commander in chief was an Indiana attorney who participated in some notable trials.
"Through this partnership, we hope to start changing those perceptions of service," Hyde said.
Chris Townsend, jury services coordinator for Marion Superior Courts, tries to show appreciation to the individuals who arrive for jury duty. Having experience as a youth pastor, Townsend has a ready smile and a sunny disposition, so he does not get ruffled when his, "Good morning!" gets a "What's good about it?" in response.
"This not something I would consider a job," Townsend said of his position. "I really love what I do."
On top of corralling and preparing the 50 to 300 people who report at one time, Townsend has to sort through an email inbox and voicemail overflowing with messages from people trying to get excused. Most commonly, individuals claim they cannot sit on a jury because they are racists and their bias will not allow them to be impartial jurors.
He thinks a majority of the people are just nervous, not sure what to expect. But once they start going through the process, Townsend said they start to feel better. And some even return to his office after they are released to thank him.
Enjoying some mocha chip, Tim Hanna spoke about jury duty from experience. He had been summoned three times and sat in the jury box two times. Like Heeter, he felt his fellow jurors were good people with all contributing their thoughts and reasoning during the deliberations.
"There's nothing scary about it," Hanna said, adding many have misconceptions of the law, but serving on a jury can bring a better understanding of the process. "If we didn't have the justice system, it would be chaos."•
Please enable JavaScript to view this content.