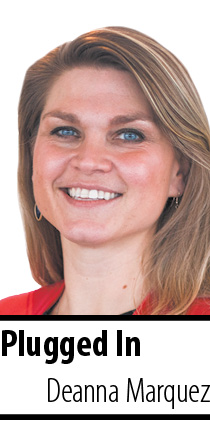 As we cross the one-year mark of a "new normal," many of us are still learning to manage the toll of so much extra availability. It may come in the form of working longer hours or compulsively checking our devices simply because we no longer know how to escape. Previously there were physical boundaries such as packing up for the day, commuting to and from the office, or the realization that an evening event starts at a specific time that served as a reminder to us that it was time to tend to other facets of our lives. With many of these no longer in place, it can be difficult for us to see the different boundary lines that comprise who we are, and we are suddenly engulfed in a sea of work mode.
Just as we need to regularly reboot our computers and phones for better performance, making a habit of unplugging ourselves from technology is key to improving our effectiveness in all aspects of life. Although this practice can seem a bit "pie in the sky," doing some simple things throughout your day can really provide a feeling of being refreshed and recharged. As strange as it sounds, there are some technology tips that can greatly assist in helping to unplug throughout your day.
Stand up reminders
So often we are diligently working on a task that when we glance up, we cannot believe the amount of time that has passed. Set reminders on your phone, computer or smartwatch once an hour to prompt you to get up, stretch, focus your vision away from your computer, walk across the house or even occasionally step outside for a few minutes. This minute or two of occasional unplugging can boost your mood and improve many other physical health aspects, according to numerous studies.
Changing notifications
A ringing phone, the continual buzz of an email thread, chat window alerts and a text thread that seems to be perpetually dinging. While the desire to be needed can be intoxicating, it can also be infuriating when we feel like we cannot escape. Although most of us are aware we can put these things on silent mode, it may not be appealing as we do not want to miss important alerts.
One option that may allow you a little serenity without the fear is to set up do not disturb options on a schedule or for a small period of time. If there is a certain time every day you would like to take for yourself or focus on your family and you do not want the temptation of all the dings, this may be a great option for you.
For an iPhone, the Do Not Disturb settings allow you to turn on/off a scheduled time to not be disturbed. Similarly, Mac computers allow you to turn on Do Not Disturb on a schedule by choosing the Apple Menu, System Preferences and clicking Notifications. Then click "Do Not Disturb" and set the desired schedule. On a Windows computer you can turn on "Focus Assist" to block alerts and notifications during a certain period of time or based on certain activity-based rules.
Changing display
As strange as it sounds, changing the display colors on your computer and even phone can also aid in your desire to be so connected to these devices. A December 2019 article in Wired magazine entitled "Try Grayscale Mode to Curb Your Phone Addiction" states that "going grayscale removes positive reinforcements and dampens that urge to keep loading up social media feeds or mobile games." The article attributes this concept to Tristan Harris, former design ethicist for Google, whom you may be familiar with from his work on the documentary "The Social Dilemma."
Recently I switched my work computer to dark mode out of a necessity to be able to look into my computer for longer periods of time while working on a very intensive project. While it was very difficult for my brain to originally adjust to the inverse of colors, I cannot imagine switching back to "normal." In addition to the contrast being easier on my eyes, it is also less enticing for me overall and much easier for me to step away from my computer.
The article mentioned above provides detailed instructions for switching many phone types to grayscale. Changing the mode on a Windows computer is as simple as clicking Settings, Personalization, color and choosing Dark. The "Dark Mode" can be set on a Mac by clicking the Apple Menu, System Preferences, General and then under Appearance options choose Dark or Auto, which will be light during the day and dark at night.
Although none of these are perfect solutions, the hope is that it will provide you with little "rest snacks" throughout your day that offer you a feeling of being refreshed and recharged so you can get plugged back in to what you are doing.•
• Deanna Marquez ([email protected]) is a co-owner of the Indianapolis based legal technology company Modern Information Solutions LLC. Areas of service include traditional IT services, software training and litigation support including trial presentation services. Opinions expressed are those of the author.
Please enable JavaScript to view this content.