A longtime Republican state lawmaker who was unsuccessful last year in his bid to become mayor of Indianapolis is stepping down from his seat in November.
State Sen. Jim Merritt announced Tuesday that he will resign from the position he's held since 1990 to "seek other opportunities for service." He still had two years left in his term.
Merritt is the longest serving caucus chairman, holding that leadership role since 2004. He also served as chair of the Senate Utilities Committee.
His Senate district encompasses Lawrence Township, a small portion of Washington Township, and Fall Creek Township in Hamilton County.
"I'm incredibly thankful to the people of Marion and Hamilton counties who have placed their trust in me and given me the chance to work on so many critical issues for our region and state," Merritt said in a statement. "It's hard to step down from a role that I am so grateful to serve in, but I look forward to the opportunity to serve in new capacities in the years ahead."
Merritt unsuccessfully ran for mayor of Indianapolis last year, losing to Democratic incumbent Joe Hogsett.
After the mayoral race, Merritt told IBJ that he believed his run made him a better senator because he saw firsthand the city's poverty and crime problems and became more in touch with his constituents.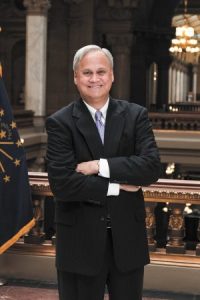 During his 30 years at the Statehouse, Merritt worked on legislation involving addiction, the opioid crisis, child welfare and the Bureau of Motor Vehicles. He authored what became known as the Lifeline Law, which provides immunity for underaged individuals who call 911 for an intoxicated person, and a law that allows Hoosiers to obtain a prescription for Naloxone if someone they know is at risk of an opioid overdose.
A Republican caucus in the district will select Merritt's replacement.
Former Indianapolis City-County Councilor Michael McQuillen has already expressed interest in the seat. He shared on Twitter that he would be "a conservative voice for Hamilton and Marion counties."
"I am looking forward to reaching out to Republican precinct leaders in Hamilton and Marion counties, listening to their priorities and concerns and sharing my story," he said in a text.
Merritt's resignation will be effective Nov. 4.
"Jim has been a dedicated, hard-working member of our caucus for decades, and he will leave an admirable legacy behind when he steps down," Senate President Pro Tem Rodric Bray said in a statement. "He has a true servant's heart and cares deeply about the lives of Hoosiers across the state — especially those who face tough struggles and hardships and are at risk of falling through the cracks. His knowledge, compassion and helpful spirit will truly be missed in the Senate."
Please enable JavaScript to view this content.