David Thronson, an expert in international human rights law and director of the Talsky Center for Human Rights of Women and Children at Michigan State University College of Law, will be visiting Indianapolis Monday and Tuesday as the second finalist for the dean's position at Indiana University Robert H. McKinney School of Law.
He was a public high school math teacher before earning his J.D. degree from Harvard Law School in 1994. Since then he has worked largely in public interest law and academia, where his research has focused on the intersection of family and immigration law.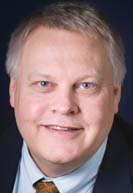 Thronson joined the Michigan State law faculty in 2010 after serving as professor and associate dean at the University of Nevada Las Vegas William S. Boyd School of Law from 2002 to June 2010. In addition to teaching at the East Lansing, Michigan, law school, he has held associate dean positions for academic affairs and experiential education.
He became the director of the Talsky Center in July 2019. Founded in 2012, the Talsky Center provides MSU law students with a diverse program of activities in the area of human rights, including externships in courts and institutions around the world devoted to upholding those rights.
Thronson earned his undergraduate degrees in education and mathematics from the University of Kansas in 1985. He subsequently was a math teacher and administrator in three New York City public high schools. He also served in the Peace Corps, teaching math and training local teachers in Nepal.
After completing his law degree, cum laude, in 1994, he clerked for Judge A. Wallace Tashima of the U.S. District Court for the Central District of California. He then returned to New York where he was a Skadden Fellow at The Door's Legal Services. Later he became a Gibbons Fellow in Public Interest and Constitutional Law at Gibbons Del Deo Dolan Griffinger & Vecchione where he represented individuals and classes of plaintiffs as well as amici curiae in public interest litigation.
He was named the Law Professor of the Year in 2002-2003 by the William S. Boyd School of Law Student Bar Association and in 2006 received the Friend of Working Families Award from the Nevada State AFL-CIO. Also, in 2011, he and other Gibbons Fellows shared the Morheuser Humanitarian Award from the Education Law Center for their work on Abbott v. Burke, a landmark case on school funding.
MSU College of Law admitted 238 students in the 1L class of 2019. The class boasted a median LSAT of 155 along with a median GPA of 3.58 and was comprised of 109 men, 129 women and 42 minorities, according to American Bar Association data.
The Class of 2018 had a first-time bar passage rate of about 76.6%, down from the 81.4% pass rate for the Class of 2017, the ABA reported. Of the 255 graduates in the 2018 class, 172 found full-time long-term employment in a bar passage required job. Seventy-one of the graduates entered private practice, working at law firms with two to 25 attorneys. Another 20 were selected for clerkships and 17 went into public interest law.
IU McKinney is searching for a replacement for retiring dean Andrew Klein. The selection process has been narrowed to four candidates who will be visiting the IUPUI campus to meet with students, faculty and alumni. Cleveland-Marshall College of Law associate dean Milena Sterio was the first on the Indianapolis campus Jan. 23 and 24, and additional visits from finalists are scheduled this Thursday and Friday as well as next Monday and Tuesday.
Please enable JavaScript to view this content.