The Neighborhood Christian Legal Clinic has hired Erin Hall, an Indianapolis attorney who has spent the bulk of her career in state government, as the nonprofit's new executive director. She will join the clinic June 1.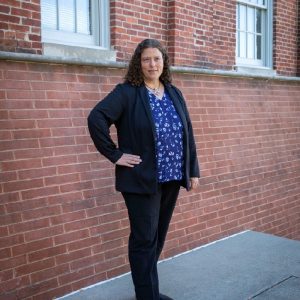 Hall, who is currently the executive director of interagency relations and compliance at the Indiana Department of Transportation, said the reputation of the legal aid organization coupled with her faith drew her to the leadership position.
"I know a good number of folks on the board, as well as staff that are currently there," Hall said. "I just really felt called, like, this was the time to step up into that role and serve alongside some of my peers in the practice and keep ensuring that these services are available for the citizens in our community who need them."
The clinic has been searching for a new director since February 2022, when Amy Horton stepped down, citing a need to focus on her health and her family.
Attorney Elizabeth Fiscus has been serving as the interim executive director.
Russell Brown, board chair of the Neighborhood Christian Legal Clinic, said Hall will be integral to the nonprofit's next chapter.
"Erin has a wealth of experience in diverse leadership roles and a passionate desire to serve Christ through the Clinic's mission," Brown said in a news release. "… She is driven by her faith to help our Clinic flourish and work with our Board, our staff team, our community partners, and our clients so that we can best serve the needs of our most vulnerable neighbors."
A 2006 graduate of Indiana University Robert H. McKinney School of Law, Hall became acquainted with the clinic while a student through her membership in the Christian Legal Society. Also, she has connected with nonprofit service providers through her work serving as the Americans with Disabilities Act coordinator for the transportation department and through her membership in both the Indiana Statewide Independent Living Council and ADA Indiana.
Hall said she is focused on maintaining the clinic's sustainability by supporting its employees and continuing to grow its funding.
She said her initial focus will be on "… just making sure that we ultimately sustain the purpose and mission of the clinic, that staff have support so that we can sustain staffing as well. And then also just to continue to, I think, partner and engage with other organizations in the city so that we're positioned well to make sure that folks get the holistic services that they need."
Please enable JavaScript to view this content.