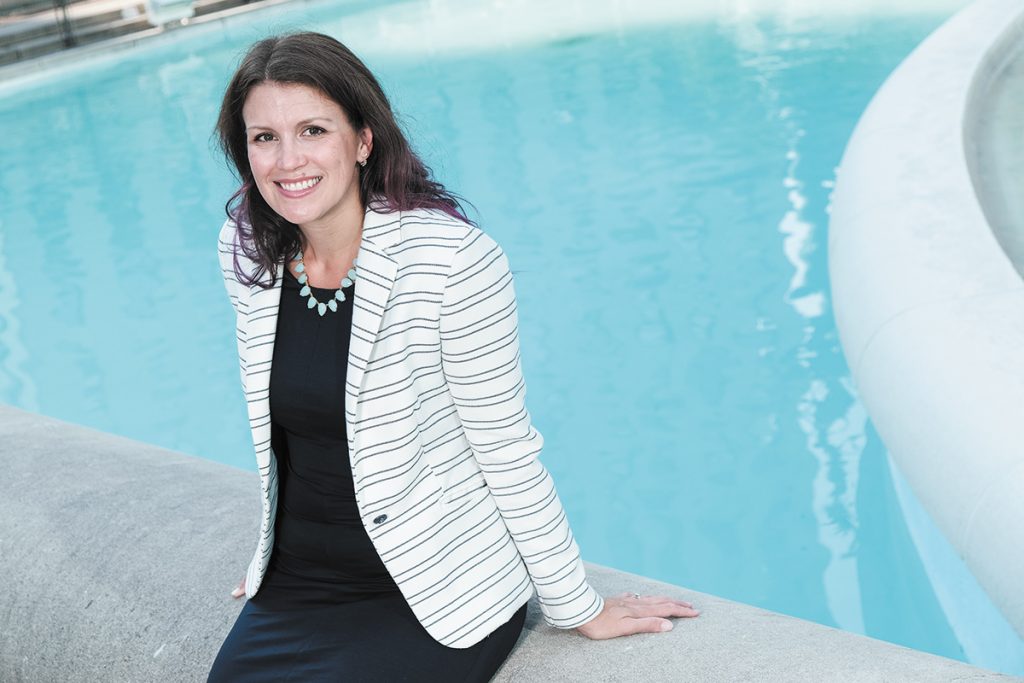 It is easy to understand why Meg Christensen's favorite word these days is "nimble."
The 38-year-old attorney became the managing partner of Dentons Bingham Greenebaum's Indianapolis office just as the COVID-19 emergency was forcing the country to stay at home and about six months after the merger with global giant Dentons launched a new law firm business model. In addition, she is arriving as the #MeToo movement continues to gain ground and as nationwide civil rights protests are demanding an end to racial inequality.
Still, Christensen resists the idea that she is stepping into a leadership role at a time when there is no playbook.
She countered that she can get advice from Dentons' deep bench, which has trailblazers who marched in the Civil Rights movement and who carved a path for women in the law. Also, her time serving on firm committees and working with firm leaders taught her, now especially when everyone is worried about their families and missing their colleagues, that she needs to support the attorneys and staff emotionally and allow them time to share their feelings.
Christensen believes this era of marked upheaval calls for the ability to realize when something is not working and the willingness to pivot to a different direction. In other words, now is the time to be nimble.
"I think (it's important) having a mindset that change can be OK, change can be good," she said. "I'm not into change for change's sake but … there's no need to stand still."
Christensen has joined the ranks of a small group. She is the third woman leading the local office at one of Indianapolis' 10 largest law firms. The Circle City offices of Faegre Drinker Biddle & Reath and Frost Brown Todd are led by Kathy Osborn and Heather Wilson, respectively.
At her firm, with many still working from home, Christensen has the added challenge of connecting with the attorneys, paralegals and administrative staff through phone calls and videoconferences. She builds cohesion by talking to people individually, getting everyone to share their thoughts during meetings and giving them the opportunity to take the lead in tackling specific problems.
Christensen is having no second thoughts. She asserts she would have agreed to become a managing partner even if she had known ahead of time how much the world was going to change.
"I absolutely would have stepped up to the challenge," she said. "I certainly have my shortcomings, I think everyone does, but I do pride myself on being self-reflective and on listening."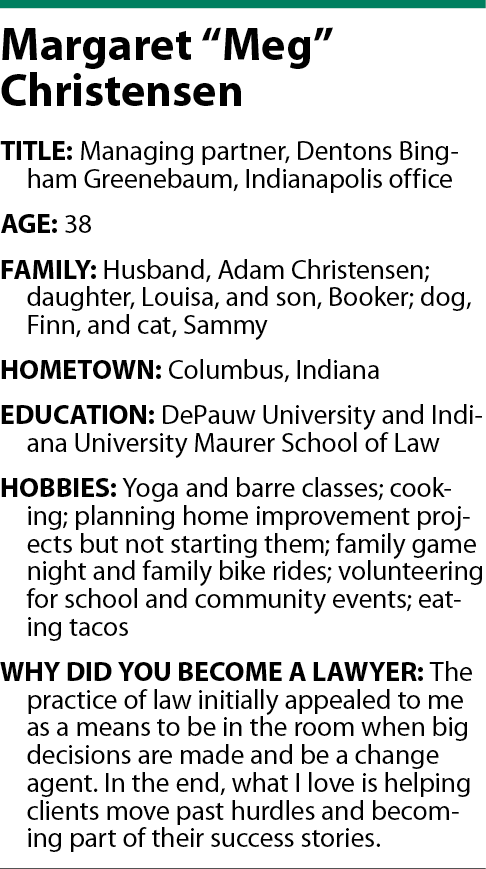 Leadership lesson
Christensen is maintaining her full-time practice as a litigator as she leads the Indianapolis office. In particular, she has represented attorneys in disciplinary actions before the Indiana Supreme Court.
Janet Jakubowicz, partner at Dentons Bingham Greenebaum in Louisville, has witnessed Christensen's work with lawyers facing potential ethics violations. The issues of malpractice or conflict of interest, Jakubowicz said, can be knotty and serious, but Christensen has the temperament to handle the situation.
The same approach she applies to leading the Indianapolis office, Christensen employs when assisting attorneys through difficult times. She listens, gathers all the facts and gets input from different perspectives before reaching a decision.
"She has shown herself to be very wise," Jakubowicz said of her colleague.
Christensen joined what was then Bingham Greenebaum Doll LLP after graduating from Indiana University Maurer School of Law in 2007. She got an important lesson in leadership when as an associate she was placed on an ad hoc committee. The first 30 minutes of the initial meeting was dominated by complaining, but then Tobin McClamroch, now managing partner for Dentons' U.S. region, interrupted and asked what they were going to do to fix the problems.
Christensen realized then that leaders need to be empathic and provide an opportunity for their team members to share their concerns and frustrations. But the focus has to shift quickly to what can be done to solve the issue or provide relief.
"I'll listen, I'll participate and I'll learn, but then we're moving forward," Christensen said.
Christensen is one of the younger partners Jakubowicz has seen taking on leadership roles within the firm in the past several years. The Louisville lawyer is happy to see colleagues in the earlier stages of their careers being able to step into important positions without having to wait until an older attorney retires and a vacancy opens.
Jakubowicz has also seen over her tenure at the firm that leaders who collaborate tend to do better. Christensen's leadership style of keeping her office door open and her willingness to consider different points of view does not mean everyone will be happy with her decisions. But, Jakubowicz said, the attorneys will feel like she at least listened to them.
"I think a smart leader doesn't try to do it all by herself," Jakubowicz said.
Lessons from the theater
The collaborative approach that Christensen brings to leadership took root when she enrolled in an ethnography and theatre class as an undergraduate at DePauw University.
Students were charged with interviewing people in Greencastle about a "town and gown" controversy that erupted when DePauw wanted to tear down a local landmark to make way for a parking lot. Afterward, they read through all the transcripts from the interviews and wove together snippets of the conversations into a play.
Christensen confessed she cannot remember what the mayor told her, but her talk with a local tavern owner still resonates. The proprietor had no connection to either the landmark or the school, but her story of being pulled by the desire to continue operating her family's bar while feeling a sense of shame about the role her business plays in alcoholism in the community taught Christensen that context is important when building consensus.
She believes that gathering the views of different people will bring new ideas and highlight things not previously considered. And that, in turn, will help the firm get through these uncertain times.
"What we need above all else right now is to be nimble in the way we communicate with our clients, with our colleagues and with the public at large," she said. "I think any leader who's willing to reach out to colleagues and ask for advice and not try to shoulder everything will be successful in an environment where things are rapidly changing."•
Please enable JavaScript to view this content.