The Exoneration Justice Clinic at Notre Dame Law School, which traces its founding to a group of students and dozens of white roses, has been awarded a $300,000 grant from the U.S. Department of Justice that will bolster the clinic's ability to investigate and litigate wrongful convictions.
Notre Dame is one of just 18 recipients of the DOJ Bureau of Justice Assistance grants awarded at the end of 2021 and the only one in Indiana to receive the federal funding. The South Bend school plans to use the money to hire a full-time investigator who will work with the clinic's staff attorneys and students.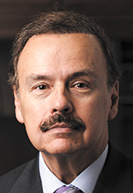 "Having a full-time investigator will greatly enhance our effort to vacate convictions and regain freedom for our wrongfully convicted clients," Jimmy Gurule, director of the clinic, said in a news release. "It is essential that we have a dedicated investigator who can go out into the field to interview potential witnesses and assist in gathering credible evidence that could help overturn wrongful convictions."
The clinic was officially launched in the fall semester of 2020 and continues to attract student interest. For this spring semester, 12 students have enrolled in the clinic for credit and another 23 law students have volunteered. Also, undergraduate students are helping.
Ian McKay, a 2L at Notre Dame Law, described his work at the Exoneration Justice Clinic as "the most important thing" he has done at Notre Dame.
"When you get on a video call with a client and see them on that screen you realize that this is not just some case — with facts and a procedural history — it's someone's life," McKay said in a news release. "Someone who grew up with hopes and dreams. Someone who had those hopes stripped away from them. Someone who was convicted and shuffled away into a concrete box and forgotten.
"But we can do something to help," McKay continued. "Oftentimes we are our client's last chance at justice, so the stakes are incredibly high."
The Exoneration Justice Clinic told the DOJ that wrongful convictions are a "serious and systemic problem in Indiana."
Hearing Keith Cooper's story of being exonerated after serving nine years of a 40-year sentence for an armed robbery he did not commit, the Notre Dame students were inspired to help others wrongfully convicted. They then joined the effort to exonerate Andrew Royer, who served 16 years following his wrongful murder conviction that has been called "a product of gross police and prosecutorial misconduct."
Mark Simonitis, a third-year law student, said he decided to apply for the clinic after he saw a presentation about Royer's exoneration. He said he has found the work professionally and personally satisfying.
"I get to do the work of a real lawyer, whether that's arguing before the court, drafting motions, or accompanying an investigator to look at crime scenes and speak to witnesses," Simonitis said in a news release.
The clinic traces its roots to 2016, when a group of law students decided to reactivate an innocence club that had gone dormant. After recruiting Gurule to be the club's adviser, the students determined they first needed to raise awareness about wrongful convictions. So then-law student Tia Paulette bought dozens of white roses and placed them in the Law School Commons with cards containing facts about current wrongful conviction cases.
Since then, Gurule has continued to guide the students and the clinic's team has grown to include Elliott Slosar, an attorney at Loevy & Loevy in Chicago who serves as an adjunct professor. Also, Kevin Murphy, a 2014 NDLS graduate, has returned to be the clinic's first staff attorney after working as an associate at Jenner & Block in Chicago, and Nikolai Stieglitz, a 2021 NDLS graduate, is the clinic's first postgraduate fellow. 
Notre Dame Law School Dean G. Marcus Cole said he sees the DOJ grant as an indication of the impact the clinic is having even in its first year of operation.
"The fact that the U.S. Department of Justice had confidence in this new clinic speaks to the leadership of Professor Gurule and the results the Exoneration Justice Clinic's attorneys and students have achieved in such a short period of time," Cole said in a news release.
Please enable JavaScript to view this content.