A criminal case has been dismissed against an Elkhart man with a mental disability who was convicted of a 2002 murder but who won his release from prison last year.
Special Judge Chad M. Miner on July 12 granted a motion to dismiss without prejudice the murder case against Andrew M. Royer in Elkhart Superior Court 3. Elkhart County Prosecutor Vicki Becker filed a motion June 30 for dismissal without prejudice, saying the state "believes that additional investigation is necessary to justify further expenditure of the finite resources of the State of Indiana if a prosecution is to proceed."
"I'm a whole different person now," Royer, who is 46 but who is described as having "the mind of a child," said at a Wednesday news conference.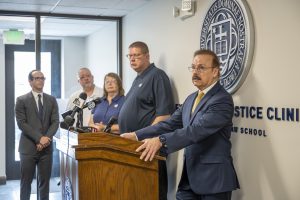 In 2005, Royer was convicted of the murder of 94-year-old Helen Sailor, who was found dead in her Elkhart apartment over Thanksgiving weekend in 2002. Royer's co-defendant, Lana Canen, was also convicted, but she was exonerated in 2012 after fingerprint evidence that allegedly put her at the crime scene was discredited.
Law enforcement identified Royer and Canen as suspects after Nina Porter, Canen's friend and neighbor, told police Royer would do whatever Canen told him to do. The state's theory was that Canen was the "brains" of the murder while Royer was the "brawn."
Porter also testified that Canen told her, "Thanksgiving, thanks for giving death," an apparent reference to the timing of the murder. Also, according to Porter, Canen said, "No one was supposed to get hurt."
But Porter later recanted her testimony, saying she was pressured by law enforcement to give false statements. She was paid $2,000 for her testimony — a fact that was not disclosed.
Royer himself twice confessed to the murder, but he later argued that Detective Carl Conway had used leading questions to elicit false confessions. Royer alleged Conway broke his will and took advantage of his mental disability.
Ultimately, a post-conviction judge granted Royer's successive PCR petition, freeing him in April 2020. The court based its ruling on the discredited fingerprint evidence, Conway's interrogation of Royer and eventual removal from the Elkhart police homicide unit, and Porter's statement and recantation. The judge also noted Conway was aware of Royer's mental disability but took no precautions during the interrogations.
The state appealed, and the case went before the Indiana Court of Appeals in February 2021. The appellate court affirmed the grant of post-conviction relief to Royer in April.
"The State used Porter's testimony to exemplify the influence Canen exerted over Royer, and the State used Porter's testimony to indicate that Canen had told others about her involvement in the crime," COA Judge Melissa May wrote. "Consequently, we agree with the post-conviction court's determination that the misidentified latent fingerprint, Porter's recantation of her testimony, and Porter's receipt of a reward that was not disclosed during trial constitute newly discovered evidence that undermines the State's case against Royer and produces a reasonable probability of a different result on retrial."
Elliot Slosar, a Chicago-based lawyer who was part of Royer's legal team, said the state's dismissal of the case was an answer to the "collective prayers" of Royer, his family and his attorneys.
"Today Andy Royer stands before you as an exonerated man," Slosar said at the Wednesday news conference. "He waited 18 years to finally have his name back and for this nightmare to be over."
In addition to Slosar, Royer was represented in his successive PCR proceedings by the Notre Dame Exoneration Justice Clinic, led by Notre Dame Law School professor Jimmy Gurule. The wrongful conviction clinic at Indiana University Robert H. McKinney School of Law, led by professor Fran Watson, also worked on the case.
Gurule, a former prosecutor, called Royer's case and conviction "shameful." He noted that both Royer and Canen were exonerated in Sailor's murder — "two individuals in a single case."
The Notre Dame law professor called on the Elkhart County Prosecutor's Office to apologize to Royer and his family and to accept responsibility for its role in Royer's conviction. Becker was the deputy prosecutor who tried Royer's case for the state, working under then-Elkhart County Prosecutor and later Indiana Attorney General Curtis Hill.
"It's hard to imagine an investigation or prosecution that was worse, that was more wrong than this particular case," Gurule said. But Becker, in an email to The Indiana Lawyer, said she "will not engage in an argument in the media with (Royer's) attorneys regarding any of these matters as I believe it is wholly inappropriate to do so."
Slosar and Gurule also offered harsh words for the Elkhart Police Department, specifically as it related to Conway.
In its April ruling, the Indiana Court of Appeals found that Conway's removal from the homicide unit "calls into question the integrity of Royer's conviction and requires a new trial."
May wrote that Detective Mark Daggy — who had witnessed Conway's interrogation and described it as "[p]robably one of the most difficult" interrogations he had seen — "intentionally concealed" his observations about Conway's "super-leading" style, thus undermining the jury's evaluation of Conway's testimony. Also, Conway contradicted himself by claiming at trial that he did not give Royer details about the murder, then claiming the opposite at the successive PCR hearing.
May added in a footnote, "Detective Conway's false testimony at Royer's trial is particularly galling because he was an Elkhart Police Department detective at the time of Royer's trial and, as of the evidentiary hearing on Royer's successive petition for post-conviction relief, Detective Conway was still employed by the Elkhart Police Department overseeing the juvenile bureau and the special victims unit."
In a Wednesday news release, the Elkhart Police Department said Chief Kris Seymore "opened an internal investigation, conducted by the Office of Professional Standards, regarding Carl Conway's involvement in the Andrew Royer investigation." The investigation came after the Court of Appeals "described some of Carl Conway's testimony as contradicting, misrepresenting and false when compar(ed) to portions of his testimony from the 2005 criminal trial," the release said.
Seymore placed Conway on administrative leave with pay pending the outcome of the investigation. The department said it could not provide further details because of the investigation.
"Upon completion of the internal investigation, Professional Standards will forward the investigation to the Captains Review Board for evaluation and review. After the Captains Review Board has completed their review, the investigation will be sent to the chief for review. We anticipate the process being completed in the next few weeks."
Gurule said it is "unacceptable" that Conway remains on the force and is being paid with taxpayer dollars.
Royer's stepfather, Michael Pennington, said their family is thankful that Royer can now "live the rest of his life in peace and comfort."
The dismissal without prejudice does leave open the possibility of the state refiling charges against Royer, but Slosar said other Elkhart County exonerations that led to dismissals without prejudice were not revived, so "there's really no distinction." Also, Gurule added, "Where's the evidence?"
In her email, Becker said "additional investigation would be necessary before I am comfortable proceeding."
Royer's mother, Jeannie Pennington, stood beside Royer during the news conference, occasionally rubbing his arm in a gesture of maternal comfort. She told reporters that she has learned good things can come from bad situations "if you give the opportunity for the Lord to work."
But, she added, even though lawyers told her from the beginning that Royer was innocent, it took more than 15 years for him to be released.
"It still took 17 years for him to be able to prove that, telling people, 'I'm innocent,' and nobody listening," she said.
The case is State v. Royer, 20D03-0309-MR-155.
Please enable JavaScript to view this content.