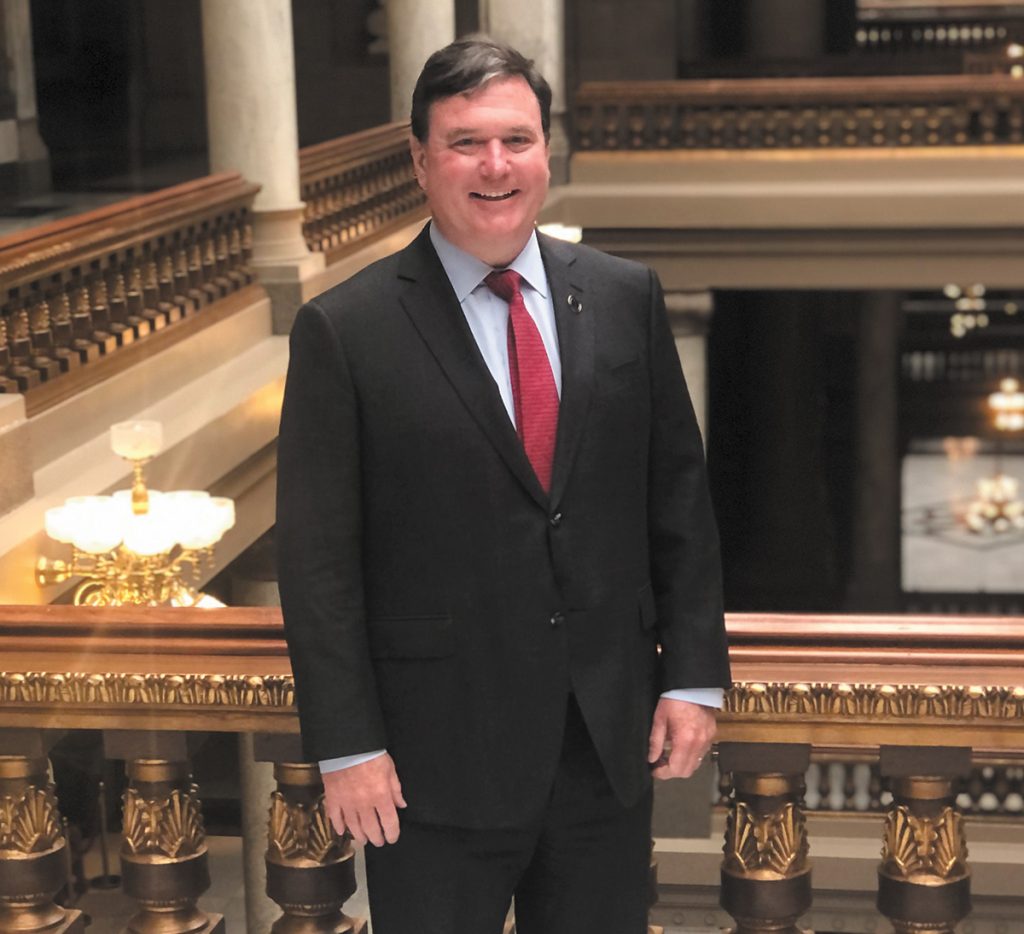 Seated at a long wooden table in his Statehouse office, Indiana Attorney General Todd Rokita is wearing his job on his sleeve – or, more accurately, around his neck.
"This is not the first day I've worn a tie that has the Constitution written on it," he said. "It's a bit of a reminder for me and for my staff about why we're here."
Rokita has been in office as the state's top lawyer for about four months, and he's already hit the ground running. Some have already criticized him, he acknowledged, but he said he's just doing his job.
"We've been accused of being very, very active. I use the word 'accused' because everyone takes that to mean I'm doing it for some ambitious political reason," Rokita said. "And I'm really quite amazed at that kind of comment. I'm just doing what I thought was the job of a statewide officeholder."
To the Republican attorney general, his job is simple: meet with Hoosiers and work to protect their personal liberty, which he describes as "freedom with responsibility."
That approach, he says, is how he got involved in an investigation into whether Big Tech firms Amazon, Apple, Facebook, Google and Twitter are censoring conservative speech. It's also why he's joined national lawsuits challenging what he describes as "federal overreach" by the Biden administration. It's even why he's pushing back against Republican Gov. Eric Holcomb's decision to hire outside counsel in a lawsuit challenging House Enrolled Act 1123, which gives the Indiana Legislature authority to call a special session during declared emergencies.
"(F)rom day one that's been the focus of our office, is liberty in action," Rokita said. "We're going to fight on the right to life. … You'll see us fight for your individual right to protect yourself and your family, and that's the Second Amendment. You're going to see us fight for your liberty to have your vote not be diluted by someone else's cheating."
Rokita recently sat down with Indiana Lawyer to answer questions about his first 100 days in office and his agenda for the next four years. This Q&A has been edited for space. Read the full, unedited transcript here.
IL: Tell me about the impetus behind the Big Tech investigation and its parameters.
Rokita: First of all, to understand why we're doing any of this, is to preserve as much individual liberty as we possibly can in whatever we do. When you think of these platforms and their censorship, you immediately try to go to the First Amendment, but you realize very quickly that this is a private company. But even if you think that they're not subject to the First Amendment, they're still subject to state consumer protection laws like our Deceptive Consumer Sales Act. By withholding information and determining what their motives were for withholding information, or censoring books if you're Amazon, or any of these other practices these five Big Tech firms do, are they deceiving consumers?
IL: How did the issue of Big Tech censorship come to your attention?
Rokita: I ask in my speeches, "How many people have been taken down or censored by Big Tech?" And hands go up; it's surprising to me. And then there's my own personal experience (being flagged by Twitter). We've also joined other lawsuits from other states that are looking at other aspects of Google's and Big Tech's operations, from the way they divide up ad revenue to antitrust violations.
IL: You've added Indiana to federal lawsuits challenging issues such as the Biden administration's estimate of the "social cost of carbon." What other federal policies are you challenging?
Rokita: Unfortunately for liberty, there's an embarrassment of riches coming from the Biden administration in terms of federal government overreach and limiting liberty in our daily lives. We joined other states in writing a letter to the Biden administration on their poor decision to stop the Keystone Pipeline. We filed a lawsuit with other states on the social cost of carbon, because there, like the Keystone Pipeline, not only do you lose jobs, not only is the cost of energy going to increase for it, but with the social cost of carbon, they literally pulled out of thin air a $9.5 trillion number and said, "This is the social cost of carbon." OK, what is social cost? Oh, the effect of carbon on war and poverty and other things that you can't possibly measure. Nonetheless, they pull this $9.5 trillion number out of the air, and then they direct every agency in the federal government to go write regulations to offset that so-called cost of $9.5 trillion. … That limits your liberty. If you can't spend your money on discretionary items, things that you choose to spend it on, but instead have to spend the money just to heat your house, just to put gas in your car, your liberty is diminished, and we're going to fight against that … The reason for that is you're decentralizing power as much as possible, and every time you do that, no matter if it's an election issue or any other type of issue, you preserve more individual liberty. It's the same reason I'm not necessarily coming out strong to take the discretion of prosecutors, even though we have one that's making terrible decisions in terms of the red flag law and categorically not prosecuting crimes here in Marion County. I don't agree with those decisions, but you didn't see us outwardly support legislation this term to usurp those powers, because at the end of the day, it's only by decentralizing power as much as possible that you maintain as much individual liberty as you can.
IL: On HEA 1123, did you have conversations with Gov. Holcomb's office before the lawsuit was filed?
Rokita: The governor and I had generally talked about his concerns with 1123 before any of that, and that went well, and it goes well today. We're very cordial, we're friends, I like him. Once the law was passed, they asked us for outside counsel. We looked at it at every angle for a number of days and then wrote him a 10-page or so analysis of the situation. The bottom line is, you can't claim you want to try to preserve the Constitution if you're going to break a law to do it, and there is clear statute that this office speaks as a legal voice for the state. There's also been talk that I might not understand that the judicial branch makes the ultimate constitutional decision – of course they do. I make the decision inside of state government as to what legal policies they take to court and what they don't. Judge (Frank) Easterbrook of the 7th Circuit discussed this. There's a case that he ruled on where the South Bend City Council had a difference of opinion from the South Bend mayor. The judge in the 7th Circuit at that time said, in terms of General Motors, you never see Buick sue Chevrolet. A customer may sue one or the other or sue General Motors, but you never see those two, because that's the job of the general counsel of General Motors. And that's the very same thing here. You don't go to court because one branch disagrees with another branch. But when there is an injured third party who otherwise has standing, we will defend the statute like we would defend any other statute promulgated by the General Assembly.
IL: You've been in office 100 days. What's next?
Rokita: It's going to be more of what I promised. It's going be Big Tech, it's going be rights to liberty and responsibilities. I see liberty as ordered freedom, and I think we need a civics discussion around that. Yes, you have the right to free speech. You don't have the right to destroy property; you have a responsibility not to destroy property. And that folds into the things that we promised to do, whether it's election reform issues, fighting on Big Tech, exploring what we're going to do to hold China accountable, or whether it's even on things like 1123, where we're preserving as much individual liberty as possible, because there, assuming constitutionality, the group of people that are most accountable to individual voters and taxpayers is the General Assembly. To the extent there's politics behind all that, the only politics is preserving individual liberty, and the rest will sort itself out.•
Please enable JavaScript to view this content.