An inmate at the Pendleton Correctional Facility represented himself against a former guard for use of excessive force in a legal battle that lasted for nearly six years before culminating in March in an in-person bench trial and an award of $35,000.
Terry Davis, who is serving a sentence for murder and attempted murder, claimed Lt. Dave Mason and Officer Blake Thrasher beat him and permanently injured him after he got into an altercation with a guard in his cell house on Jan. 5, 2014.
Davis filed a complaint in the Southern Indiana District Court, asserting the defendants violated his Eighth Amendment right by using excessive force against him. Davis litigated the case by himself, which included filing multiple motions for discovery, depositions and contempt, getting a summary judgment ruling overturned at the 7th Circuit Court of Appeals, and participating in a settlement conference.
Initially Davis sought a jury trial but agreed to a bench trial before Chief Judge Tanya Walton Pratt.
"I wanted the whole world to know what is being done in prison," he told The Indiana Lawyer, explaining his desire to present his case to a jury. "I wanted the whole world to know about this."
By the time of the trial, Mason had been dismissed from the lawsuit. Thrasher, then the lone defendant, told the court that Davis was the aggressor, yelling profanities, physically resisting the officers and spitting in their general direction.
However, the federal court did not find Thrasher's account credible considering Davis' injuries.
"… (W)hile the Eighth Amendment permitted Officer Thrasher to use the amount of force necessary to restore discipline, punching Mr. Davis in the face and breaking his teeth could only have been meant to cause harm and these actions therefore violated the Eighth Amendment," the ruling stated.
Thrasher, who is currently a deputy with the Henry County Sheriff's Department, did not respond to an email seeking comment.
The Indiana Department of Correction said it could not comment specifically on this case. However, the DOC stated in an email that it "takes all claims of extreme force seriously. Our employees received thorough training in use of force policies and when force is used, those incidents are closely reviewed."
Differing stories
The Jan. 5, 2014, incident started with an altercation between Davis and a guard in his cell house. The guard questioned whether Davis belonged in that unit, some words were exchanged and, according to Davis, the guard grabbed him by the neck.
Davis said he then "responded to get him off me."
By the time Thrasher and Sgt. Aaron Kraus arrived, Davis was in handcuffs and had been sprayed with mace. The correctional officers then began to escort Davis to the infirmary, but what happened in the prison yard is the source of the dispute.
Davis claimed he could not breath because of the mace and was spitting out the excess mucus that the chemical causes the body to produce. Then, Davis wrote in his complaint, Thrasher sucker punched him repeatedly in the mouth, knocking out a tooth, bloodying his nose and blackening his eyes. Finally, Thrasher placed him in a chokehold and did not let go until Kraus intervened.
After being dragged to the infirmary, Davis said Mason arrived and threatened him with "jamming objects up my anus." Next, Davis claimed, a plastic bag was placed over his head until he passed out.
However, Thrasher claimed at the bench trial that he pulled Davis "in a downward direction toward the sidewalk to maintain … control over his body." Then the officer tried to fashion a "makeshift spit mask" by attempting to pull Davis' sweatshirt from his back up over his head.
That's when Thrasher said he suffered an injury on his left hand — not from hitting Davis in the mouth but rather from Davis biting him.
Following the incident, Davis tried to get a remedy by filing a grievance with the DOC, and when he failed to get a response, he turned to the federal court in July 2015.
But Pratt granted summary judgment to the defendants in May 2016, finding Davis had not exhausted the administrative remedies before filing his complaint in court.
On his own, Davis appealed to the 7th Circuit, where the panel of now-Chief Judge Diane Sykes and Judges Michael Kanne and David Hamilton reversed and remanded in February 2018.
"… (A) reasonable fact finder could conclude that (Davis) did all that was required of him yet was prevented from filing his grievance because of the mixed or improper instructions from the grievance coordinator," Sykes wrote for the court.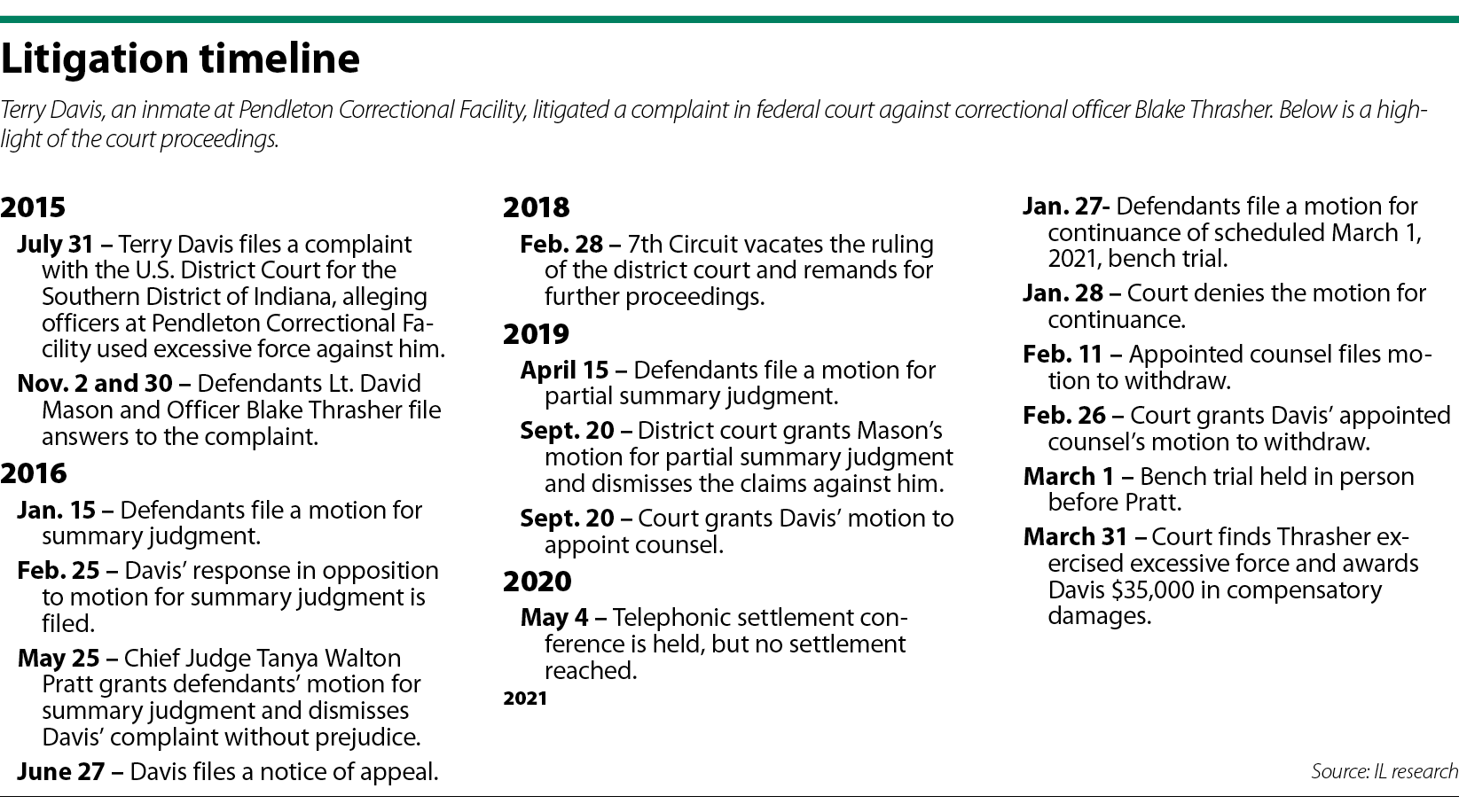 Lingering money dispute
Davis' court filings cite precedent and federal statutes which he either researched in the prison law library or had friends look up for him when he could not access the books. He said he also relied on some elder prisoners to help him with the interpretations of the law, and he watched videos to learn how to conduct himself in court.
Davis, who is 39 and has been incarcerated since he was 17 years old, credited his tenacity to continue the litigation through multiple setbacks by the "intellect and courage" he has developed. Still, he acknowledged he was unsure of representing himself at court.
He was in his prison uniform and shackles while in court and, as reflected in the transcript, he struggled to find and present the information he wanted. Davis said on the day of the trial, as he was being processed to be taken to the federal courthouse in Indianapolis, the guards purposefully shuffled all his court papers.
"It was unexpected what they did this morning," Davis told the court. "It just altered everything that I had prepared today."
After the incident, the state sought $30,000 in restitution from Davis for the injury to Thrasher's hand. Now, according to Davis, the state wants to deduct that amount from his, but he said he believes the federal court's ruling in his favor wipes out the restitution.
"Any punishment I suffered is all supposed to go away," he said.•
Please enable JavaScript to view this content.