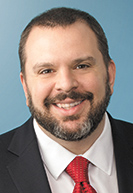 By Louis Perry
Businesses of all stripes feel the sting of online counterfeiters and grapple with how to deal with the all-too-often anonymous culprits in unknown locations. It may be cliche, but the simile is apt: It's like engaging in an endless game of whack-a-mole in which your hammer — takedown notices — invariably results in the same infringer simply popping up again under a new username on a different, or even the same, platform. Fatigue inevitably rears its ugly head, and the temptation to treat online counterfeiting as just another cost of doing business creeps in. But when a company has identified a serial counterfeiter — or even a counterfeiter transacting a large amount of business via well-known sites like Amazon — it may wish to end the whack-a-mole charade and create a real deterrent via a lawsuit and a judgment it can use to potentially freeze or garnish accounts with third-party selling platforms. This all sounds good in theory, but even the least sophisticated counterfeiter is somewhat adept at eluding service through fake names, fake addresses or by simply being located in a non-United States jurisdiction. A default judgment is highly likely, but there's an initial obstacle that must first be overcome: How does one properly serve papers on a phantom?
It may take some legal maneuvering, but it can be done. Federal Rule of Civil Procedure 4(e)(1) provides that service in a federal district court action can be accomplished "following state law for serving a summons in an action brought in courts of general jurisdiction in the state where the district court is located or where service is made." In Indiana, this means that service can properly be accomplished personally through certified mail or by leaving a copy at the defendant's home. Indiana Rule of Trial Procedure 4.1. But this rule is discretionary in nature and courts are not bound to require service by such methods. See Washington v. Allison, 593 N.E.2d 1273, 1275 (Ind. Ct. App. 1992). Courts can "make an appropriate order for service in a manner not provided by these rules or statutes when such service is reasonably calculated to give the defendant actual knowledge of the proceedings and an opportunity to be heard." Ind. R. Trial P. 4.14. This is consistent with the U.S. Constitution's standard for due process, which prescribes no specific method for service of process. See Mullane v. Cent. Hanover Bank & Tr. Co., 339 U.S. 306, 314 (1950). Flexibility such as this can be used to a plaintiff's advantage when a counterfeiter is operating in a well-trafficked and sophisticated online marketplace.
The first step is the most frustrating. A plaintiff must thoroughly investigate the electronic breadcrumbs the counterfeiter leaves behind. This could be a partial address. It could be a full address. It could be a phone number or a dummy email address. All these leads should be followed even if that address results in a process server attempting to serve process at an abandoned strip mall in Texarkana or that phone number results in a conversation with a very confused octogenarian who clearly is not running an online counterfeiting operation.
These results should all be painstakingly documented and will serve as evidence in the next step: moving that the court approve service of process by alternative electronic means. This motion should include not only the documentation of the failed service attempts, but it should also make an evidentiary showing that the counterfeiter primarily conducts his or her business online and uses some messaging system for business communications. Elsevier, Inc. v. Siew Yee Chew, 287 F. Supp. 3d 374, 379-80 (S.D.N.Y. 2018) ("Service through email is particularly appropriate here because … defendants engage in online business and regularly communicate with customers through functional email addresses"). See, e.g., Enovative Techs., LLC v. Leor, 622 F. App'x 212, 214 (4th Cir. 2015).
Ideally, that "messaging system" would be email. But often, the emails counterfeiters provide are either fake or burner accounts that disappear after a few uses. Platforms like Amazon, however, have buyer-seller messaging services that allow for two-way communication. Courts have regularly found that the messaging systems that platforms like Amazon use with their third-party sellers provide a means of alternative electronic service — particularly where a defendant "has embraced the modern e-business model." Rio Props. v. Rio Int'l Interlink, 284 F.3d 1007, 1017-18 (9th Cir. 2002). Courts within the 7th Circuit and across the country have recognized this and ordered service by Amazon's messaging system. See, e.g., The Pet Health People, LLC v. Misovski, Case No. 19-cv-02644, ECF 14 (N.D. Ill. May 21, 2019) (authorizing service via Amazon messaging system); Shenzhen Ruobilin Network Tech., Ltd. v. SJG-LESN, No. 16-cv-386-wmc, 2016 U.S. Dist. LEXIS 164081, at *4–5 (W.D. Wis. Nov. 29, 2016) (same).
Provided a court is comfortable that a plaintiff has made sufficient good faith attempts to locate the defendants (and that the defendants seem to be eluding service via dishonest online tactics) service via platform messaging systems is a viable method to get over the hump and proceed to a (hopefully) default judgment.•
• Louis Perry is a partner at Faegre Drinker Biddle & Reath LLP. Opinions expressed are those of the author.
Please enable JavaScript to view this content.