Pier 48 Fish House & Oyster Bar hadn't even been open a year when business disputes among the downtown restaurant's owners began spilling into the legal system in August 2020, with the various partners slinging lawsuits and accusations back and forth.
Now the saga has a new chapter, with a lawsuit filed last month against one of the founders by an Indianapolis financial adviser whose allegations offer a different version of events than do the previous complaints.
It's the sixth Pier 48-related lawsuit since 2020 in which at least one of the restaurant's four founders is named as a plaintiff or a defendant.
The restaurant's founders are Steve Churchill of Fort Lauderdale, Florida; Kelli Dugan of Carmel; Fred Knipscheer, a former professional hockey player and former managing partner of Indianapolis restaurants Prime 47 and Salt on Mass who now lives in Arizona; and Keith Stucker of Indianapolis. (Knipscheer no longer has an ownership stake in Pier 48 following his 2020 personal bankruptcy.)
To be clear, Pier 48, which opened in September 2019, has remained in operation despite its founders' legal wranglings. The seafood restaurant, at 130 S. Pennsylvania St., is part of the Hyatt Place hotel across from Gainbridge Fieldhouse.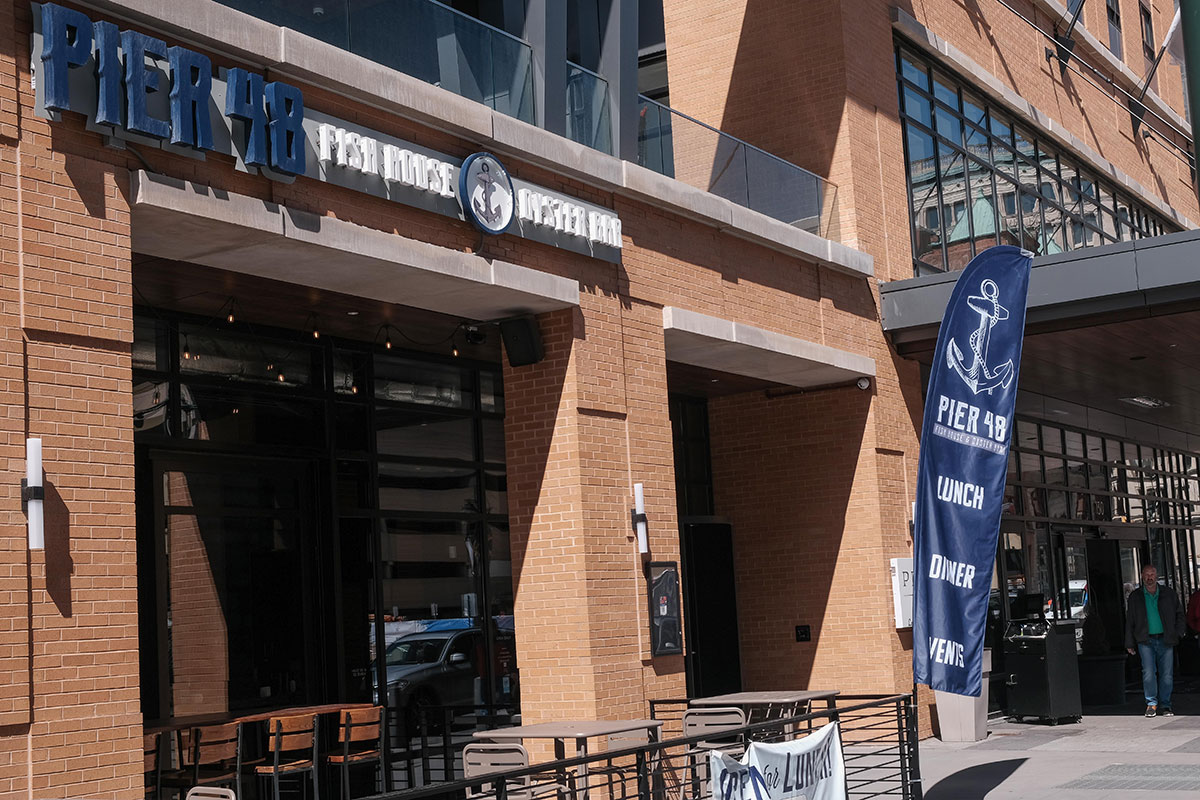 In a prepared statement emailed by an attorney, the business told IBJ, "Pier 48's management is committed to maintaining the restaurant's reputation as an exceptional dining experience and contributing to the vibrancy of downtown Indianapolis. Pier 48 is thankful to the restaurant's dedicated employees who have built the restaurant's excellent reputation and helped it weather the pandemic and other economic challenges over the past three years."
The latest lawsuit was filed Dec. 13 in Hamilton Superior Court by James Titak, board chair at Indianapolis-based brokerage Thurston Springer Miller Herd & Titak Inc. Titak is suing Dugan because she had named him as a defendant in a lawsuit filed in December 2020.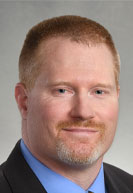 Titak was dropped as a defendant a year later but says in his complaint that the experience has both caused him to rack up "substantial legal fees" and harmed his professional reputation.
"The financial services industry is a competitive industry, and negative publicity—especially along the lines of what was alleged—is potentially damaging," Titak's counsel, Indianapolis attorney Paul Vink of Bose McKinney & Evans LLP, told IBJ. "You may never know which clients end up not contacting you or calling you as a result of something like that."
A tangle of accusations
In her 2020 complaint, Dugan sued Stucker, whom the lawsuit described as not only Dugan's Pier 48 business partner but also her financial adviser and friend. Stucker is the senior vice president of investments at Thurston Springer. Dugan's lawsuit also named as defendants Stucker's wife, Jenna Spurrier; as well as Thurston Springer and three of the firm's principals: Titak, Richard Parker and Brian Sweeney.
In her complaint, which is pending in Hamilton Superior Court, Dugan alleges that Stucker had been helping Knipscheer raise money for Knipscheer's planned Pier 48 restaurant. As part of this effort, Dugan alleged, Stucker convinced her to invest $157,000 in the venture in exchange for a 41% ownership stake in the restaurant. Dugan said Stucker also convinced her to sign a $1.9 million U.S. Small Business Administration loan for Pier 48 without making it clear that Dugan would be on the hook for the entire amount of the loan; and to later sign over 16,000 of her shares in the company to either Stucker or Pier 48, reducing her ownership stake for no compensation.
The lawsuit alleges, among other things, that Stucker violated his fiduciary duty to Dugan by not informing her of the risks associated with the Pier 48 investment. Spurrier was named because, the suit claims, she helped Stucker sell the investment to Dugan. Dugan's complaint also accuses Stucker and Thurston Springer of constructive fraud and malpractice.
Thurston Springer, Titak and the two other principals were originally named as defendants in the December 2020 complaint because, Dugan alleges, the firm also owed a fiduciary duty to her and because Titak, Parker and Sweeney failed to properly supervise Dugan.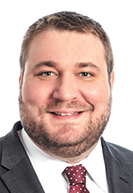 In December 2021, the court ruled that Titak, Parker and Sweeney should be dropped as defendants because "there is no dispute that these individual defendants did not make any representations or omissions to Dugan."
In January 2022, Dugan filed an amended complaint that names only Stucker, Spurrier and Thurston Springer as defendants. (Spurrier was dismissed as a defendant in September.)
Indianapolis attorney John Higgins, a member of Kentucky-based law firm Stoll Keenon Ogden PLLC, is representing Dugan in her lawsuit against Stucker.
A different take
Now, Titak's complaint—supported by an affidavit given by Knipscheer in August—paints an entirely different scenario about the origins of Dugan's complaint against Thurston Springer.
In his complaint, Titak alleges that Dugan and Knipscheer were boyfriend and girlfriend when, in 2018, they presented their idea for a seafood restaurant to Stucker and several other friends. Following that presentation, the suit alleges, Stucker and Churchill agreed to partner with Dugan and Knipscheer on the Pier 48 restaurant project.
Once the restaurant opened, Titak alleges, Dugan "consistently ran up large food and bar tabs without paying, provided free electronic gift cards to her friends totaling thousands of dollars, and misappropriated Pier 48 food and alcohol by having restaurant personnel transfer it to another restaurant she operated under different ownership."
The allegations that Dugan misused restaurant resources are similar to those in a March 2021 lawsuit filed against Dugan by Pier 48 Indy LLC, the entity that owns and operates the downtown restaurant. That lawsuit alleges that Dugan and Knipscheer misappropriated Pier 48 resources to support two other local restaurants they had launched without Pier 48's knowledge at Sun King Brewing's Broad Ripple and Carmel locations.
Knipscheer would have been also named as a defendant in this suit, Pier 48 Indy said, if not for the fact that he had filed for personal bankruptcy protection.
In response to that suit, Dugan two months later filed her own complaint against Stucker. Dugan alleged that Pier 48 Indy LLC was by that time "controlled entirely" by Stucker. Dugan also alleged that Pier 48 Indy's complaint was designed "to pressure Dugan to abandon her previously filed securities fraud claims against Keith …"
According to Titak's complaint, Dugan's actions "contributed to steep losses for Pier 48 almost immediately" after the restaurant's 2019 opening. Then, the suit alleges, Dugan abandoned Pier 48 in spring 2020, forcing Stucker and his wife to take over day-to-day management.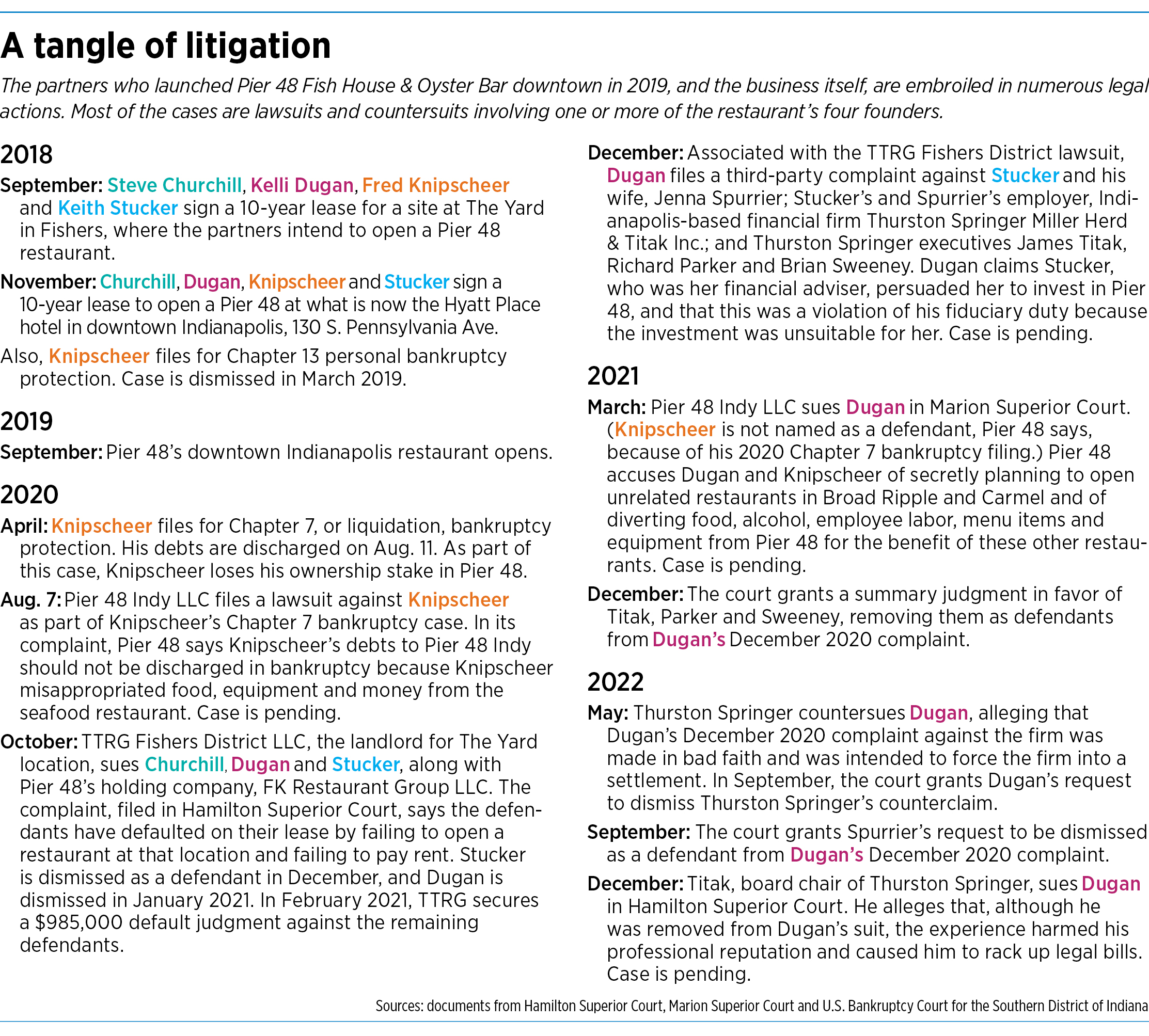 A third party involved?
In late 2019 or early 2020, Titak's suit alleges, Dugan began consulting with attorney John Higgins regarding the "mounting financial pressures associated with the restaurant," and she convinced Knipscheer to come with her to talk with Higgins.
During a meeting with Dugan and Knipscheer, the suit alleges, "Higgins bragged that he was good at threatening people with lawsuits to make them settle cases," and he "laid out a strategy of fraudulently claiming that Stucker solicited Dugan to invest in Pier 48 and that he recommended the investment as her financial adviser."
Higgins told Dugan and Knipscheer that this strategy would be a way to pressure Thurston Springer and its officers, including Titak, into reimbursing Dugan for the money she had invested in Pier 48, and into taking her name off the SBA loan and lease, the suit says.
The firm and its officers would be willing to settle, Higgins is alleged to have said, because they had insurance that would pay out a settlement and because they would be eager to avoid reputational harm that a lawsuit would bring.
The lawsuit, and Knipscheer's affidavit, say that Dugan agreed to Higgins' plan but Knipscheer declined to participate.
Dugan and Knipscheer had been living together in Carmel and had planned to marry, Knipscheer said, but in April 2020 Dugan asked him to move out.
"John Higgins turned Kelli against me and her best friends," Knipscheer said in his affidavit, which is filed as part of Titak's lawsuit. "… [Higgins] convinced her that since I would not participate in the plan, I should go too."
IBJ was unable to reach Knipscheer via messages left by phone and via his LinkedIn account. According to that LinkedIn account, Knipscheer founded a CBD wellness company, Simplinano, in September 2020.
Dugan's LinkedIn page identifies her as a clinical oncology specialist at the genetic testing company Natera. She did not respond to a phone message from IBJ.
Higgins—who continues to represent Dugan in her suit against Stucker, but does not represent her in the Titak case, described Titak's allegations as "baseless and untrue claims."
"Ms. Dugan intends to demonstrate that this latest complaint [filed by Titak] is based on an affidavit that is contradicted by other witnesses and underlying documentation," Higgins said in an email.
Higgins reiterated the claims made in Dugan's earlier lawsuit against Stucker and Thurston Springer, adding that this case is on track for a jury trial.
Higgins did not respond to IBJ's request for comment about Titak's allegation that Higgins was the mastermind behind Dugan's allegations against Stucker.
Indianapolis attorney George Gasper, a partner at Ice Miller LLP, is representing Dugan in Titak's lawsuit against her. Reached via email, Gasper declined to comment on his client's behalf.
Avoiding litigation
Indianapolis attorney Brian Hewitt of Hewitt Law & Mediation LLC, which handles both litigation and mediation cases but is not involved with any of the Pier 48 disputes, said he's handled many disputes among restaurant owners over the years. It's often the case in these disputes that the partners knew one another before deciding to go into business together.
"Businesses like this tend to come together among people who have a bit of history," Hewitt said. "It's all great—until it isn't."
Going into business with friends or associates can make disputes even more highly charged than they might be otherwise, Hewitt said. "It's not just about the business. There are relationships, sometimes of long standing, that impact how people react to all of this. They feel disappointed or betrayed—and trying to resolve these matters in litigation is probably the least effective way to address those issues."
Hewitt said business partners should take steps up front to reduce the chance that disputes will end in litigation.
Business documents such as operating agreements or governing documents can include contingency plans. Those plans could include provisions like what will happen if a business partner (or one of his or her associates) wants out. They could list certain crucial decisions that will require approval of a supermajority of shareholders before action can be taken. They can also specify a particular third party who can be called in to break deadlocks.
Hiring an attorney to craft these contingency plans will cost money, Hewitt said, but it can help a business avoid much bigger expenses down the road. "Controversies and litigation are much more expensive than creating documentation on the front end."•
Please enable JavaScript to view this content.