With a game-changing grant of $4 million from the Lilly Endowment Inc., a long-discussed idea for creating a support network to help individuals reentering society after a period of incarceration is becoming a reality.
The Interdisciplinary Defense System, developed by the Marion County Reentry Coalition in collaboration with the Greater Indianapolis Progress Committee and numerous other local and state organizations, is being touted as bringing a new approach to breaking the cycle of recidivism for those in poverty. Described as a holistic program, IDS is being designed to address the factors that contribute to criminal behavior as well as the consequences that come from involvement with the criminal justice system.
To start, IDS will be a five-year pilot project focusing on adults in Indianapolis who have been assigned a public defender, convicted of a crime and sentenced to the Indiana Department of Correction for no more than three years.
Lena Hackett, president and founder of Community Solutions Inc., listed the obstacles that can trip up an individual trying to move forward after prison. For example, if child support was not modified before going to jail, the arrearages may prevent the person reentering from getting a driver's license, which, in turn, could limit the ability to get a job. Housing, health care and child custody are other issues that can overburden the previously incarcerated.
Nonprofits are providing services to help, but Hackett noted they do not collaborate. Those agencies are not connected to each other, she said, and they do not know that a reentering individual needs assistance unless that person walks through their doors.
"It's a very siloed, segmented delivery service that we have," Hackett said. "The hypothesis is that this holistic piece makes it more effective. We'll see better results in terms of return to incarceration, we should see better results in terms of, 'How quickly are people able to find employment and maybe become self-sufficient?' And all because it's not going to be siloed services. They're all going to leverage each other."
The partnering organizations include the Marion County Public Defender Agency, DOC, Indianapolis Legal Aid Society, Adult & Child Health, Horizon House and Public Action in Correctional Effort, known as PACE.
John Floreancig, general counsel and CEO of ILAS, said his organization would be providing services to individuals before they go to jail and after they are released. The initiative enables ILAS to provide legal services and collaborate with other nonprofits in helping people who are trying to rebuild their lives.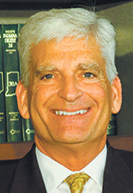 "It's giving these folks a second chance they deserve," Floreancig said. "They made a mistake — do they deserve to be in poverty for the rest of their lives? Should their families be impacted for the rest of their lives?"
The idea for such a program has been discussed for years, and a working group had been "noodling around" with the concept to figure out who the partners would be, according to Hackett.However, the project gained steam when the Indiana Family and Social Services Administration's Division of Mental Health and Addiction awarded a $2 million grant. With that money, the partners started building the infrastructure.
The additional Lilly grant brought the total dollars to $6 million and provided the fuel to launch the pilot project.
At the center of the program will be the public defenders and the social workers in the public defender agency. Rather than moving on after the criminal case is concluded, the attorneys will stay engaged with the individuals through the period of incarceration and for another 30 days following their release.
Hackett explained the pilot will only be working with people who have been incarcerated three years or less. The program leaders chose the limited time frame so they would be able to collect and evaluate the data during the five years the pilot is scheduled to run.
"The goal is that the pilot will become something more long term," Hackett said, "but we want to be able to really demonstrate to folks the impact for the individual — probably the impact for the agencies — if people aren't returning for incarceration and the cost benefit."•
Please enable JavaScript to view this content.