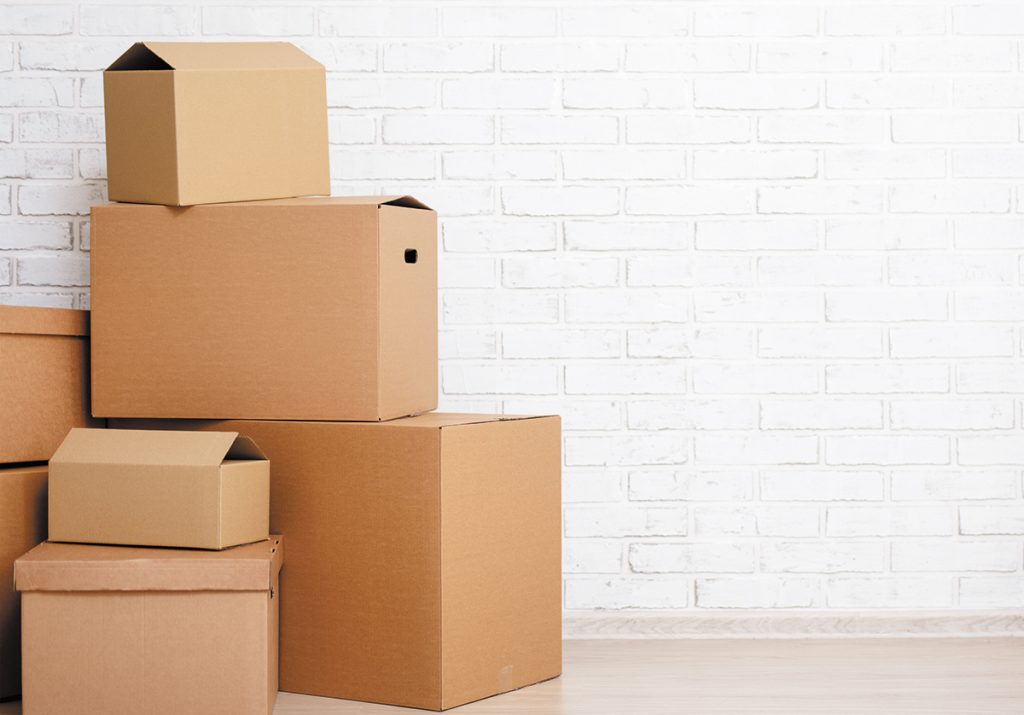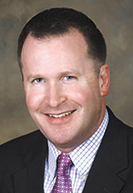 In less than two weeks, the moratorium on evictions put in place by the Centers for Disease Control and Prevention is scheduled to end, and while some fear a wave of evictions will follow, Scott Wylie, executive director of Pro Bono Indiana, said the long-awaited day of reckoning needs to come.
"We've got to get this fixed. We've got to get this straightened out," Wylie said. "We just can't let landlords give their housing away for free. It's not fair to the landlord. And we can't just let people get further and further behind (on rent) because that digs them a hole they can't get out of."
The situation to get "straightened out" is linked to the unknown number of Hoosiers who will receive eviction notices and potentially find themselves without a place to live after the CDC protection expires July 31. In addition to the quick pace of the eviction process, with hearings being held and orders for removal being granted just weeks after the landlord files a petition, tenants can get saddled with larger judgments for damages than they rightfully owe.
Seen as vital to mitigating the impact of any possible flood of evictions are lawyers and rental assistance funds. The money, much of which is coming from the federal stimulus programs launched in response to COVID-19, can help tenants stay in their homes by enabling them to get current with any back rent they owe. Attorneys can help tenants either avoid being displaced or work out voluntarily vacancy agreements with landlords so renters do not have the scarlet letter of eviction on their records.
Legal aid offices, housing advocates and communities in Indiana are marshaling the resources they believe tenants will need. Preparations include training more attorneys in landlord-tenant law, launching new projects to help tenants in courts and telling renters that funds are available to cover their arrearages.
However, connecting with tenants who need help may be difficult.
Even before the pandemic, those facing evictions often did not bother to attend the hearing, figuring it would be a useless exercise. Also, the few times recently that attorney Brandon Beeler has offered to counsel tenants at some of the small claims courts in Marion County, he encountered a number of residents who did not realize they were protected from eviction by the CDC moratorium or who did not know rental assistance was available.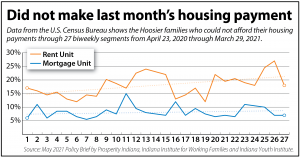 With tenants underinformed and often at a disadvantage in court, Beeler, director of the Housing Law Center at Indiana Legal Services, said he sees the need for the legal profession and court system to do more in eviction proceedings.
"I think we need to look to more equitable solutions than just possessions because, again, that does not have to be the only answer to a material lease violation," he said.
Unknown future
Those who are confident evictions will spike once the moratorium lifts point to both data and personal observations.
Since January, 13,029 eviction petitions have been filed, according to preliminary data from the Indiana Supreme Court. That comprises nearly 13% of the new civil cases filed in courts across the state. Also, the new Eviction Tracker developed by Legal Services Corp. indicates 53,504 eviction petitions have been filed in Indiana since March 16, 2020.
Indiana Free Legal Answers has recorded a steady uptick through the spring and early summer in questions related to housing issues, many of which were about evictions. The inquiries dropped to 22 in March but had risen to 31 in June.
All these numbers indicate to Wylie that with the need likely to outstrip the resources available, a moral dilemma is coming. He explained by posing the question of whether it would be a good use of taxpayer funds to provide rental assistance to individuals who have been permanently displaced from the workforce and are so financially unstable, they will not be able to pay rent even if rental assistance is used to cover the amount past due.
"I think that's the challenge that some of these programs are having," Wylie said. "You've got four life preservers and 10 people in the water. You can only save four of them from drowning, the other six are going to get evicted. Who do you choose?"
Mary Fondrisi, managing attorney for Pro Bono Indiana District L, which includes Clark, Floyd and Scott counties, said she thinks the wave of evictions started in April. She noted some courts have been hearing a full docket of eviction cases and more people are living out of their cars.
Throughout the past year, Fondrisi has fielded calls from worried tenants, quickly responded to those who received a notice of eviction and directed many to other resources in the community. Yet, she said, it has not been enough.
"This past year is the first time I feel like I'm not helping folks," Fondrisi said. "I tell people, 'Sorry, I can't help you.' It's pretty sad."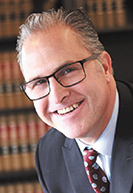 Conversely, Jeffrey Jinks of Jeff Jinks Law in Carmel disputes the eviction wave indicators. The moratoriums on evictions first issued by Indiana early in the pandemic and then followed by the CDC have created a "falsehood in the market" by stopping the evictions that would have been occurring during the past 16 months and by boxing in tenants who are wanting to move, Jinks said.
An increase in evictions will come after the start of August, but that will be from the pent-up demand, he said. Jinks, who represents housing providers, said a "vast majority" of Hoosier tenants paid their rent through the pandemic, so there are comparatively fewer who are in line to lose their housing for nonpayment.
Even so, he continued, landlords are contacting their tenants to talk about solutions. They are even helping some tenants with the rental assistance application process, which Jinks said can be difficult to navigate.
"Landlords never want to evict anybody," he said. "Eviction is an absolute last resort and only comes after they try to communicate, get payment plans, find out what's gone wrong."
Changing eviction court
Indianapolis is stepping up its efforts to help renters by launching the tenant advocacy pilot project to offer legal help to those in danger of losing their places to live. Andrew Merkley, housing specialist with the Indianapolis Office of Public Health and Safety, stated the simple yet lofty goal of the initiative: "I hope it will help keep a large majority of those facing eviction from being evicted from their homes."
As part of the new project, attorneys from ILS, the Neighborhood Christian Legal Clinic and the Indianapolis Legal Aid Society will be available onsite in the Marion County small claims courts, according to Matt Giffin, deputy counsel for Indianapolis. When tenants arrive for eviction hearings without counsel, legal aid lawyers will be available to advise and advocate for renters in court.
Giffin reiterated what many in the legal profession acknowledge: that eviction is practically inevitable for tenants who have no means to pay rent that is due.
But the project is capitalizing on two "sea changes" that can put renters in a better position in court. The first is the evidence that has shown that tenants who are represented by attorneys are less likely to get a formal eviction order. The second is rental assistance, which still has $45.2 million available in Indianapolis and provides a starting point from which tenants can negotiate payment options with their landlords to avoid eviction.
"It's kind of like a last ditch (effort) when other types of efforts haven't succeeded. We want to have staff in place to make sure tenants aren't falling through the cracks," Giffin said.
Beeler helped develop an online seminar on landlord-tenant law to boost the ranks of Indiana attorneys ready to help advise renters in court. He said he shares the concern that eviction court is too transactional, with tenants being swept into a process that provides few alternatives to eviction. And he said he believes lawyers should be helping tenants get connected to resources and finding different remedies.
"I think it's hopefully incumbent on the legal community to maybe ask different questions instead of going straightforward to, 'Did you not pay rent, are you behind?'" Beeler said. "Let's ask questions about the resources and let's add some equity into these hearings and into the process and break up that transactional nature that's just, 'Yes, no, you're out, you're in.'"•
Please enable JavaScript to view this content.