As Marion County files its first charge of drug dealing resulting in death, Prosecutor Ryan Mears said the new law is another tool to help combat violent crime and drug addiction across Indianapolis.
Dewayne Mahone, 39, was charged Tuesday with dealing in a controlled substance resulting in death, the first time the Level 1 felony charge has been filed in Marion County since it was created by the Legislature in 2018. Mahone is also facing six additional charges, all related to the overdose death of Tony Harrell.
Harrell died July 19 after ingesting a combination of heroin and the powerful opioid fentanyl, which the Marion County Prosecutor's Office has alleged was sold to him by Mahone.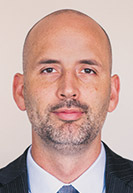 "When you look at cases like this, you are literally talking about people preying on addiction, profiting off of addiction. When someone is mentally and physically addicted to the drug, (dealers) are exploiting that for profit," Mears told Indiana Lawyer. "One of the things we need to crack down on is individuals providing these drugs. Fentanyl is such a deadly drug, even small amounts result in death."
In a Tuesday news release, Mears' office said ingestion of as little as 0.25 mg of fentanyl can be fatal.
A key difference between dealing resulting in death — a charge codified at Indiana Code 35-41-1-1.5 — and a traditional dealing charge is the penalty, Mears said. Whereas Mahone, if convicted of the Level 1 felony, would face 20 to 40 years, a Level 4 felony dealing charge carries a two- to 12-year sentence. Level 3 felony charges carry three to 16 years.
Also different is that to prove a charge of dealing resulting in death, prosecutors must show that the victim's death was the result of the sale of narcotics. Here, Mears said toxicology reports, test messages and evidence obtained via search warrants show a direct link between the drugs found in Harrell's body and the drugs Mahone sold.
Mahone's case marks the 15th time the Level 1 felony charge has been brought since it was created via House Enrolled Act 1359. Mears said his office chose to bring the charge for the first time in this case because of forensic evidence obtained by the Indianapolis Metropolitan Police Department, which included text messages and scene reconstruction.
"From that information, we were able to follow up and do search warrants the very next day, and we found that, very literally, the same drugs found at the scene were … in the victim's body," Mears said. "So we felt comfortable filing the Level 1 felony dealing resulting in death charge."
When the Legislature was considering creating the new offense, Mears said prosecutors tried to make the point that they were limited in drug-death cases to bringing reckless homicide charges against dealers, which carry a sentence of one to six years. That created a hole in the legislative scheme for prosecuting and sentencing these cases, he said.
Mears also said there's "no question" that drugs, particularly opiates such as heroin and fentanyl, are tied to violent crime and homicides in Indianapolis. And from an addiction standpoint, the prosecutor said drug users frequently commit burglaries to find money to feed their addictions.
"This is a loud and clear message in terms of deterrence," Mears said of the harsher penalty that comes with the new charge. "We're hopeful this will also have the impact of bringing attention to the fact that there's not only criminal consequences, but there are moral consequences to being a drug dealer that results in someone losing their life.
"Someone just lost a child, someone just lost a parent, someone just lost a spouse," he continued. "So we're hopeful that cases under this statute will bring light to the human hardship."
Mahone's case of State of Indiana v. Dewayne H. Mahone, 49S02-1907-F2-028792. He is scheduled for a jury trial Nov. 25.
Mahone's attorney, Ranissa Dycus, did not respond to a request for comment.
Please enable JavaScript to view this content.