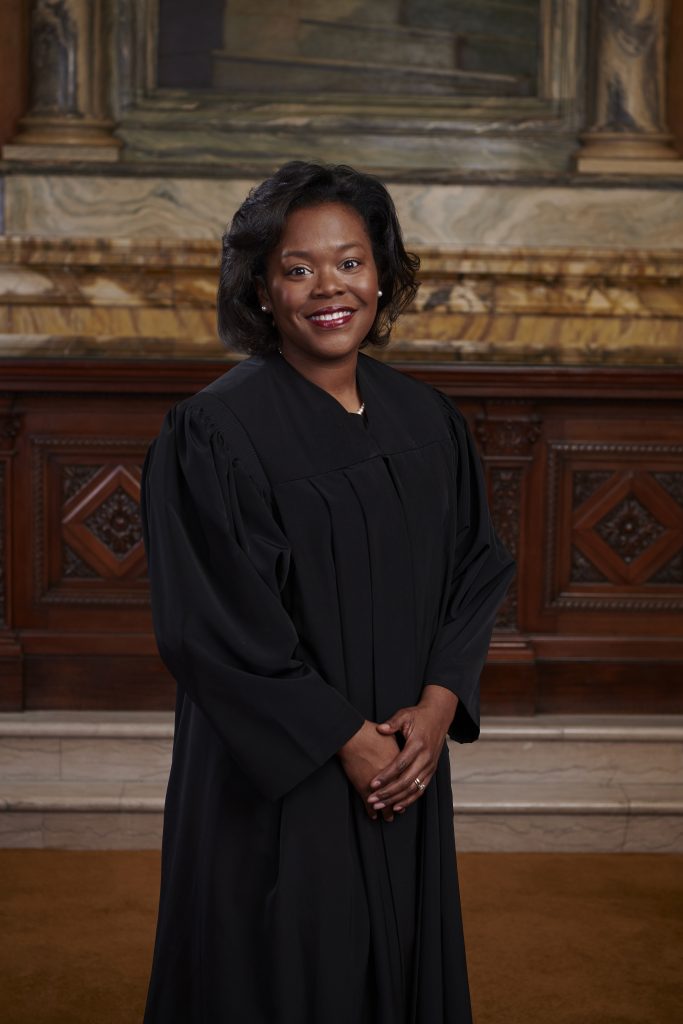 The U.S. Senate confirmed Judge Doris Pryor to the 7th Circuit Court of Appeals in a bipartisan 60-31 vote Monday evening, making her the first woman of color from Indiana to sit on the Chicago-based appellate court.
Several Republicans joined Democrats in voting for Pryor, including Senate Minority Leader Mitch McConnell of Kentucky and both Indiana Sens. Todd Young and Mike Braun.
The historic vote makes Pryor the 26th nominee confirmed to a circuit court and the 88th judicial confirmation overall under President Joe Biden.
Pryor was nominated by Biden in May to fill the vacancy created by Judge David Hamilton, who is taking senior status. Young immediately endorsed her nomination.
During the vote, which began around 5:30 p.m., several Democratic senators wandered into the chamber, approached the front desk and voted "yes" by flashing a thumbs-up. Other Republicans joining the yes votes included Sens. John Cornyn of Texas, Mitt Romney of Utah, Susan Collins of Maine and Lisa Murkowski of Alaska.
Pryor has served as a magistrate judge for the U.S. District Court for the Southern District of Indiana since 2018.
In remarks prior to the vote, Senate Majority Leader Chuck Schumer, D-New York, praised Pryor's work on the bench and as an assistant U.S. Attorney for the Southern District of Indiana. He also highlighted her work in the Indianapolis community, which includes founding a youth program, mentoring law students and helping the formerly incarcerated reenter society.
"In short, Judge Pryor has the brains of a jurist and the heart of a public servant, a perfect combination for someone serving a lifetime appointment on the bench," Schumer said.
Pryor's confirmation was expected.
Not only did Young and Braun support her nomination, she picked up votes from Republican Sens. Lindsey Graham of South Carolina and Thom Tillis of North Carolina following her hearing before the Senate Judiciary Committee. Also, the vote Thursday to invoke cloture was strongly in her favor at 62-31.
Among those voting against Pryor's confirmation was Sen. Mike Lee, R-Utah. Lee grilled Pryor during her confirmation hearing about a Constitution Day speech she gave at her son's elementary school, repeatedly questioning her description of the Constitution as a "living document."
Pryor is a 2003 graduate of Indiana University Maurer School of Law. She then served as a law clerk for Chief Judge Lavenski Smith on the 8th Circuit Court of Appeals from 2003 to 2004 and for Judge J. Leon Holmes of the U.S. District Court for the Eastern District of Arkansas from 2004 to 2005.
"The Maurer School of Law sends its most hearty congratulations to Judge Doris Pryor '03 on her confirmation to the Seventh Circuit," IU Maurer Dean Christiana Ochoa said in a statement following the vote. "We are so proud that she will contribute to the long legacy of our alumni serving the judiciary. Judge Pryor's achievements are particularly notable as she becomes the first woman of color from Indiana to serve on the Seventh Circuit."
Please enable JavaScript to view this content.