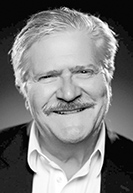 During this unprecedented time, I have been asked by a number of clients if they should alter their marketing plans. My answer is "Yes, but don't stop marketing." Further, attorneys — like many other businesses — while still doing at least partial in-person interaction, should consider increasing certain aspects of contact with customers.
What's more, I have been recommending strong consideration be given to placing more emphasis on community involvement on the part of attorneys and staff. Sometimes unique and active participation in this area can be even more effective than traditional marketing — not only during the pandemic, but during normal times. This reinforces your position as a community leader who cares about our citizenry and timely causes.
There is nothing like regular communication with your clients. With limited personal contact, it is more vital than ever. Hopefully, you have collected a healthy e-mail list of clients and friends. Increase your use of e-newsletters sent via delivery services such as Mail Chimp or Constant Contact. These platforms are incredibly affordable. With my client firms, we generally update people on breaking news in their practice areas, and these days we are tailoring messages to relate to the pandemic. For example, one firm whose practice areas include adoption and fostering is talking about how now more than ever before, children need good parenting. In the personal injury area, we would normally talk about, say, trucking accidents. During these times, there is evidence that speeds are increasing due to less traffic. This increases the risk of more serious injury resulting from a crash.
This messaging also can suggest how one might protect themselves from infection. Another firm has messaged their list about the usual summertime safety tips, such as safe swimming tips, warnings about drinking and boating, life jackets, and so on. But now the messaging also reminds people about social distancing, even at community swimming pools.
Smart firms are already doing grass-roots community involvement on a regular basis but are now tailoring these activities in ways that relate to the times. I have seen some really gratifying examples of true service, locally and around the state.
One firm is increasing their presence at local food banks. We need to remember that many people are out of work and depend on this help. Donate food or funds to help stock the shelves. Volunteer to help.
Another group is working with College Mentors for Kids. Yet another is helping with Dress for Success.
A great team-building exercise would be to gather the gang and brainstorm some ways the firm can help. Consider some of these ideas:
• Make monetary or in-kind donations to needy groups, organizations, or individuals in need. Homeless populations and low-income individuals are especially vulnerable in times such as these. Consider contacting local homeless shelters, Salvation Army, or other aid organizations to see what they need.
• Distribute masks and hand sanitizers to local hospitals, clinics, and others. Make a healthy contribution to fund these items. Get a group together to make masks for these brave folks and also for friends, neighbors, the elderly, and others who are most vulnerable.
• Recruit some staff volunteers to make weekly friendly phone calls to those in social isolation, especially the elderly and those most susceptible to the virus.
• Donate blood. Conduct a blood drive. According to the American Red Cross, "As the novel coronavirus continues to spread, we can expect to see a decrease in those eligible (and willing) to donate blood.
• Create a mutual-aid network. This allows people to list they things they need, such as groceries, pharmaceuticals, delivery services, baby-sitting services and more.
• Support frontline workers. These are the 'unsung warriors' who have been out there since the beginning, many times risking their own lives to help others. These are the doctors, nurses, delivery people, firefighters, sanitation workers, postal workers, and others responsible for essential services.
• Support law enforcement officers. Most are good and decent people with their own homes and families who could especially use our help in light of recent events.
If nothing else, express thanks to all of these people for their hard and often unappreciated work. Come up with some creative ways to show your support. It can be something as simple as delivering some pizzas or cookies. Or just briefly and personally thank them for their service.
Offer free legal services to those who just cannot afford it right now.
If you have an especially creative activity, let the local media know about it. You just might get a nice article in the newspaper or on local broadcast media. One story I saw recently was a piece on a woman who trained her dog to deliver groceries. Even in the most normal of times, stories like this can be the most effective marketing one can wish for, and it's publicity you cannot buy.
Bottom line: It's just a good time to help others. Even if you get no formal credit, you and your staff will get the precious gift that comes from the satisfaction of giving.•
• Jon Quick is president of Carmel-based QPR and Marketing, specializing in law firms, and a partner at Videopolis.tv. He can be reached at 317-432-0309 or [email protected] Opinions expressed are those of the author.
Please enable JavaScript to view this content.