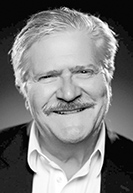 By Jon Quick
When I started writing this article, it was to be about the usefulness of apps for attorneys and law offices. Since then, the world has dramatically changed, and most lawyers have realized that it is now a high priority to find ways to work with clients virtually.
As I modified my research, I turned to Indianapolis attorney Josh F. Brown, franchise and litigation partner at Cohen Garelick & Glazier. Brown is arguably one of the best go-to resources for social media as it relates to law practices.
Josh shared these comments with us:
"In this unprecedented time, many lawyers are looking to new or alternative ways to practice law. These changes impact where we practice, how we practice and the tools that we use.
"Seven years ago, I launched my 'Franchise Euphoria' podcast. I did so simply to provide valuable and free information to those involved or impacted by franchise businesses. This, of course, is related to my practice as a franchise lawyer. Little did I know this podcast would serve as the catalyst to launch my firm from purely an Indiana-based firm to doing national work.
"Whether it is a podcast or some other technology, the point is that lawyers can and should be using these or similar tools to differentiate themselves among a sea of other legal professionals.
"Many firms and lawyers are considering developing an app to add value and make communications with clients more seamless and efficient. These are all good ideas.
"However, the key is identifying in as specific detail as possible who your clients are and who you are trying to attract. Once you do this, you can much better determine the tool or app to use to attract those clients.
"We are, of course, in uncertain times. Our clients now and going forward are demanding new and better ways to communicate, work and deal with their legal professionals. Podcasts and apps are merely two of the numerous options available for lawyers to use as they adapt to the new normal, we have yet to fully understand."
Jeffery Stinson, elder law attorney at the Carmel-based Stinson Law Firm, offered these comments:
"Zoom is going to be key to getting my firm through the next few weeks to months. Not all of my meetings can take place virtually, but a majority can. I have really resisted this type of medium simply because I prefer meeting with folks in person, but this may be a future option for me even after we have navigated through this crisis.
"I know there are some other areas of my practice where I think an app could be helpful (gathering evidence for Medicaid and VA applications). If this results in a lull in my business, this may be a time to think more on how technology can better be used to serve our clients more efficiently."
In normal times, apps have proven to be very effective for many categories of business. However, the use of customized apps by law firms, at least in Indiana, is behind the curve.
While some law firms have developed their own apps, few believe they have been effective. We seem to see them most used by personal injury attorneys.
Wilson Kehoe Winingham in Indianapolis has an app designed to help clients and others report step-by-step directions of what to do when involved in a car accident.
According to WKW director of marketing Eric Strickler, "In the five-plus years we have had our app, it has driven some web traffic to our site, but does not provide any significant benefit to our firm."
Strickler continued, "We don't currently see a need for proprietary apps for law firms. Certainly, the legal industry should adopt technology more, including a multitude of applicates that make the client experience more enjoyable. That said, I think an increase in proprietary applications will only confuse and complicate the client experience as they interact with different firms."
A spokesperson for another major Indianapolis firm told me the idea of creating an app several years ago had been explored, but the firm decided it didn't make sense.
Nika Kabiri is the former director of strategic insights at Avvo and a contributor to the website Attorney at Work.
In a 2018 article, Kabiri wrote: "Most people who use their smartphones in handling their legal issues are probably doing higher-level research. They're most likely looking for general information in a moment of stress or concern, on the go, as questions arise. And chances are they're using Google. Google Search is the No. 4 most-used app in America, after Facebook, YouTube and Facebook Messenger. So, if faced with a legal issue and using a smartphone, Google Search is where many will go.
"Given that fact, if you want to build awareness among people with particular legal issues, focusing on your search marketing strategy might do more for your firm than developing your own app. However, if you can draw a targeted group of people to your app, and have them use it on a regular basis for an extended period of time, then it may be worth hiring an app developer.
"Whatever you choose to do, as long as you align your strategy with consumer mobile behavior that's already hard-wired, you'll spend your dollars wisely."
Some attorneys are finding that apps and podcasts that "indirectly" promote their practice area are showing some success. Other than Josh Brown's aforementioned "Franchise Euphoria," there are two others in Indiana worth noting.
Education law attorney Catherine Michael, partner at Connell Michael Kerr in Carmel, with offices in Ohio and Texas, has collaborated with her colleague, attorney Carla Leader. They are producing a podcast that informs and entertains parents of school-age children. "Parental Guidance" features topics such as bullying, discipline and special education. Chrissy VanMeter Zivitz practices family law and is the founder of Carmel's Zivitz Law Group. Zivitz is working on an app called "Divorce Community."
While still in development, Zivitz notes that this is "basically a networking app for individuals going through a divorce to connect with others going through similar challenges in their case. 'Divorce Community' is not designed nor intended to be a substitute for hiring a divorce attorney. With all due respect to attorneys, they rarely, if ever, have the time, skillset or expertise to address many of the emotional aspects of divorce, which are often the most difficult to endure and overcome. This fills in the gaps by providing a forum wherein members can anonymously ask questions, share stories and experiences, seek and offer feedback and unique solutions to problems, and find better ways, collectively, to navigate some of life's biggest challenges."
I hope these suggestions help you a bit in surviving this "new normal." With good faith and a spirit of working together, we will get through these times and be better for it.•
• Jon Quick – 317-432-0309 or [email protected] – is president of Carmel-based QPR and Marketing, specializing in law firms, and a partner at Videopolis.tv. He is a former executive with CBS and Emmis Communications. Opinions expressed are those of the author.
Please enable JavaScript to view this content.