Rob Gauss' job description as chairman of the board of the American Red Cross of Greater Indianapolis doesn't include deployment to the front lines of a national disaster zone. But that's what he's training to do.
Gauss, a partner at Ice Miller LLP, has committed to preparing for potential deployment to areas hardest hit by the nation's recent natural disasters, including hurricanes Laura and Sally and the unprecedented wildfires burning the West Coast.
Accompanying him in training is Chad Priest, CEO of the Indiana Region of the American Red Cross, who's also an attorney. The men decided to offer themselves up for assistance after publicly advocating for Hoosiers to consider undergoing fast-track disaster training to meet the nation's rising need for emergency relief.
"It was really an off-the-cuff comment to Rob, 'Hey would you ever consider, maybe we could team up and go out there?' I don't know what I expected Rob to say, but I was not at all surprised when he said in his very steady, measured way, 'Sure, Chad, I could be ready in a week,'" Priest said.
"I was thinking we'll do the first hurricane that requires a deployment for 2021," Gauss recalled. "A couple days later (Priest) called and said, 'We may need a deployment immediately. How would you feel about us doing it now?'"
Ready to roll
Unfazed, Gauss agreed, and the men began training for their possible deployment.
Red Cross volunteers willing to participate in disaster deployment efforts must be willing and able to accept a two-week deployment, live in a communal shelter and work 12-hour days for six to seven days per week.
Priest and Gauss completed the expedited disaster training program separately, much of it virtual due to the pandemic, learning how to work with clients and how the disaster programs function. They also participated in a "driver's ed" for the Red Cross's fleet of emergency response vehicles, better known as ERVs.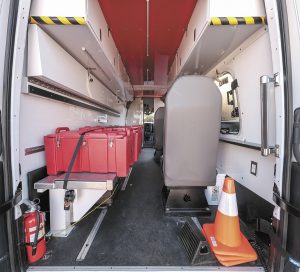 The ERV, Priest explained, is a sprinter-type van that has been heavily modified to store and transport food-serving containers. All Red Cross ERVs are standardized to receive special coolers and heated food containers that can slide into the back of the van.
Following training, Gauss and Priest will be placed on call. Then, if they are deployed, they will drive an ERV to a disaster site from Indianapolis at a moment's notice. Both men would then coordinate with leadership teams in the local area in preparation for their arrival as they drive cross-country.
"Then we would be immediately integrated into the response team depending on where their immediate need is," Gauss explained. "We might be relieving a team that was first responding so that they are able to return home and we are filling the role that they were playing."
Meals offered from the ERV will come from coordination with other nonprofits in the area, Gauss said, prepared at large-scale cooking operations. Once they arrive, the mobile feeding vehicles can pull into neighborhoods to meet a need and interact with residents where they are.
"These ERVs drive up and down communities stricken by disaster on regular schedules," Priest said. "So imagine that your house has just burned to the ground in a fire in California, Oregon or Washington, and you are there maybe sifting through the debris. One of our ERVs pops up and asks if you want some cold water or some lunch. We are not changing the world with these interventions, but we are serving one person at a time, and when you're in that position, it's everything."
Jumping in
For Gauss, it wasn't a question of whether he should join in the Red Cross's disaster deployment efforts.
"I firmly believe in leadership by example," he said. "At that moment in time there were four or more large-scale disaster responses going on. The need for volunteers was great and at some point you ask yourself, 'If not you, then who?'"
From an early age, Gauss said he recognized and valued the mission of the Red Cross. The board chair took Red Cross lifesaving classes as a teenager, and again saw the impacts of the humanitarian movement when he was responsible for a Red Cross shelter on the East Coast during hurricane season in 1995 and 1996.
"It has a very deep, personal meaning for me," he said. "I passionately believe in the Red Cross' mission to alleviate human suffering in the face of emergency. I directly saw the Red Cross' work in action when I lived in North Carolina and I want to use my role on the board to further support the mission both locally and nationally."
The same is true for Priest, whose first encounter with the Red Cross was as a volunteer lifeguard and CPR instructor during high school.
"From there I became a disaster volunteer and worked local disasters and continued to do that work through college," he said. "It certainly had a huge impact on my formation. When I got the call five years ago asking if I would consider being the CEO of the Red Cross it felt like a natural … how do you say no to that?"
Throughout his careers as a nurse, lawyer and academic, Priest said every disaster he's ever worked on has seen interaction with the Red Cross. But now he's excited to get involved in the on-the-ground efforts.
"In reality, I go to multiple disasters a year as part of my job. But when I go as a CEO I'm usually pushing paper," Priest said with a laugh. "I'm working with senators and elected officials on the ground so they understand what we are doing. So what's unique about this deployment is that the idea of joining Rob and getting in one of our ERVs and going to spend 14 days just serving people, making sure people have something to eat, making sure people are on the path to recovery."
As of now, the men are still awaiting the call for deployment. Gauss already has the go-ahead from his law firm's managing partner and leadership team once that time comes. He spoke with his practice group and fellow partners about the possible deployment to ensure his clients' needs are covered while he's gone, and he will also have email and voicemail to get in touch during any downtime he may have.
But the men are eagerly anticipating the chance to help others out where they can as soon as possible.
"Rob and I are ready to go," Priest said with gusto. "We're ready to roll."•
Please enable JavaScript to view this content.