Indianapolis attorney Eric Schmadeke made the trip to Rush County on March 17, 2020, to appear in what turned out to be his last in-person hearing for the next five months.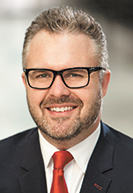 The COVID-19 public health emergency interrupted the work of the courts and prevented the former deputy prosecutor and now partner and senior trial attorney at Densborn Blachly LLP from stepping into the courtroom again until August. Although he has physically been to a courthouse only few times since the pandemic-induced shutdown, Schmadeke has made several court appearances by sitting in his office, turning on his computer and clicking the videoconference link.
Gone from his schedule is the travel time and waiting-around time which, he said, has caused a "marginal reduction in billable hours in 2020." But the reduction in hours has lowered the cost of litigation which, he believes, over time, could make the legal system more affordable to the middle class and small businesses.
"I'm not saying there isn't a benefit to being in person sometimes because there is," Schmadeke said. "I'm not saying I don't like being in person more than I like a Zoom hearing at my desk, but the truth is one of the biggest barriers, in my experience, to regular folks being able to litigate disputes when they have a reasonable and valid point is the costs that go along with the busy work. Litigation has a lot of busy work where it's not the meat and potatoes of the case."
Other attorneys are not sure the cost savings will have a significant impact. However, they have seen a decrease in expenses and an increase in efficiency that has come from being able to remotely attend procedural hearings and conduct depositions.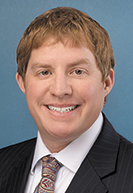 Among their clients, they have noticed more are now tuning in to the routine hearings and status conferences. These clients, like their attorneys, have easier access to a court proceeding because they do not have to travel any farther than the few steps to their laptops.
The attorneys agree with Schmadeke that in-person has benefits which cannot be replaced or replicated through technology. Even so, they do not expect the post-pandemic world will bring back the frequent trips to the courthouse.
Wes Overturf, a bankruptcy and creditors' rights attorney at Overturf Fowler LLP in Indianapolis, anticipates that trials or hearings where witnesses appear and exhibits are presented will be held in person again once the coronavirus outbreak is brought under control. Smaller matters, on the other hand, might stay remote.
"I could see a lot of the procedural hearings being telephonic or if we're just arguing being videoconference because I do think there's not only a cost savings for a lot of the parties, there's also a time savings for both the parties and the judge," Overturf said.
'Constant barrage'
Attorneys such as Schmadeke and Overturf who represent clients from the business sector are likely to become much busier in 2021, which will make the efficiencies offered by remote hearings more valuable.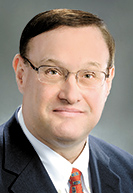 The legal technology provider and consulting organization Exigent Group is forecasting a flood of litigation this year. A November 2020 blog post by the company explained the surge will be pushed by some businesses that have gone bankrupt and others not being able to meet their contractual obligations as the COVID-19 pandemic cut supply chains and hampered fulfillment. Also, as the economy recovers, new agreements will have to be made or old agreements will need to be renegotiated.
Within the Indiana business community, the concerns early in the pandemic about the courts' ability to continue functioning have waned, according to Kevin Brinegar, president and CEO of the Indiana Chamber of Commerce. Businesses are not worried about having access to the judicial system to get their legal matters resolved, and they are continuing to make decisions about litigation as they always have by evaluating the situation and the cost.
"The courts and litigation are not free," Brinegar said.
Schmadeke conceded the cost savings that come from remote hearings are small. Using himself as an example, he said prior to the pandemic, he would have spent a half-hour driving from his office to the Hamilton Superior Court, then waited around 30 minutes before the hearing. After the brief appearance in court, he would hang around for a few minutes, talking to opposing counsel, then take another half-hour to drive back his office.
Virtual hearings eliminate those two or three hours spent on the logistics of being there in person. Shaving a couple of hours from a client's bill probably would not make much difference to large or mid-sized companies, but, he said, for small businesses or new businesses, the cost savings of several hundred dollars or more would be significant.
Schmadeke has seen the impact of the bottom line pressure clients into settling their cases before they want. The clients, he said, might have had a righteous cause of action but they just could not keep up with the "constant barrage of costs and fees" that are attached to litigation.
"Zoom hearings aren't going to fix all that but they might make a small difference, and sometimes a small difference is a difference," Schmadeke said.
Still best in person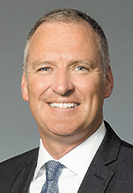 Richard Blaiklock, partner at Lewis Wagner LLP in Indianapolis, has noted some other benefits of being allowed to remotely access the legal process.
Namely, more of his clients, who typically are in-house counsel, have been attending the virtual depositions and hearings. They get firsthand knowledge of what happened, hearing not only what the judge asked but also the judge's tone of voice, so he does not have to spend as much time afterward recapping the action. Rather, he can focus on answering the clients' questions and having a substantive discussion with them.
Also, Blaiklock has determined that while the coronavirus still rages, the virtual option is better for evidentiary hearings where a witness is being called to testify. He explained that the witnesses who appeared in person would have to wear masks, obscuring their facial expressions and giving judges a more difficult time in determining credibility.
Remote access is working in these extraordinary times, but Blaiklock wants to return to the courtroom.
"I think, and I hope, that other than very minor procedural hearings that we will get back to in-person hearings," he said, adding that lawyers get a better feel for the witnesses, are better at shuffling around the exhibits and benefit from interacting with other people when everyone is together in the same space.
"I don't think there's any substitute for personal in-person interaction with another lawyer, with a judge and with a witness," he said.
Attorneys say they benefit not just from being together inside the courtroom but also from mingling in the hallways of the courthouse. Schmadeke explained civil litigation lawyers tend to be more pleasant and congenial to one another face-to-face than when trading emails. Chitchat before and after proceedings can often lead to a resolution.
Certainly when the stakes get higher, attorneys want to be in the same room as the judge, the witnesses and the jury.
Overturf noted that much can be conveyed through body language and facial expressions, but those nonverbal messages can be difficult to pick up during a remote hearing. He pointed to a hybrid bankruptcy trial in October 2020 in which the judge, the debtors and their attorney were together in the federal courthouse in Lexington, Kentucky, while he, his client, and the other parties all accessed the proceeding remotely.
Despite his initial doubts, that daylong trial went well, but a lot may be lost in virtual hearings. Overturf explained if he can only see the witness's face on his computer screen, he will miss any fidgeting of hands or legs that can indicate the person is becoming uncomfortable by his questioning. Also, he cannot determine how the court is processing testimony because he cannot see the judge's expression.
Schmadeke does not think the virtual format should be used for all court proceedings. But the response to the pandemic has shown a way for the legal profession to keep the courthouse affordable for more litigants.
"Finding ways to economically litigate the small to middle-sized disputes that individuals and small businesses find themselves in is critical to the health and stability of our profession" Schmadeke said.•
Please enable JavaScript to view this content.