Two newly redrawn Indiana House districts in Indianapolis' northern suburbs have attracted a total of six Republican candidates looking to advance to November's general election.
A Hamilton County Council member, a former U.S. Department of Energy appointee and a first-time political candidate are competing in the Republican primary to represent Indiana House District 32, which includes Hamilton County's Clay and Delaware townships and extends south into Marion County.
Republicans Fred Glynn of Carmel, Suzie Jaworowski of Fishers and Paul Nix of Fishers are running for the open seat in Tuesday's primary.
Another three Republican candidates are making their first runs for state office in the primary race to represent Indiana House District 41, which includes northern and western Boone County; western, southern and southeastern Clinton County; northeastern Montgomery County; and eastern Tippecanoe County.
Richard Bagsby of Lafayette, Mark Genda of Frankfort and Shane Weist of Lafayette will compete for the GOP nomination for that seat.
Here is a look at both races.

District 32
Fred Glynn
Glynn, a two-term Hamilton County councilor and a 2019 Carmel mayoral candidate, decided to not seek another term on the council after the House District 32 seat became available.
He said issues that were important to him at the county level—no tax increases, a AAA bond rating and plans for a Hamilton County domestic abuse shelter—have already been fulfilled.
"I was in a position where I can leave the council role comfortably and go do something else and try to make a difference there," Glynn said.
His experience with fiscal and economic issues during his time on the Hamilton County Council is an example of what he can bring to the Statehouse, he said.
If elected, Glynn said, he would focus on education, highway funds, how federal money is spent and how state legislation affects local government.
"Economics is always a key, you know, looking at the tax code, seeing how we can fuel the economy," he said.
Glynn said he's spoken with teachers about controversial House Bill 1134, which failed to pass this year. It would have policed the topics teachers could discuss in the classroom and required educators to post school curricula online to be vetted by parent review committees.
He said some teachers did not like the bill because of the burden it placed on educators, but they still wanted to see a handful of issues it included addressed by legislators.
"We're talking about that activism that's coming into the school is shifting the focus away from academic excellence, and we've seen it in some of the measurements that we have out there—test scores, etc.," Glynn said.
He said his experience in Hamilton County government has prepared him to legislate at the state level.
"I think I know this district better than the other two candidates," he said. "Knowing what the issues are to the voters, talking to the voters and serving in this community, I think, is pertinent to being able to represent their interests at the Statehouse."
Suzie Jaworowski
Jaworowski considered a run for state treasurer last year before she withdrew and entered the race for House District 32. She ran for the Indiana Senate in 2016 and that year was the Indiana director for the Trump-Pence campaign.
She served as chief of staff in the U.S. Department of Energy's Office of Nuclear Energy during the Trump administration.
Jaworowski said she is running to represent House District 32 because she is distressed about the country's direction, particularly around energy issues.
"I know very well from being in the energy industry that, when the price of electricity goes up, the price of bread goes up and everything in between," she said. "I want to be able to do my part to keep a robust economy, good jobs and a safe place to live in Indiana."
She believes her background in the energy industry helps her stand out, particularly as the state increases its usage of clean energy.
"If we build the infrastructure to have clean energy sources that can power electric vehicles, high-speed computing, even digital currency, we'll be attracting a lot of big companies," she said.
Jaworowski said important issues in Indiana include education, retaining talented college graduates, keeping taxes low, being good financial stewards and eliminating regulations.
She is concerned about social issues, such as critical race theory and topics involving gender and sexuality, and how she said they intersect in the classroom.
Jaworowski would have supported House Bill 1041, a bill vetoed by Gov. Eric Holcomb that would ban transgender girls from playing girls sports. Lawmakers could still override Holcomb's veto.
Jaworowski said HB 1134 placed too much of a burden on teachers.
"In my opinion, I would have changed the way the teachers have to be reporting and how transparency works so that it would have been able to pass in the end," she said.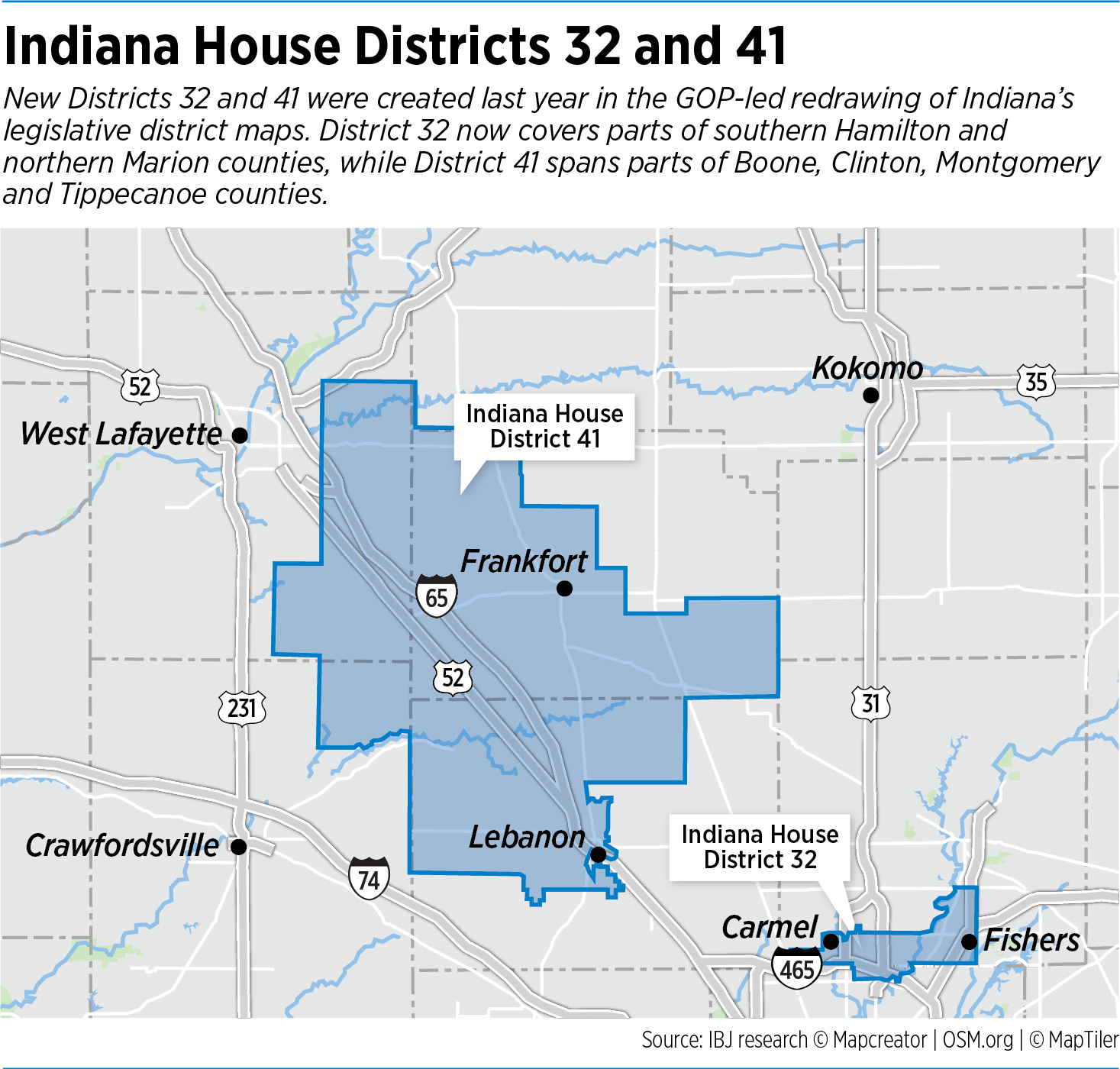 Paul Nix
Nix, who has lived in Fishers 31 years, works in the insurance industry and is a first-time candidate for political office.
He said he decided to run because he has time now that his seven children are grown and due to his displeasure with Holcomb and members of the Statehouse. He thinks Indiana needs more conservative Christians in government to direct the way the state is run.
"I'm just the most conservative kind of person you'll probably ever talk to," Nix said. "There isn't a lot about government that I think they're doing right. They take too much of our money. They do ridiculous things with it."
Nix is concerned about education, wants abortion abolished, does not want marijuana legalized and is against government-mandated COVID-19 precautions, including those that closed businesses and churches in 2020.
He also expressed displeasure with Holcomb's veto of HB 1041.
"I've been very irritated with government the last few years," he said.
Nix also is passionate about gun rights and supported the Legislature's move to allow handguns to be carried in public without a permit. Starting July 1, permitless carry will be allowed for anyone 18 or older unless they have a felony conviction, face a restraining order or have a dangerous mental illness.
Nix challenges the idea that Indiana has a conservative supermajority in the Statehouse, where Republicans outnumber Democrats 71-29 in the House and 39-11 in the Senate.
"I'll tell you what the supermajority is," he said. "It's the left, the extreme left and [Republicans In Name Only]. We do not have a supermajority of conservative Republicans."
Nix said his lack of political experience makes him the best candidate to represent House District 32.
"My definition of the wrong guy in office is a career politician," he said.

District 41
Richard Bagsby
Bagsby, a construction managing superintendent and a carpenter by trade, said COVID-19 mandates in schools motivated him to run for the House District 41 seat.
"I didn't agree with how that was handled, and so, since it was an open seat, instead of complaining about it, I decided to run," he said.
Bagsby said he is concerned about the Indiana Economic Development Corp.'s plan to purchase 4,000 to 7,000 acres of land northwest of Lebanon for what state officials hope could become a large business development.
He is also focused on infrastructure, broadband internet, property rights and U.S. Environmental Protection Agency regulations as they relate to drainage.
Bagsby's priorities also include outlawing abortion, education issues, opposition to mandates surrounding masks and COVID-19 vaccines, and holding elected officials accountable.
"I don't think we need more laws," he said. "You know, if anything, we need some things repealed."
Bagsby emphasized that the experience of running for office has left him frustrated and weary of the political establishment.
"I don't think the main body of the establishment is for the people, and a lot of people know that about me," he said.
Mark Genda
Genda, a funeral home director for 38 years, previously served two terms on the Frankfort school board.
He said he decided to run for the open House District 41 seat because he wants to be a representative of the people.
"I hope it [will] be a people-forward position of representing the people of [District] 41," Genda said. "What I've done all my career as a funeral director is people-forward."
Genda noted that House District 41 has varied characteristics.
While Boone County has experienced growth in industry and population, he said, Clinton County is an agricultural area whose residents want a focus to remain on the family farmer and farmland assets. He noted that Tippecanoe County has experienced urban sprawl and a difficulty in keeping up with infrastructure needs.
"How do you truly represent 65,000 people when the needs are so different in each locale?" Genda asked.
Genda is concerned about the rights of gun owners and funding for local police departments.
He also stressed the importance of local government as it relates to the thousands of acres of Boone County land the state is attempting to acquire for a huge business innovation park.
"This is absolutely why we have to keep local government as the controller of their counties," he said. "This is where you don't want your state rep to step in. The further government gets away from its people, the less connection there is."
Shane Weist
Weist, who served five years as chairman of the Fairfield Township Board, is making his first run for statewide office.
He said his decision to run to represent House District 41 was spurred by the state's response to the pandemic, which he believed represented government overreach into homes and businesses.
"A lot of our smaller businesses closed, and it was really tough on our children emotionally and tough on our businesses financially," Weist said.
He said he would focus on banning abortion, cutting back on regulations, Second Amendment issues, funding law enforcement and affordable housing.
"Some of our rural communities are really having a hard time right now with attracting employees because they don't have enough housing, which is a big issue for attracting companies to those areas," Weist said.
He supported the bill limiting certain classroom topics and was disappointed Holcomb vetoed the measure banning transgender girls from playing girls sports.
Weist said his experience in local government and as a member of 20 not-for-profit boards within the community makes him the best candidate.
"I think that I bring a very diverse viewpoint with that knowledge and the years of service to my community and the state of Indiana," he said. "I feel I have an understanding of the issues that Hoosiers are facing."•
Please enable JavaScript to view this content.