Editor's note: This article has been updated.
Former Marion Superior Court judge Thomas "Tom" Carroll died Saturday after serving as a judge for nearly 31 years, according to the Indianapolis Bar Association. He was 78.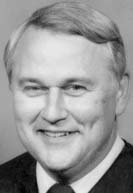 Carroll, former Marion Superior Court Civil 6 judge, began his career as a judge in 1988 and retired from the bench at the end of 2018. Carroll received his law degree from the Indiana University Maurer School of Law and was admitted to practice in 1968. He also had served as a master commissioner for the Marion Superior Court.
"On behalf of our colleagues, the Marion Superior Court Executive Committee extends its sympathies to the family of Judge Tom Carroll," the court administration said in a statement. "Tom was a committed civil servant who loved his job. With his quick wit and keen mind, Tom kept his colleagues and those who appeared in front of him on their toes. The judiciary is a better place because of Tom Carroll.  He will be deeply missed."
At Carroll's request, no services will be held. His full obituary may be read here.
Please enable JavaScript to view this content.