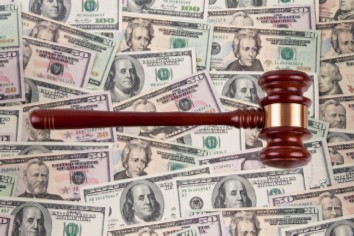 The estate of a contractor who was shot and killed while canvassing an Indianapolis apartment complex will not receive emotional distress damages, the Court of Appeals of Indiana has ruled.
In January 2021, Johnny T. Purchase was on the premises of New Bridge Apartments in Indianapolis working as an independent contractor for the Edna Martin Christian Center and Edna Martin Holdings LLC. Purchase was canvassing the area and distributing flyers with information about the Martin Christian Center, which provides civic outreach services in conjunction with B4U Fall Inc. and Big Homies of America.
While at New Bridge — which was managed by TBH Realty and Management — Purchase was shot and killed by a tenant or visitor on the premises. Purchase was unmarried and was the father of six nondependent adult children and one dependent child when he died.
In April 2021, Purchase's estate filed a complaint against the Martins, Big Homies, B4U and TBH alleging various claims. Count III — the subject of the interlocutory appeal — asserted intentional infliction of emotional distress in a wrongful death action that was initiated by Jeremiah Smith as personal representative of the estate.
Count III included the verbiage: "The Defendants' conduct constitutes extreme and outrageous conduct that goes beyond all possible bounds of decency. As a direct and proximate result of Defendants' acts and omissions, the surviving children of Decedent Purchase … suffered damages, including, but not limited, to the loss of love and companionship of their father, and severe pain, suffering, and mental and emotional anguish, and a loss of enjoyment of life, which will continue into the future."
An interlocutory appeal ensued after the Marion Superior Court declined to summarily dismiss the claim.
At the Court of Appeals, judges reversed on Monday, finding the estate failed to state a claim upon which relief can be granted.
Judges looked at Ind. Patient's Comp. Fund v. Patrick, 929 N.E.2d 190 (Ind. 2010), among other cases, when looking at Indiana's three wrongful death statutes and making the determination.
"Moreover, although the plaintiff in Patrick sought to bring a separate claim for emotional distress as an individual, Purchase's children are not proper parties here, as only the Estate set forth the causes of action," Chief Judge Robert Altice wrote. "And, because only statutorily prescribed damages are allowable under our wrongful death statutes, to permit the Estate to advance a separate claim for emotional distress damages would result in an improper expansion of liability. … In short, a claim for intentional infliction of emotional distress, and any resulting damages, is not permitted under the (general wrongful death statute)."
On remand, judges ordered the trial court to grant the Martins' motion to dismiss the claim.
The case is Edna Martin Christian Center, Inc., and Edna Martin Holdings LLC v. Jeremiah Smith, as Personal Representative for the Estate of Johnny T. Purchase, Deceased, 22A-CT-1420.
Please enable JavaScript to view this content.