With the candidates now in place, what has so far been an unconventional race for Indiana Attorney General is shifting gears toward the November election.
Representing the Democratic Party is Jonathan Weinzapfel, a former state representative and mayor of Evansville who is promoting himself as the attorney general of the people, not the party. He'll face off against former Indiana congressman Todd Rokita, a known quantity in the Hoosier state who is promising "certainty in uncertain times."
Both candidates were chosen at party conventions this summer, with Weinzapfel securing the Democratic nomination against State Sen. Karen Tallian, D-Ogden Dunes. The GOP race was more crowded, with Rokita facing three other candidates, including incumbent AG Curtis Hill.
Rokita was the last GOP contender to enter the party's race, joining Hill, Decatur County Prosecutor Nate Harter and Bose McKinney & Evans attorney John Westercamp on May 20, two days after Hill began serving a 30-day suspension of his law license. Speaking to his success despite his late start, Rokita — also the former Indiana Secretary of State — pointed to what he says is established trust between himself and the delegates, and the due process that came through Hill's disciplinary action.
"Curtis Hill didn't have due process until the (Indiana) Supreme Court ruled," Rokita said. "I thought it was important to hear from an impartial panel of judges, and that was the final indication that we needed to make some changes."
Asked about Rokita's victory over Hill in the GOP convention, Weinzapfel said only that it was "a long time coming." He noted that Indiana Republican leaders began calling for Hill's resignation in 2018, when the groping allegations that underscored the AG's license suspension became public.
Looking ahead to November, both candidates say they want to provide stability to Hoosiers at a time when a pandemic, racial unrest and deep political divides are pervasive. RELATED: Weinzapfel holds big fundraising lead
Restoring integrity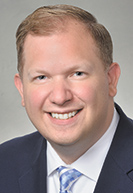 Pete Seat, vice president at Bose Public Affairs Group in Indianapolis and a Republican communications professional, noted both Rokita and Weinzapfel have promised to restore integrity to the OAG, though they are taking different approaches to that theme.
Rokita is campaigning on a platform of "certainty," saying repeatedly that he is the only person in the AG's race who has successfully held a statewide office, the Secretary of State's Office, for several years. Given that experience, Rokita said Hoosiers can trust him to operate the AG's Office effectively and without distractions.
Weinzapfel also touted the importance of "good government," but he sought to distinguish himself from Rokita by saying he's not running just to hold a public office. Similarly, Robin Winston, a Democratic consultant based in Indianapolis, pointed to Weinzapfel's career in the private sector as evidence that his focus isn't on the politics of holding office.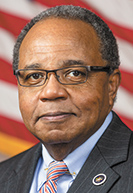 But according to Seat, Rokita's long history in the political world will work to the Republican's advantage, especially after Hill's ethical troubles. Because Hoosiers have previously seen Rokita in a public role, Seat said, they can be confident that the AG's Office would not have to focus on defending "personal indiscretions" under his leadership.
"And now, with the broader uncertainty as Americans and the global community combat the coronavirus and work to mend the broken pieces of the economy, there's a premium on leaders who have been there and done that," Seat said.
The issues
Though integrity is a central theme of both campaigns, Weinzapfel and Rokita are putting their focus on different issues.
Rokita said he wants to start with a focus on running the OAG well from an operations standpoint, calling back to his time in the Secretary of State's Office. There, he said, his staff worked with servants' hearts and actively cooperated with other state agencies, a culture he said he would transfer to the AG's office.
Additionally, Rokita pledged to champion constitutional freedoms that he said are often under attack, saying he supports religious freedom and the right to bear arms and opposes abortion. He also spoke of protecting communities from crime by being on the side of law enforcement and ensuring that the rule of law applies to everyone equally.
A core issue in Weinzapfel's campaign has been the Affordable Cart Act and Hill's decision to join a national lawsuit challenging the ACA. Both he and Winston criticized Rokita for his congressional record in voting against the ACA.
Rokita defended his voting record, however, saying "government-run health care is the worst kind of health care." Democrats have accused Rokita of trying to strip away protections for pre-existing conditions, but the former congressman said he has actually done the opposite.
"I think that's the core of what people care about — the total unfairness of getting kicked off of insurance when you have a pre-existing condition, and I am prepared to work to preserve those protections," Rokita said. "There are many things that can be done that do not rely on federal bureaucrats who are hundreds of miles away. No one should be made to look hundreds of miles away for your health care."
Given the COVID-19 pandemic, Weinzapfel said Hoosiers care more about health care now than ever before. To that end, he pledged to pull Indiana from the federal lawsuit against the ACA if he's elected.
Aside from health care, Weinzapfel said he wants to look to criminal justice reform that cuts down on the need for new jails. Fraud is also a concern for the Democrat, including robocall scams and virtual charter schools that he said inflate enrollment for additional money.
Additionally, both Weinzapfel and Winston spoke of the need to offer protections for workplace safety and wages.
"This has to be about good government," Weinzapfel said.
The politics game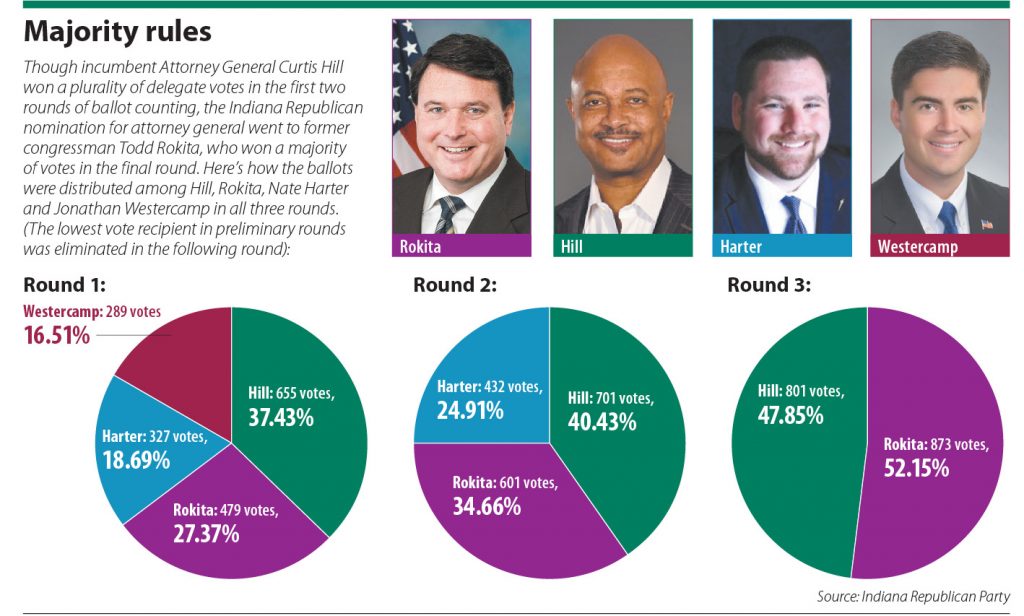 During the GOP convention, the candidates, particularly Rokita and Harter, spoke of the need to keep a conservative Republican as attorney general, even if that Republican wasn't Hill. Democrats have criticized that perspective, calling it "hyperpartisanship."
Politics will undoubtedly play a role in the Attorney General's office, Winston said, even though the office has the unique role of upholding the law in a nonpartisan way. But he warned against becoming entrenched in party views.
"Don't let it come to the point that you become an ideologue, where you walk in Day 1 and say, 'My job is to oppose the Affordable Care Act, make sure that certain factions of my party support me and be overtly on their side,'" he said.
Similarly, Weinzapfel said there are good attorneys in the OAG from both parties, and Republican attorneys could continue to work under him as long as their work was done well. He pointed to his experience in Evansville, where he said he frequently had to work across party lines.
But Rokita said Democrats' concerns about partisanship are a distraction from the fact that they are "bad on the issues." Issues such as religious liberties and abortion often come before courts, he said, and it's up to the AG's office to adequately defend the state.
"To the extent that any of these laws are political in nature, that falls right into the lap of the AG," Rokita said. "That's the job."
What's more, Seat said voters often follow party lines when choosing the attorney general. To that end, it's important for Rokita to promote himself as a conservative Republican.
"There are people who vote precisely on that issue," Seat said. "They're not listening to the minutiae of what the attorney general's office does."
Tallian has pledged her support for Weinzapfel, joining his campaign as honorary chair. On the Republican side, both Westercamp and Harter have offered Rokita their support, he said.
Though Hill did have strong support at the GOP convention, Rokita said he's already hearing from those supporters who are promising to stand behind him. Hill did not explicitly endorse Rokita in his statement after his convention loss, saying instead that he would support "conservative principles."
"But that shouldn't matter," Seat said. "This is a race between Rokita and Weinzapfel, and whether Hoosiers prefer a conservative Republican or a liberal Democrat."•
Please enable JavaScript to view this content.