The importance of community collaboration in the criminal justice system was the key message of Indiana Chief Justice Loretta Rush's 2020 State of the Judiciary address.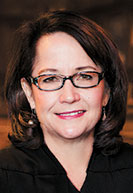 The chief justice addressed Gov. Eric Holcomb and a joint session of the Indiana General Assembly in the chamber of the Indiana House of Representatives during her annual address on Wednesday. Also in attendance were more than 100 trial court judges from across the state, who filled the main gallery and donned their traditional black robes.
As she stood before the assembly, Rush's address – "Connecting, Convening, and Collaborating with our Communities" – immediately praised the judiciary's milestone of certifying its 100th problem-solving court in 2019. 
"We didn't stop after certifying problem solving court number 100. In fact, with the vital support of Gov. Holcomb in providing additional funding for family recovery courts, we already have 107 certified courts, and 2020 will see the advent of many more," Rush told the assembly.
"Problem-solving courts are only possible with strong judicial leadership," the chief continued. "And nowhere is this leadership more apparent than the role judges have in combating the addiction epidemic."
Rush noted the state's opioid epidemic has caused jail populations to increase, signaling a need to examine and reform how the judiciary does business in the criminal justice system.
"Under pretrial and criminal justice reform, lower-risk offenders should be released without having to post bail," Rush said.
The chief justice noted the importance of using all available information – including evidence-based risk assessments – to "ensure that fairness prevails for all Hoosiers regardless of wealth, geography, race or gender."
"As we work together on reform, we must address the reality that state incarceration rates have skyrocketed," she said. "For many nonviolent offenders, we have failed to address their underlying issues of substance abuse and mental illness.
"Some people need to be incarcerated. More people just need help. A strong justice system must do both."
The 2020 State of the Judiciary Address also touched on the state's pursuit of supporting and strengthening families, the judiciary's modernization of court technology and its connection with communities through civic engagement.
Video of the full address is available online. 
Read more about the 2020 State of the Judiciary address in the Jan. 22 issue of Indiana Lawyer.
Please enable JavaScript to view this content.