The annual State of the Judiciary address will not be delivered in person to the Indiana General Assembly this year due to COVID-19, the Indiana Supreme Court has announced. Instead, Indiana Chief Justice Loretta Rush will submit a written report and video message.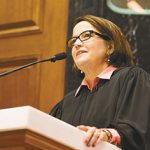 Rush's written report will be available "prior to the close of the legislative session," the court announced Tuesday. Constitutionally, that date is April 29, though legislative leaders have floated the idea of a delay if coronavirus outbreaks among lawmakers and/or their staffs force the General Assembly into an extended break.
Article 7, Section 3 of the Indiana Constitution requires the chief justice to submit regular reports to the General Assembly regarding the "condition of the courts." That report is usually given in the form of a speech by the chief during a joint session of the Indiana House and Senate. Trial and appellate judges from across the state also attend the address, as well legal professionals and special guests invited by the chief.
"I will provide a formal update on the work of the judicial branch through a written report and a remote message," Rush said in a statement Tuesday. "Even in these challenging times there are success stories I am eager to share as courts across the state are resolving cases."
Rush announced in September she had tested positive for COVID-19.  She returned to work after a period of quarantine.
Please enable JavaScript to view this content.