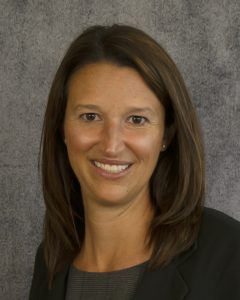 Every morning I would park in my firm's parking garage off Delaware Street and walk west down a sparsely traveled alley called Allegheny Street to enter my office through the front door on Pennsylvania Street. The parking garage takes you directly to the back door. Yet I loved walking the "long way" because this route afforded me the opportunity to gaze up at the east face of the Indiana War Memorial and read the words, "TO PERPETUATE PEACE AND LIBERTY." These words served as my morning mantra for 10 years.
The pandemic demanded a pause from this daily ritual as I learned Zoom, set up a home office and started online shopping for face masks (and inflatable stand-up paddleboards). My daily rituals changed in a very big way, but my shared purpose with my partners remained the same. Here is a short list of lessons I learned from running a small employment law firm when the world changed:
Shared mission: My office, Macey Swanson Hicks & Sauer, exists to advocate for workers' rights. My two law partners and I are "all in" on this mission. This shared mission allows our partnership to thrive through the ups and downs of law firm management. Despite the inevitable stress of managing a small business, we each derive immense joy from playing our small role in promoting the rule of law. Return to your own "why" when challenges arise.
Pick up the phone: Barry Macey, one of my firm's founders, always advised me to walk to other lawyer's offices and sit down and talk to them whenever the working relationship seemed to tilt toward unproductive. Sadly, the pandemic curtailed the ability for this face-to-face efficient problem-solving. But I've still found that a simple phone call to the lawyer on the other side of case can often replace an unnecessary string of 40-plus emails and make all happier.
Schedule emails: When email is the best option, sometimes it's helpful to schedule emails. The pandemic really seemed to destroy office hours. I've always been a night owl, but I found myself often working in the late evening during the pandemic. What can you do when you're writing an email at 10 p.m. that you would rather send during normal business hours? Schedule it. In Outlook: Select "Message Options" from the Tags menu, then "Do not deliver before" and simply select the date and time for your desired delivery.
Exercise outside: In early 2006, during my second year of law school, my mom signed me up for the mini marathon. She simply said, "You need a new goal in your life." She was right. I ran my first half marathon and have run the mini every year since. I also ran two full marathons and served on the board of directors for the Indianapolis Monumental Marathon for eight years. When the usual running events were canceled during COVID, I switched to open water swimming — solitary and delightful. Last fall I swam from Alcatraz Island to the shores of San Francisco, which I highly recommend. Adding some outdoor exercise to your daily routine will lower stress and usually improve your mood.

Sauer on the day of her swim from Alcatraz Island to San Francisco. (Photo courtesy of Quincy Sauer)

Always teach: So much teaching occurs informally in the day-to-day office life of asking a colleague for advice when she's grabbing something from the printer. The pandemic seemed to strip professionals of these spontaneous lesson opportunities. I teach a pretrial litigation course at the Indiana University Robert H. McKinney School of Law, and I know that the teaching does not end once students graduate. Embrace little chances to teach staff, newer attorneys or your partners how to do something new or unfamiliar.
Always learn: During pandemic times it was more essential than ever to stay connected to your colleagues. My small office expands its network through active participation in the IndyBar, Indiana State Bar Association, American Bar Association, NELA (National Employment Lawyers Association) and others. Each of these organizations offer CLEs and the opportunity to continue learning areas especially on the cusp of your practice. I love balancing my CLEs with learning new skills beyond the law. During the pandemic I learned to ride a Lift eFoil, hit a better tennis forehand, ski powder and kitesurf waves in Maui. Kids are natural students, but learning new skills is so great for adults.

Sauer riding a Lift eFoil. (Photo courtesy of Quincy Sauer)

Collect positive feedback: Running a small law office and practicing law feels quite overwhelming at times. I've had my share of difficult opposing counsel and unappreciative clients. Thankfully, these are the exceptions. I'll always remember after my first oral argument at the 7th Circuit Court of Appeals, my opposing counsel emailed me, "However it comes out, I wanted you to know I thought you did quite well. It was quite an experience; not like any other I've had!" I loved this model of civility in the profession. A grateful client sent me a handwritten note (with flowers) that simply stated, "You've made such a difference in our lives." I collect this positive feedback and lean on it when adversity strikes.
The daily grind of small firm management ranges from routine to immensely stressful. Predictably, someone must make sure invoices go out, deal with vendors, negotiate the lease, check the finances, work with the accountant, update the website, renew the insurance and develop marketing (on top of actually practicing law and dealing with the less predictable events like a global pandemic). By returning to bigger picture ideas, I constantly find the practice of law both challenging and rewarding. I've walked by the War Memorial enough that this terse manta — "TO PERPETUATE PEACE AND LIBERTY" — still guides my role as a grateful attorney in the office or working remotely.•
Quincy Sauer is a partner at Macey Swanson Hicks & Sauer. Opinions expressed are those of the author.
Please enable JavaScript to view this content.