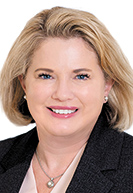 By April Schilling
Law firm office space, like nearly every sector of commercial real estate, has been impacted by COVID-19. COVID-19 accelerated pre-COVID trends in law firm office space and creates short-term and long-term considerations for law firms.
Before COVID-19, law firms occupied two to three times more space than their peers in corporations. Trends seen in the legal workplace included reducing square foot per attorney by shifting to one-size offices and right-sizing space standards. Many law firms were realigning growth and reducing square footage by increased outsourcing of nonlegal functions. Firms were reevaluating business professional to attorney ratios to align with modern-day needs. Digitizing files and reducing library, file and copy center spaces were other priorities.
The abrupt shift to temporarily working from home has impacted both employee and leadership sentiment about the office space of law firms. While the appetites for remote work are (and have been) escalating, most people want neither 100% work in the office nor 100% remote work. Working from home is becoming an expected benefit, and law firms not offering that benefit are going to quickly put their firms at a disadvantage. The million-dollar question for law firm leadership evaluating future office space needs is how to create a "mixed presence" solution that includes part-time remote work and part-time on-site work.
The acceleration of the number of law firms that will allow at least partial remote work beyond COVID-19 seems inevitable. The "partner office" may become a thing of the past, with firms that do not go to uniform-size offices becoming increasingly rare. What do law firms need to consider when creating a mobility strategy driven by talent attraction and retention while ensuring cost-effective use of office space? One thing is certain — 50% work from home will not equal 50% less office space. "Hoteling" — a concept where lawyers do not have an assigned, private office — is not a good fit for most law firms. Going hybrid, with a mix of in-office and virtual lawyers, could be a good option for law firms in the near term.
Instead of doing "the office" as law firms did pre-COVID, law firm leadership would be wise to create an environment that will ensure that lawyers and business professionals choose to come to the office. Law firms must rethink what the office environment can deliver better than the experience of working remotely. What can the future law firm office do better? How can tomorrow's law firm office improve connection and interaction, encourage collaboration, and provide modern, convenient services?
COVID-19 will spark reinvention of the physical spaces occupied by law firms. Effective and frequent communication from firm leadership, meaningful input from stakeholders and support from partners will be critical as law firms focus unprecedented attention toward their office spaces.•
• April Schilling is a member in Frost Brown Todd's real estate practice group. Opinions expressed are those of the author.
Please enable JavaScript to view this content.