In what was likely one of the final times he was in a courtroom, Senior Judge Marc Kellams was not acting very judicial.
Kellams wasn't the one on the bench in Johnson County — that was Senior Judge David Dreyer. Dreyer was presiding over his last hearing of the day on Thursday, July 28, when he saw Kellams.
"He sits on the back row and makes a funny face at me," Dreyer recalled with a laugh. "And it turns out that I'll never ever forget that now."
Dreyer shared that story with Indiana Lawyer after news broke that Kellams died in a vehicle crash on Friday, July 29. Kellams was 73.
"Marc loved life and those around him. He was an influential person in so many people's lives, mixing faith and law throughout his career as a Judge and Deacon," according to his obituary.  "He was the rock to his family, a wonderful husband, father, papaw (to five grandsons), mentor and friend. He was loved and respected by so many.
"A man known for his gigantic bear hugs, gentle spirit, work ethic, and devotion to his faith," the obituary states. "He dedicated himself to the community, visiting and comforting the elderly, helping the sick and dying as well as performing countless baptisms and marriage ceremonies."
Born in Bloomington on May 4, 1949, Kellams was a lifelong resident of Monroe County, where he served as a circuit court judge for 38 years before retiring in 2018. Kellams, a Navy veteran, moved to Bargersville upon his retirement and began serving as a senior judge.
"One thing was clear to me: After 38 years on the trial bench and four years as a senior judge, he was in no way ready to stop judging," Dreyer said. "He was ready to go on and on and on. He really liked it."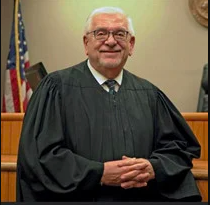 Kellams was a graduate of Indiana University and the IU Maurer School of Law, where he taught trial and advocacy for 42 years. He was preparing to begin his 43rd year of teaching this fall.
"Our deepest condolences to the family and friends of Judge Marc Kellams '78, who passed away yesterday in Indianapolis," the law school posted Saturday on Twitter. The tweet quoted IU Maurer professor emeritus J. Alexander Tanford, who said, "I've never met a better human."
Likewise, Dreyer described Kellams as a "singularly important person in (his) life." He remembered one instance when he appeared before Kellams as a young lawyer in the 1980s.
"I just got trampled in this hearing," Dreyer recalled, "and he must've seen the misery on my face, because he made it a point after the hearing was over of kind of reaching out to pump up my tires and support me a little bit. I remember that about him."
Kellams also served as president of the Indiana Judges Association, and in that role he convinced Dreyer to take on a leadership role by writing a column that regularly appears in Indiana Lawyer. While Dreyer said he was initially hesitant to take on the column, it's now a "gratifying" part of his career.
Dreyer recalled telling Kellams, "I bet you don't read my column." Kellams replied, "I read it every time."
Senior Judge John Baker is also a veteran of the Monroe County courts. The two served together on the trial bench until Baker took a seat on the Court of Appeals of Indiana.
"I had a good pleasure of mentoring him for several years before I left to go to the Court of Appeals," Baker said. "And I, quite frankly, would share with you and the public that in later life, I think Marc became a mentor to me.
"He was a man of deep faith," Baker added. "I suspect people will know that he became a deacon in the Roman Catholic Church and he continued to minister to people in various venues. I truly believe he was a gift from God."
Kellams became an ordained deacon through the Archdiocese of Indianapolis in June 2008. He served as a deacon for 12 years at St. Charles Borromeo Church in Bloomington, then at Saints Francis and Clare of Assisi in Greenwood.
After his retirement from the bench, he took on the role of coordinator of prison ministries for the Archdiocese. He was the keynote speaker at a Red Mass celebration last fall in Lafayette.
Kellams was also active in legal organizations, including the Judges and Lawyers Assistance Program. He served on the JLAP Committee, most recently as chair.
On a national level, he led a review of the American Bar Association's Code of Judicial Conduct.
Additionally, the senior judge was active in community organizations, including the Monroe County Youth Services Bureau, the Bloomington Hospital Advisory Council and Board of Directors, and the Monroe County Community Corrections Advisory Council, among others.
"He will be missed terribly," Kellams' obituary says. "As a strong man of faith, we know he is looking down on all of us telling everyone it's not goodbye but rather it's until we meet again."
A Mass of Christian Burial will be held at 2 p.m. Friday, Aug. 12, at the St. Charles Borromeo Catholic Church in Bloomington, 2222 E. Third St. Visitation will begin at 11 a.m.
In lieu of flowers, Kellams' family is requesting that donations be made in his honor to JLAP, Saint Meinrad, St. Charles Borromeo Catholic Church or Saints Francis and Clare of Assisi Catholic Church.
A post on the Monroe County website says Monroe County government flags will fly at half-staff in Kellams' honor. The post adds, "God speed Judge!"
According to the (Bloomington) Herald-Times, Kellams was involved in an accident on Interstate 465 at around 4:30 p.m. on July 29.
Indiana State Police said a preliminary investigation determined traffic on I-465 had stopped for an unknown reason, but a box truck failed to stop or slow as it approached the stopped traffic. The truck crashed into the back of the Acura SUV Kellams was driving, causing a chain reaction with two other vehicles.
The driver was tested for impairment, but drugs and alcohol were not suspected in the accident.
Please enable JavaScript to view this content.