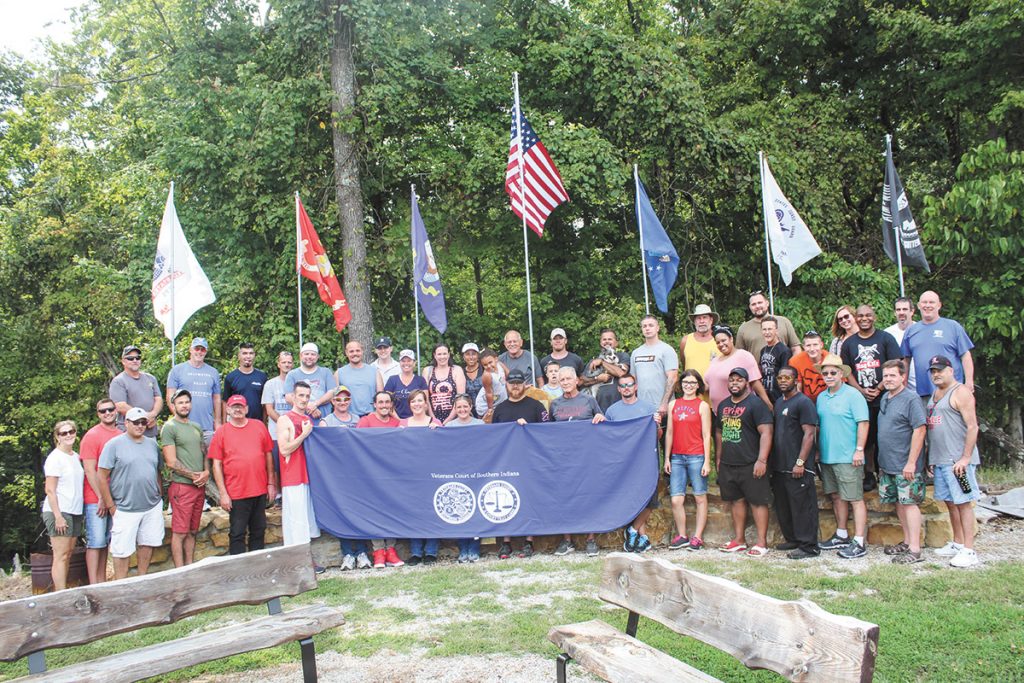 As veterans court programs expand nationwide, the federal government is exploring opportunities to provide additional resources to local courts.
If enacted, the Veteran Treatment Court Coordination Act of 2019 would task the Department of Justice with establishing an office to provide additional funding and technical assistance to veterans courts. Indiana has 28 such courts in 27 counties, according to the Indiana Supreme Court.
Already Hoosier veterans courts have found opportunities for growth through program changes such as inter-county collaborations. But as more information comes to light about the struggles veterans face upon returning home — particularly mental health struggles — advocates say they're looking for even more opportunities to assist service members facing legal troubles.
Funding is the primary need, as veterans courts seek out additional treatment for vets and training for team members. But there are also important mindset changes that could come from a federal stamp of approval on veterans court programs.
Federal efforts
Versions of the Veteran Treatment Coordination Act were introduced in both the House and Senate in the 116th Congress. The House bill was brought by Florida Congressman Charlie Crist, a Democrat, while the Senate bill was filed by Sen. Martha McSally, an Arizona Republican.
The legislation calls on the United States Attorney General to "establish and carry out a Veteran Treatment Court Program to provide grants and technical assistance … ." The purpose of the proposed DOJ program is to "ensure the Department of Justice has a single office to coordinate the provision of grants, training, and technical assistance to help State, local, and Tribal governments to develop and maintain veteran treatment courts."
The House measure has passed both the House and the Senate, clearing the latter with an amendment Jan. 16. The next step would be to send an agreed measure to President Donald Trump.
But the 2019 legislation is not the only recent instance when Congress has addressed veterans courts. The Veterans Treatment Court Improvement Act of 2018 required the Veterans Affairs secretary to "hire not fewer than 50 Veterans Justice Outreach Specialists and place each such Veterans justice Outreach Specialist at an eligible Department of Veterans Affairs medical center … ."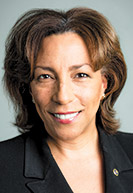 Floyd County has already benefitted from the 2018 law by receiving a dedicated VJO, Judge Maria Granger said. The county has always worked with a VJO, Granger said, but his time previously was split between almost a dozen counties.
Sharing resources
Granger founded Indiana's first veterans treatment court, receiving official certification in 2012. Since then the program has grown into a regional partnership with Clark and Scott counties, with their district model receiving certification in 2018.
"We are collaborating now to streamline resources, utilize access to beds that we have, treatment services in our community," she said. "We are being more effective with our resources."
The district model allows the three counties to better align their programs with best practices. The model offers a veterans program in two counties, with higher risk veterans supervised in one county and low-risk veterans supervised in another.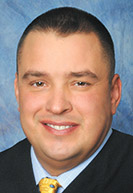 Similarly, the veterans court program in Whitley County has also grown into a multi-county model. Judge Douglas Fahl has entered into memorandums of agreement with Huntington and Kosciusko counties, agreeing to serve veterans from the two neighboring counties that don't offer similar veterans programs.
As his program has evolved, Fahl said he's adapted his "sanction matrix" as he's learned what sanctions are most effective in helping veterans stay away from bad behavior.
Speaking the language
Like Granger, Fahl has several years of experience presiding over a veterans court, having begun work on the Whitley County program in 2014.
Given their experience, the judges say they've learned over time what works and what doesn't when serving veterans with substance abuse and mental health problems.
One of the things that's worked for Fahl is grit. A veteran himself, Fahl can relate to the experiences his participants have had in basic training, for example.
"When it comes to being frank with them, sometimes I put it blank to them," Fahl said. "… They can respond to that because that's what we both experienced from our sergeants. Sometimes that grittiness helps me relate to them."
It's a similar situation in Granger's veterans court.
Steve Mennemeyer is an Army veteran who retired from active duty after 25 years of service. He's also married to Granger and volunteers on the Floyd County veterans court team.
Mennemeyer lost his son — Granger's stepson — in Iraq in 2006, so working with a vet court program has been healing. He helps the Floyd County program obtain the resources he needs, and like Fahl, he's unique in that he can speak the language of servicemembers.
For some veterans, their time in the service marked what they perceived as the peak of their lives, Granger said. Mennemeyer understands the responsibility and accountability that comes with being on active duty, so he draws on that commonality to help participants reach their recovery goals.
"I can tell you all day long what it's like to jump out of an airplane," Mennemeyer said. "But until you do it, you really don't know."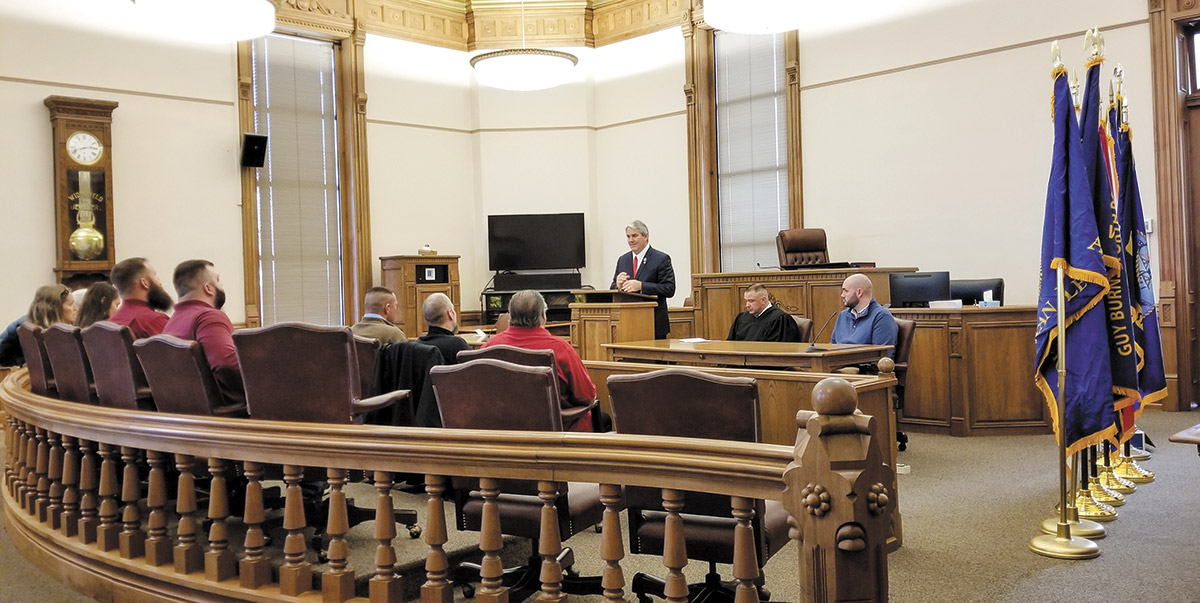 Looking to grow
The veterans court programs in Whitley and Floyd counties have proven successful at helping participants overcome substance abuse, anger issues and other mental health problems such as post-traumatic stress disorder, the judges say. Likewise in Indianapolis, staff at the nonprofit Helping Veterans and Families say the Marion County veterans court program has been effective for their clients, particularly because of the camaraderie among participants.
But as the success of these programs grow, more resources will be needed to sustain them.
"They owe it to me," Mennemeyer said of the federal legislation. "We do what we do so that they can do what they can do."
Mennemeyer is quick to note that veterans aren't asking for a handout, while Fahl emphasizes that veterans court is not a get-out-of-jail-free card. But, they say, the men and women who serve their country come home with struggles that those who haven't served can't fully understand.
For Fahl, the additional funding that could come out of the federal legislation would go partially toward training for his team members. Issues such as PTSD and traumatic brain injuries can be difficult to understand and even harder to treat.
The Whitley County judge also needs funding for additional full-time staffers. And, of course, he needs money to offer additional services to his participants.
One of the biggest hurdles in Granger's court is a lack of local resources.
Floyd County is a border county, so when Granger needs long-term treatment for a veteran, she often has to try to send them to facilities in Ohio or Kentucky. She'd like to receive funds to expand long-term treatment options for border counties such as hers.
Additionally, Both Granger and Mennemeyer would like to see a best practice developed that would require every veteran who is arrested to be assessed for eligibility for the veterans court program.
Emmy Hildebrand, HVAF's vice president of strategic initiatives and public policy, sees the federal work on veterans courts as an opportunity for the development of standards that can be applied to programs across the country. And HVAF President Brian Copes sees the legislation as a federal "recognition" that veterans courts work.
Additionally, Fahl sees an opportunity for greater growth in problem-solving courts through the veterans courts legislation.
"It's a little bit easier, if they get behind the veterans court program," to also get behind drug court and family law court and some of the other problem-solving courts," he said.•
Please enable JavaScript to view this content.