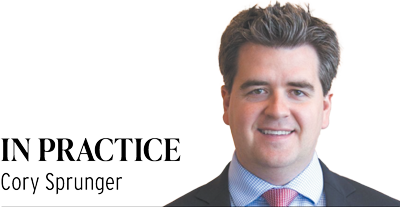 Practicing law in a solo or small firm is the epitome of freedom — but as we all know, freedom isn't free.
Freedom's call resonates in all our hearts, but particularly so in America, where our inception was built upon a cornerstone belief that freedom is a God-given and inalienable right. Other nations elevate other virtues — for example communism and socialism elevate equality — but our nation is a people group built squarely on freedom.
Most solo/small firm attorneys choose to be that specifically because they were drawn to the sense of freedom that owning your own business can provide. Those of us who answered freedom's call to start our own firm remember where we were when we first sensed it — in a law school classroom, the halls of some government building or inside a big firm.
For me, it was during law school at Pepperdine University. A small firm attorney challenged any student thinking about hanging their own shingle to take out a $20 bill and place it into a sealed envelope. He said, "$20 to a student seems like a lot, but consider this a down payment to yourself and to your own firm. In 10 years when you reopen this envelope, I promise it will be worth it." He was right.
But freedom isn't free
Most of us with our own practices would choose to do it all over again. But the reality is that freedom isn't free. It's just like when the Genie in "Aladdin" says to Jafar after granting his third wish to make him an all-powerful genie, "Aren't you forgetting something? You wanted to be a genie, you got it. And everything that goes with it," as he clasps the genie handcuffs on Jafar and sucks him back into the lamp. "Itty bity living space," he says.
For the solo/small firm attorney, if we aren't careful, we are exactly the same as Jafar. We simply trade one master for another. Instead of experiencing the freedom we pursued, we become slaves to a new master — our own business; specifically, the administrative back-office drudgery that never seems to end, sucking the life out of your newfound freedom and right back into the lamp.
A few years ago, my sister-in-law went into detail explaining a series of very ambitious and exciting plans she had for her family. When she finally paused to take a breath, someone turned to her husband and said, "Wow … and what do you think about all this?" Without skipping a beat, he quipped, "Nothing. I just let reality crush her dreams." Everyone erupted in laughter.
That is exactly what happens to so many solo and small firm practitioners. They heard freedom's call and had the courage to answer it. But almost immediately, reality crushes their dreams. They are crushed with computer problems, payroll issues, reconciliation errors, printer leases, employee issues and all manner of maddening frustrations that simply won't stop coming at them. All of which have absolutely nothing to do with practicing the law.
In fact, according to Clio's Legal Trends Report, the average Indiana attorney only bills 2.5 hours in an eight-hour day. So that means the administrative grind is not only exhausting, but also slashing at our firms' profitability by limiting the time available to practice law (aka, produce revenue).
Many attorneys don't answer freedom's call because, contrary to popular opinion, attorneys can actually do math. They know the cost of freedom. Some attorneys don't mind the administrative toil and limitation to income, but most attorneys would much rather be practicing law and producing income for their families. The result is that most attorneys either are unable to answer the call, or they simply resign themselves to accept "everything that goes with it."
A better proposal
But it doesn't have to be like this. We can make things better. Let's make it so that we don't have to sacrifice our sanity and income to answer freedom's call.
But how? The answer is simple: We work together.
By pooling our firms' back-office work (the nonlegal minutia), we shake free from our administrative shackles. Together we reclaim hours per day to practice law and generate income. Instead of wasting time negotiating a new printer lease, we can get paid to negotiate an agreement for our clients. Instead of resolving yet another computer problem (which, let's be honest, we don't have any clue how to fix), we could be advising clients about something we do know a lot about — and getting paid to do it.
Together, we can hire a professional IT, accounting, phone receptionist and mail processing staff that it just doesn't make financial sense to do on our own. Together, we can qualify for employee benefits that we can't alone.
We are doing just this. So far, the attorneys who are working together with us are billing about three hours more per day than the statewide average. Again, it just makes sense.
I firmly believe that God made men to be free. The pinnacle of his creation is humankind, and at the absolute heart of his plan for us is freedom — the freedom to choose or reject him. Instead of force, he chose to offer us freedom.
Freedom's call is powerful. It is woven into our DNA by our creator and forged into our national identity by the crucible of our revolution. If you ask 10 solo/small firm attorneys why they chose this path, nine of them will use some word synonymous with freedom. It's true that freedom isn't free. But together, it is attainable. As Ronald Reagan proudly displayed on his desk, "It CAN be done."•
__________
Cory Sprunger is the managing partner at SprungerPEO and the law firm Sprunger & Sprunger. If you are interested in continuing this discussion or in exploring what it would look like to join SprungerPEO, please reach out to Cory directly at [email protected] or by phone at 260-589-5067. Opinions expressed are those of the author.
Please enable JavaScript to view this content.